Main content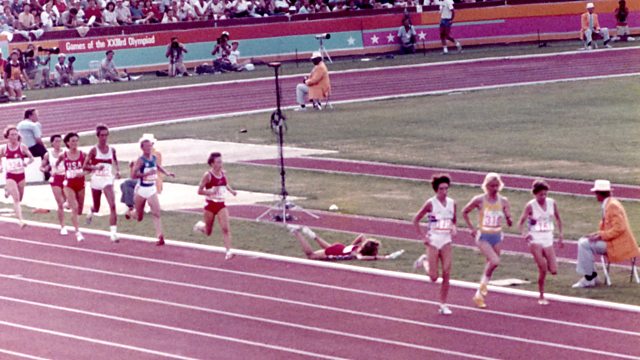 Weekend Woman's Hour: Mary Decker and Zola Budd, Shappi Khorsandi, Lera Auerbach
Mary Decker and Zola Budd remember their ill-fated 1984 Olympic race. Plus Shappi Khorsandi on her debut novel and Beatrix Potter 150 years after her birth.
At the 1984 Olympics, Mary Decker fell during the 3000 metres final after colliding with the 18 year-old barefoot runner Zola Budd. The incident sparked headlines around the world and remains a much debated incident. The pair have been reunited for Sky's documentary 'The Fall'.
This week marks 150 years since Beatrix Potter was born. Biographer Sarah Gristwood shares some of the lesser-known aspects of the life of the internationally renowned children's author.
Comedian Shappi Khorsandi talks about her debut novel, Nina is Not Okay.
Honor Frost was a pioneer of maritime archaeology and revolutionised the way underwater excavations were carried out. We speak to Dr Alexandra Sofroniew, Curator of an exhibition of her work at the Ashmolean Museum, Oxford.
Woman on woman sexual assault is not common and remains rarely discussed. Does the reluctance to acknowledge its existence make women less willing to come forward to report it? Rebecca Twinley, a lecturer at Plymouth university, discusses her new research with Yvonne Traynor, Chief Executive Officer at Rape Crisis.
Internationally renowned composer Lera Auerbach is bringing a new choral-orchestral work to the BBC Proms. It is called 'The Infant Minstrel and His Peculiar Menagerie'. It will premiere at Prom 22 on July 31st.
Great British Bake Off finalist Martha Collison teaches Emma Barnett to Cook the Perfect Ginger and Candied Lemon Cream Cake.
Presenter: Emma Barnett
Producer: Helen Fitzhenry
Interviewed Guest: Mary Decker
Interviewed Guest: Zola Budd
Interviewed Guest: Sarah Gristwood
Interviewed Guest: Dr Alexandra Sofroniew
Interviewed Guest: Yvonne Traynor
Interviewed Guest: Rebecca Twinley
Interviewed Guest: Lera Auerbach
Interviewed Guest: Martha Collison.
Women On Women Sexual Assault and Rape
Credits
| Role | Contributor |
| --- | --- |
| Presenter | Jane Garvey |
| Producer | Helen Fitzhenry |
| Interviewed Guest | Mary Decker |
| Interviewed Guest | Zola Budd |
| Interviewed Guest | Sarah Gristwood |
| Interviewed Guest | Shappi Khorsandi |
| Interviewed Guest | Alexandra Sofroniew |
| Interviewed Guest | Yvonne Traynor |
| Interviewed Guest | Rebecca Twinley |
| Interviewed Guest | Lera Auerbach |
| Interviewed Guest | Martha Collison |