Main content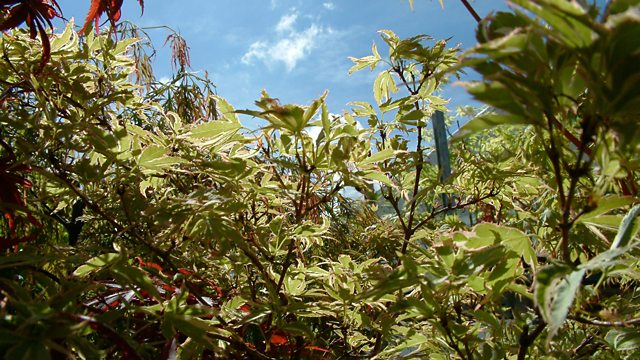 The Lake District
Eric Robson hosts the horticultural panel programme from the Lake District. Bunny Guinness, Bob Flowerdew and Anne Swithinbank answer questions from local gardeners.
Eric Robson hosts the horticultural panel programme from the Lake District. Bunny Guinness, Bob Flowerdew and Anne Swithinbank answer questions from local gardeners.
This week, the panel offers advice on shallow-rooted trees and shrubs, how to move Box, and the best plants to grow to provide mid-height cover. They also discuss tending to an ailing Acer as well as offering up tips on how to create a sensory rock garden.
And Eric Robson visits nearby Hill Top, home of Beatrix Potter.
Produced by Dan Cocker
Assistant Producer: Laurence Bassett
A Somethin' Else production for BBC Radio 4.
Fact Sheet
Q – I'm moving into a house where the garden is leased by the electricity board.  I'm not allowed to plant trees or deep-rooted shrubs.  What can I plant?
Bob – Herbaceous plants would be good.  And you can grow things in containers – particularly fruit trees.  Consider apples and pears.  Climbers would give you height and variety too.
Bunny – Hazel, Hawthorn. Multi-stem Medlars. Put them in baseless pots. You won't need to interfere with water and feed.
Anne – You'll need big grasses and big herbaceous perennials. Look at Miscanthus sinensis – lots of varieties of those.  Plants like the tall sunflowers (Helianthus), there's one called salicifolius that's got thin leaves.  Centaueas too.  Crambe cordifolia – the large version of the Sea Cabbage. 
Bunny – Bear in mind that big Oak trees' roots often only go down 500mm (20 inches) or so.
Q – When and how can I move some mature Box Balls – about 60cm (23 inches) in diameter – to a different location in the garden?
Bunny – Box is one of the easiest plants to move because of its shallow root system. I have moved them in July but you must have moisture to hand when you replant.  Never overhead water with Box, due to Box Blight.  Research suggests late-August is the best time.
Anne – I'd go for September or April.
Q – I have a Prunus cerasifera hedge in my garden which looks gorgeous for two weeks of the year but it's mostly top growth – what can I plant to fill it in?
Anne – I'd go for Euonymous japonicas and Euonymous fortunei 'Silver Queen', evergreens that could grow up in between. 
Bob – If it's well drained I would go for Hollies.
Bunny – Yew hedges get like this and often people plant Box to fill it out.  Bit of Vibernum tinus too. 
Q – A weed was brought into my garden and it has now spread everywhere.  What is it and how do I get rid of it?
Anne – I think it is a kind of Ground Ivy
Bob – Glechoma is its Latin lame.  I put down wet newspaper on top of the weeds between the plants and then mulch on top of that. If it shows its head then I put more newspaper and more mulch on top of it to stifle the weed.
Q – I have an old Acer tree – probably 40 years old and 10-12ft high (3-3.5m).  This year, some of the branches have no leaves at all.  Is this a problem and, if so, what do I need to do?
Bunny – It doesn't sound too good probably caused by the wet.  I'd put down a deciduous bark mulch all the way over its root zone, but not against the trunk.  That will increase root aeration and fight some disease so should perk it up a bit.  Then in August I would prune out the dead bits.  I was reading about Honey fungus recently and some research says that if you put Willow bark mulch around affected trees that can help – it's thought that the salicylic acid in the Willow helps the tree fight off the fungus.
Anne – I've seen trees suffer late from the cold winter we had in 2010.  I've seen several Wisterias and Vinbernum plicatum 'Mariesii', that were caused by this cold shock. So it could be that.
Q – We are about to create a sensory garden to bring the feel of the Fells into it.  We will have rockeries made from some of the stones brought down in the floods.  What plants would give colour, texture and scent to the rockeries?
Bob – You've got to have Gorse. 
Anne – Create a shaded end and put woodland shrubs – like small Acer palmatum 'Dissectum'. Ferns too.  Blue Meconopsis too would be nice here.
Eric – Juniper
Bunny – Multi-stemmed Crataegus crus-galli – a different form of Hawthorn. 
Bob – Lily of the Valley
Eric – Saxifrage
Anne – Thrift
Topical tips – Bunny and Bob mention: 'Night-scented' Phlox (Zaluzianskya ovata)
Q – I have a former vegetable patch – south-facing, surrounded by paths, at the bag of the garden – what can I plant for impact in the autumn?
Anne – Trees like Liquid Ambers or Rowans – eg 'Joseph Rock'. 
Bunny – Multi-stem Cotinus coggygria (the 'Smoke Bush'). Clematis durandii.  Martagon lillies underneath.  Camassias coming up through too. 
Bob – Cardoons or globe artichokes.  There's an Italian one with a red head that looks great.  Also, Jerusalem Artichokes.  The variety 'Fuseau' has a scented sunflower head on top.
Q – What combination of two or three plants have you really been looking forward to seeing this year?
Bob – Chinese lantern – the Physalis.  That's grown well this year.  I've put it under a Passiflora, the hardy passion fruit. 
Anne – I've got a mature Vibernum farreri with a 'Chocolate Vine' (Akebium quinata) growing through it. 
Bunny – My favourite Dahlia - 'Thomas Edison' – with annual Cleomes.  And then a new Salvia called 'Love and Wishes'.