Main content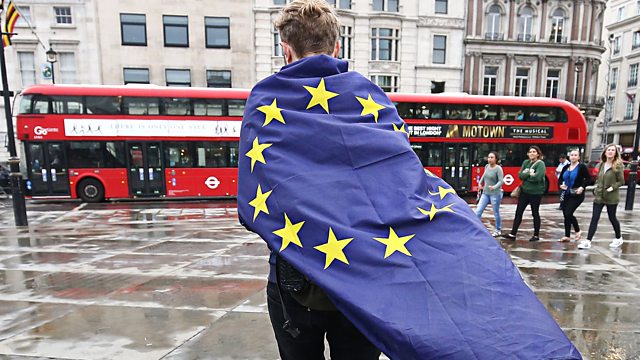 What Do Remainers Feel Now?
In the EU referendum, more than 16m people voted Remain. How do they feel now that they've lost? David Aaronovitch visits Lambeth in London, where nearly four-fifths voted to stay.
There was jubilation among many who were on the winning side of last month's EU referendum. But the vote, more than any in recent memory, laid bare the UK's divisions - not only in demographics but also social attitudes. Many of the 16m people who voted Remain expressed shock, sadness and even grief after the result. Two weeks ago The Briefing Room visited Wakefield in West Yorkshire to find out about those who voted Leave. In this programme, David Aaronovitch takes the opposite tack and visits Lambeth, the south London borough that stretches from the banks of the Thames opposite the Houses of Parliament to the Capital's suburban fringes. He talks to long-standing residents and relative newcomers to find out what Remainers feel now. In in area where nearly four-fifths of those who voted backed Remain, is there a still a sense of upset over the result? And having been outvoted in one of the UK's biggest democratic experiments, what do they plan to do now?
Interviewees in Lambeth include: Devon Thomas chair of the Brixton Neighbourhood Forum, local Green Party candidate Rashid Nix, Labour Party volunteer Gareth Rhys, Rosamund Urwin of the London Evening Standard, Tom Shahkli general manager of the Brixton Pound project, and Rui Reis, vice chair of the Portuguese cultural and football club in Stockwell.
Studio guests: Cordelia Hay of Britain Thinks and Stian Westlake of NESTA.
Producer: Mike Wendling
Researcher: Kirsteen Knight.
Leave voters in Wakefield tell David Aaronovitch why they want to quit the EU.