Main content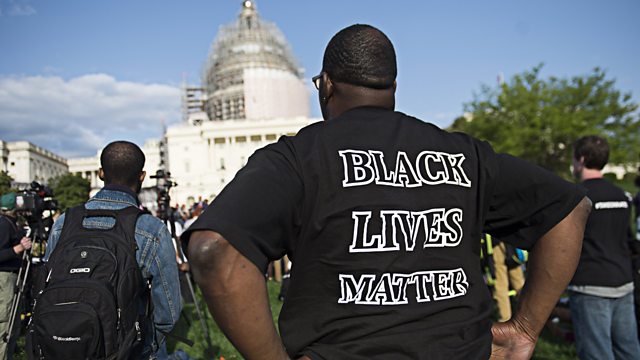 String Music
Black teen Tonio finds solace on the basketball court, but he soon becomes threatened by a gang. A white beat cop tries to help him stay safe in a crime-riddled DC neighbourhood.
Tonio is a teenager from a rough part of Washington DC who escapes his troubled life by playing pickup basketball. One afternoon, he impulsively insults some fellow players. They threaten him. He knows he's in for a long drawn out struggle. A seasoned white cop patrolling the neighbourhood tries to protect Tonio because he knows he's a good kid. The question is - what hope does a kindly cop have of preventing assault or worse? What will happen to Tonio now that a gang is after him?
String Music by George Pelecanos is from his short story collection The Martini Shot, adapted by Judith Kampfner. Crime writer Pelecanos tells stories about the area of DC where he grew up. For years, he's observed life on the streets, in the clubs, parks and playgrounds of a bad neighbourhood and listened to the diversity of voices in his community. He has been called 'the Zola of Washington DC and Emmy nominated for his TV work, writing and producing for The Wire and Treme.
String Music is set in the summer of 2001 when DC had one of the highest murder rates in the country. The streets that are home to Tonio and Sergeant Peters are especially violent this summer weekend when both the humidity and the tension rise.
This is the second in a two part series, Black and Blue, about black men and the police in America, recorded and produced in New York City and broadcast on consecutive days. The cast - many of whom performed in the TV series The Wire - all come from the area of Washington DC where the story is set, giving the drama authentic characters with the distinctive 'street' accent.
Cast:
Tonio Harris….Nick Pelecanos
Uncle Gaylen….Thaddeus Street
James Wallace….Anwan Glover
Antuane…..Malcolm Xavier
Dimitrius Johnson…..Camari Brown
Peter Hawk…..Eric Lockley
Mother…..Cheronda Farrish
Sergeant Peters…..Richard Pelzman
Officer Roberts…..Peter S Cooper
Dispatcher…..Sydney Beveridge
Latisha…..Victoria Wallace
Boyfriend…..Cole Taylor
Mrs Lang…..Joy Jones
Tonya…..Nyeema Carter
Sound Design by Charles De Montebello
Adapted and produced by Judith Kampfner
A Corporation for Independent Media production for BBC Radio 4
Clips

Credits
| Role | Contributor |
| --- | --- |
| Tonio Harris | Nick Pelecanos |
| Uncle Gaylen | Thaddeus Street |
| James Wallace | Anwan Glover |
| Antuane | Malcolm Xavier |
| Dimitrius Johnson | Camari Brown |
| Peter Hawk | Eric Lockley |
| Mother | Cheronda Farrish |
| Sergeant Peters | Richard Pelzman |
| Officer Roberts | Peter S Cooper |
| Dispatcher | Sydney Beveridge |
| Latisha | Victoria Wallace |
| Boyfriend | Cole Taylor |
| Mrs Lang | Joy Jones |
| Tonya | Nyeema Carter |
| Author | George Pelecanos |
| Adaptor | Judith Kampfner |
| Producer | Judith Kampfner |