Main content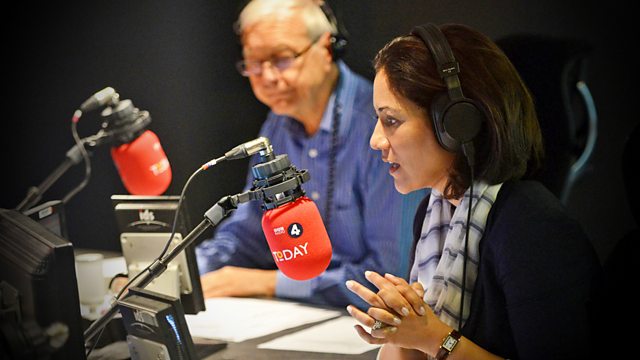 28/07/2016
Morning news and current affairs. Including Sports Desk, Weather and Thought for the Day.
Today's running order
All timings subject to change
0650
A British scientist has discovered a cancerous foot bone dated to approximately 1.7m years ago. Some scientists say that this dispels the argument that cancer is a disease simply caused by modern lifestyles. Dr Patrick Randolph-Quinney is a senior lecturer in biological and forensic anthropology at the University of Central Lancashire.
0711
Investment in the UK's first new nuclear plant in decades, Hinkley Point in Somerset, is set to get final approval later on Thursday. Yves Marignac is the executive director of WISE-Paris, an independent non-profit information, study and consultancy agency on nuclear and energy issues based in Paris.
0720
Donald Trump has "actively encouraged" foreign powers to hack his presidential rival Hillary Clinton, her camp says. Mrs Clinton did not hand over 30,000 emails as part of an investigation into her private email server as they contained private details. Anne Applebaum is a Pulitzer prize-winning journalist, political commentator, and author.
0723
Today the Liverpool River Pilots, who have helped navigate ships in and out of the River Mersey for 250 years, will receive the Freedom of Liverpool award from the city council. Captain Chris Booker is chairman of Liverpool Pilots.  
0733
Rail companies do not show passengers the cheapest tickets for two-thirds of cross-country routes, it has been reported. Jacqueline Starr is managing director of customer experience at Rail Delivery Group.
0751
Former French Foreign Minister Michel Barnier has been appointed by the European Commission to negotiate with Britain over Brexit. Sharon Bowles is a former Liberal Democrats MEP and chair of the European parliament's economy and monetary affairs committee, and Daniel Hannan is a Conservative MEP.
0810
More on the planned nuclear power station at Hinkley Point: Tom Burke is chairman of the environmental think-tank E3G, and Chris Huhne is former Secretary of State for energy and climate change.
0830
US President Barack Obama has implored voters to help continue his legacy by carrying Hillary Clinton to victory at the polls in November. James Naughtie reports with the latest from the Democratic National Convention.
0840
A new study published in the Lancet today reveals the extent to which sitting at a desk all day is bad for you - this morning's Telegraph goes as far as to suggest that it is as bad as smoking. Professor Ulf Ekelund from the Norwegian School of Sports Sciences is the lead author in the study.
0845
There is an art to walking in cities. The writer Lauren Elkin has reinvented the word for women with her city walks all around the world. Lauren showed our reporter Nicola Stanbridge the art of flaneusing through London.
0855
It is the 150th anniversary of Beatrix Potter's birth. She is most well known for her books but her influence reaches far beyond literature – there are many who believe that her contribution to botany and science has been far underrated. Libby Joy is former chairman of the Beatrix Potter Society, and Dr Tom Wakeford is an ecologist at Conventry University.