Main content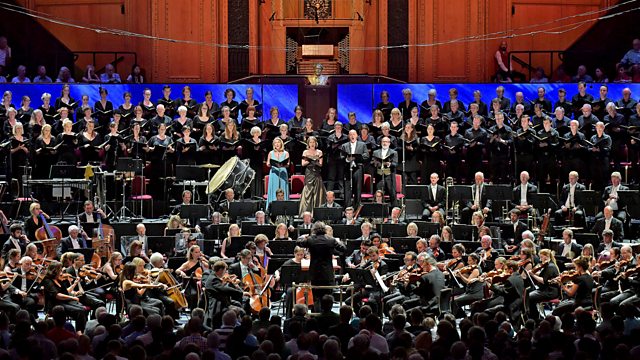 Prom 13
A Prom in which Vladimir Jurowski conducts the London Philharmonic Orchestra. Magnus Lindberg: Two Episodes. Beethoven: Symphony No 9 in D minor (Choral).
Afternoon on 3 - with Penny Gore
Another chance to hear Vladimir Jurowski conducting the London Philharmonic in Beethoven's Ninth Symphony, with its concluding "Ode to Joy". Plus a world premiere by Magnus Lindberg.
Presented by Ian Skelly from the Royal Albert Hall, London
2pm
Magnus Lindberg: Two Episodes (world premiere)
Beethoven: Symphony No 9 in D minor ('Choral')
Miah Persson (soprano),
Anna Stéphany (mezzo-soprano),
John Daszak (tenor),
Christopher Purves (bass),
London Philharmonic Choir and Orchestra,
Vladimir Jurowski (conductor).
Beethoven helped change the European musical landscape but in his final symphony he imagined the most startling transformation of all: from a brutal, joyless world to one of uplifting and embracing brotherhood. He did it by writing his most vivid music yet and employing a chorus, proclaiming Friedrich Schiller's uplifting 'Ode to Joy'.
Vladimir Jurowski returns to the Proms, opening with a new work from one of the finest orchestral craftsmen of our time, Magnus Lindberg.
[First broadcast on the 24th July]
Followed by a selection of recordings from this week's Proms Artists.