Main content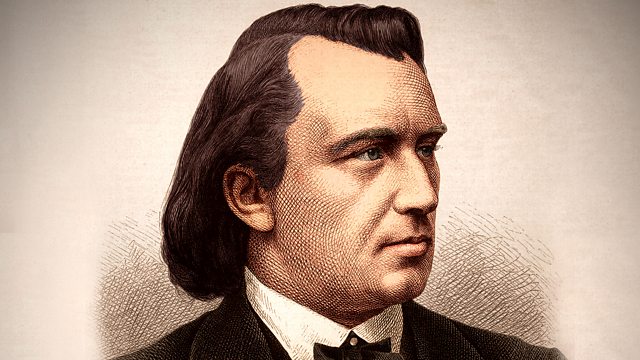 Johannes Brahms (1833-1897). 5/5. The Senile Production: Donald Macleod focuses on the completion of Brahms's Double Concerto, dubbed by one critic a 'senile production'.
Johannes Brahms completes his Double Concerto which was called by one critic 'a senile production'. Presented by Donald Macleod
German composer Johannes Brahms became a significant figure in Western music during his own lifetime, and has retained this position ever since. His works were performed throughout Europe, the UK and the USA, and displayed much passion in keeping with the musical language of the mid to late nineteenth century. Donald Macleod this week explores some of the larger orchestral works Brahms composed, taking on the mantle from Beethoven and Schubert, and the periods in which they were written. The series includes the First Piano Concerto, his German Requiem, concertos for violin, and violin and cello, and also his third and fourth symphonies.
During the late 1880s Brahms premiered his Fourth Symphony at Meiningen, which was very well received with applause after every movement. This was at a time when he was also working on his Piano Trio No 3 in C minor. He'd last composed for that combination of instruments nearly thirty years previously. Clara said of the Trio that is was inspired throughout with passion. By 1887, Brahms was healing a rift with the violinist Joachim, composing for him a double concerto for violin and cello. Joachim was delighted with the work, although one critic called it 'a senile production'.
Komm bald, Op 97 No 5
Thomas Allen, baritone
Geoffrey Parsons, piano
Piano Trio No 3 in C minor, Op 101 (3rd mvt)
Jean-Marc Phillips-Varjabédian, violin
Raphael Pidoux, cello
Vincent Coq, piano
Double Concerto in A minor, Op 102
Pinchas Zukerman, violin
Ralph Kirshbaum, cello
London Symphony Orchestra
Christoph Eschenbach, conductor
Violin Sonata No 3 in D minor, Op 108 (3rd & 4th mvt)
Lydia Mordkovitch, violin
Gerhard Oppitz, piano
Producer Luke Whitlock.
More episodes
Next
You are at the last episode