Main content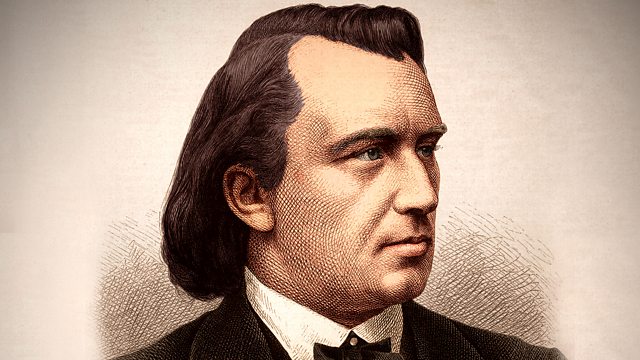 The Little Leopard and the Great Lion
Donald Macleod explores Brahms's collaboration with the court of Saxe-Meiningen's musical director, Hans von Bulow. With Nanie, String Quintet No 1 (1st mvt) and Gesang der Parzen.
Johannes Brahms the 'Great Lion' collaborates with the Little Leopard Hans von Bülow. Presented by Donald Macleod.
German composer Johannes Brahms became a significant figure in Western music during his own lifetime, and has retained this position ever since. His works were performed throughout Europe, the UK and the USA, and displayed much passion in keeping with the musical language of the mid to late nineteenth century. Donald Macleod this week explores some of the larger orchestral works Brahms composed, taking on the mantle from Beethoven and Schubert, and the periods in which they were written. The series includes the First Piano Concerto, his German Requiem, concertos for violin, and for violin and cello, and also his third and fourth symphonies.
During the early 1880s Brahms found a new champion of his music, Hans von Bülow. Bülow became director of music at the ducal court of Saxe-Meiningen, and took charge of the orchestra there. He gave Brahms the opportunity to try out a number of his orchestral works before they were premiered, including his Second Piano Concerto, and also his third and fourth symphonies. Brahms became a favourite at the court with Duke George II, and was awarded the Commander?s Cross of the House of Meiningen. It was for the Duke that Brahms dedicated his Song of the Fates, Gesang der Parzen.
Bei dir sind meine Gedanken, Op 95 No 2
Der Jäger, Op 95 No 4 (1883-4)
Angelika Kirchschlager, mezzo-soprano
Graham Johnson, piano
Nänie, Op 82
Bavarian Radio Symphony Chorus
Bavarian Radio Symphony Orchestra
Colin Davis, conductor
String Quintet No 1 in F major, Op 88 (1st mvt)
Amadeus Quartet
Cecil Aronowitz, viola
Gesang der Parzen, Op 89
Collegium Vocale Gent
Orchestre des Champs-Elysées
Philippe Herreweghe, director
Symphony No 3 in F major, Op 90 (3rd and 4th mvt)
London Philharmonic Orchestra
Marin Alsop, conductor
Producer Luke Whitlock.