Main content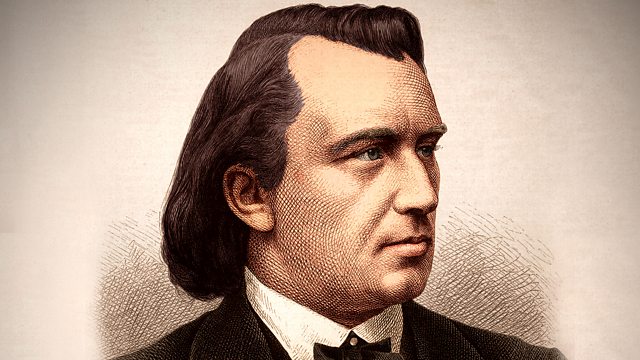 Reducing a Hostess to Tears
Donald Macleod describes how Brahms reduced a society hostess to tears for owning 'Wagnerian trash'. Including Sommerabend, Symphony No 2 (1st mvt), Violin Concerto (2nd 3rd mvts).
Johannes Brahms reduces a society hostess to tears for owning 'Wagnerian trash'. Presented by Donald Macleod
German composer Johannes Brahms became a significant figure in Western music during his own lifetime, and has retained this position ever since. His works were performed throughout Europe, the UK and the USA, and displayed much passion in keeping with the musical language of the mid to late nineteenth century. Donald Macleod this week explores some of the larger orchestral works Brahms composed, taking on the mantle from Beethoven and Schubert, and the periods in which they were written. The series includes the First Piano Concerto, his German Requiem, concertos for violin, and for violin and cello, and also his third and fourth symphonies.
During the late 1870s Brahms premiered his First Symphony, and then at lightning speed composed his second. It was around this same time that Brahms was aiding the impoverished Bohemian composer Dvorak, supporting his case for a scholarship and also recommending him to publishers. Brahms could also be amazingly unfeeling at times, and reduced one society hostess to tears when he publicly searched her cupboards for what he called "Wagnerian Trash". By 1878 Brahms was also busy writing a work for his friend the violinist Joachim. The two collaborated together on what became Brahms's Violin Concerto. The premiere didn't go well and Brahms subsequently destroyed a draft of a second violin concerto he'd made.
Sommerabend, Op 85 No 1
Dietrich Fischer-Dieskau, baritone
Daniel Barenboim, piano
Symphony No 2 in D major, Op 73 (1st mvt)
Berlin Philharmonic Orchestra
Simon Rattle, conductor
Klavierstücke, Op 76 (Nos 2, 4-5, 7-8)
Justus Frantz, piano
Violin Concerto in D major, Op 77 (2nd and 3rd mvt)
Gidon Kremer, violin
Royal Concertgebouw Orchestra
Nicolaus Harnoncourt, conductor
Producer Luke Whitlock.