Main content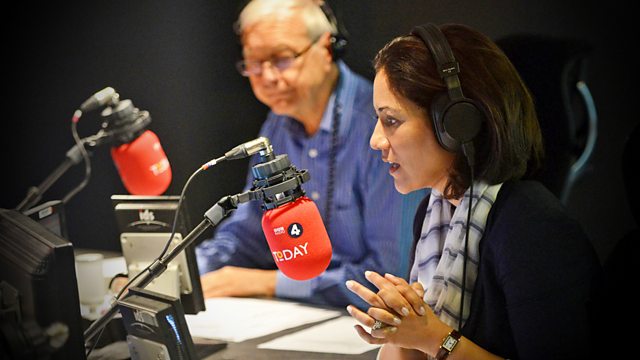 26/07/2016
Morning news and current affairs. Including Sports Desk, Weather and Thought for the Day.
Today's running order
All timings subject to change
0652
Pregnant women should no longer be told not to eat raw or lightly cooked eggs, a safety committee has recommended. Mark Williams is chief executive of the British egg industry council.
0709
BT Group will form a separate board for its Openreach business in a bid to persuade its regulator the company should not be broken up. Sharon White is chief executive of Ofcom.
0715
Nineteen people were killed in a knife attack at a residential care centre for the mentally disabled in Japan in the early hours of Tuesday. Anna Fifield, the Washington Post Tokyo Bureau Chief, is in Sagamihara.
0718
Natwest and Royal Bank of Scotland (RBS) have warned businesses that they may have to charge them to accept deposits due to low interest rates. Simon Jack is the BBC's business editor.
0721
Germany is trying to come to terms with events in the southern part of the country after a Syrian man blew himself up in Ansbach. Despite recent attacks involving refugees, there does not appear to be a public backlash against Germany's open door policy to migrants, and investigators are still considering the details in each case. Julie Lenarz is executive director at the Human Security Centre.
 0724
On Saturday morning the shadow chancellor, John McDonnell, announced on this programme he wanted to review the so called 'patent box' tax relief scheme for pharmaceutical companies. Helen Goodman is MP for Bishop Auckland and member of the Treasury Select committee.
0734
Four thousand prisoners in England and Wales are still being held on what are known as IPPs - indeterminate sentences for public protection - meaning that they do not know how long they will be inside. The coalition government got rid of them in 2012 describing them as "not defensible". Professor Nick Hardwick is chair of the parole board.
 0742
The last videocassette recorder (VCR) in Japan will be produced by the end of the month, according to the Nikkei newspaper. Does the humble VHS hold a special place in our TV hearts? Safraz Manzoor is a writer and broadcaster, and Dale Lloyd is a videotape enthusiast and VHS event programmer.
0749
Bernie Sanders, along with First Lady Michelle Obama addressed the Democratic Convention last night. It has already been over-shadowed by controversial emails which appeared to show Democrat organisers seeking to undermine Bernie Sanders. Jon Sopel reports.
0810
More on BT Group forming a separate board for its Openreach business: Dido Harding is chief executive of TalkTalk and Gavin Patterson is chief executive of BT.
0820
The right wing German party Alternatif fur Deutschland says the German Chancellor Angela Merkel is responsible for bringing terror to Germany through her open door refugee policy. But most other German politicians have stopped short of linking the recent attacks to the Middle East. Dr Peter Ammon is the German Ambassador to the UK.
0838

Amazon is announcing a partnership with the UK government to test the principle of drone deliveries in Britain. Noel Sharkey is emeritus professor of artificial intelligence and robotics at Sheffield University, and co-director of the foundation responsible robotics, and Pippa Malmgren is co-founder of H Robotics.
0844
When it comes to height, Dutch men and Latvian women tower over all other nationalities, a new study confirms. Professor Majid Ezzati is a professor of global research at Imperial College, London, and the lead author of the research.
0848
Every summer the ice in the Arctic retreats as the sea warms but in recent years the extent of the summer melt has been alarming scientists. Dr Ed Blockley is head of Met Arctic monitoring programme.
0853
Saturday will see 50 years since England won the World Cup. A new book about the people who were part of Wembley crowd - 66 on 66 - has just been published to mark the anniversary. Matt Easterly is author of the new book.