Main content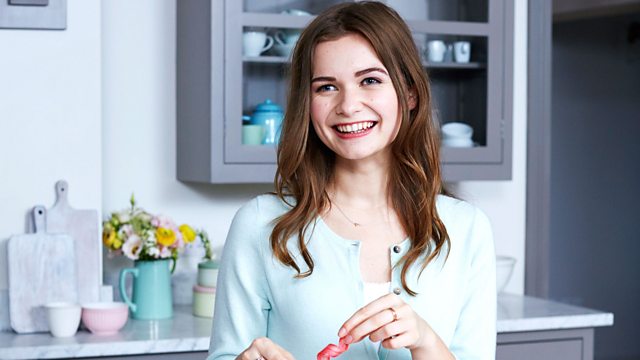 Cook the Perfect, Civil partnerships, Vocal coaching
Including Great British Bake Off finalist Martha Collison, a civil partnerships precedent on the Isle of Man, vocal coaching, inside the Queen's wardrobe, and Beatrix Potter's life.
Great British Bake Off finalist Martha Collison is on a mission to make us more adventurous bakers in her first book, taking basic recipes and changing them into something new. She joins Emma to Cook the Perfect Ginger and Candied Lemon Cream Cake.
The Isle of Man has opened up civil partnerships to opposite-sex couples in contrast to the ban that exists in England, Wales, Scotland and Northern Ireland. These changes catapult the Isle of Man to the forefront of legal equality for straight and gay couples. Matt Hawkins, campaign manager for the Equal Civil Partnership Campaign, describes the significance of the change.
Using your voice to sound authoritative at work: Catriona Clancy tutors women to change their vocal style. Businesswoman Leanne Holmes describes how she learnt to speak with authority, without changing her natural character.
Woman's Hour gets a glimpse inside the Queen's wardrobe. To mark the Queen's 90th birthday, three exhibitions are being held in each of Her Majesty's official residences: the Palace of Holyroodhouse, Buckingham Palace and Windsor Castle. Emma Barnett went to the palace for a sneak preview of the dresses and accessories worn at occasions from her marriage to the Coronation and the Jubilee. She's joined by the Royal Collection's Senior Curator Caroline de Guitaut and Dr Shahidha Bari for a look at the philosophy of royal fashion.
This week marks 150 years since Beatrix Potter was born. Biographer Sarah Gristwood shares some of the lesser-known aspects of the life of the internationally renowned children's author.
Presenter: Emma Barnett
Producer: Anne Peacock.
Martha Collison puts a new twist on a classic bake
Chapters
Civil Partnerships For Heterosexual Couples

The Isle of Man has opened up civil partnerships to opposite-sex couples, what's changed?

Duration: 05:00

The Voice Of Authority

Can women sound powerful at work without putting on a fake voice?

Duration: 10:53

Cook The Perfect... Ginger and Candied Lemon Cream Cake

Great British Bake Off finalist Martha Collison demonstrates her recipe.

Duration: 07:39

Fashioning A Reign

We gets a glimpse inside the Queen's wardrobe in celebration of The Queen's 90th.

Duration: 08:25

The 150th Anniversary Of Beatrix Potter's Birth

28th of July 2016 marks 150 years since Beatrix Potter was born.

Duration: 07:04

Credits

| Role | Contributor |
| --- | --- |
| Presenter | Emma Barnett |
| Producer | Anne Peacock |
| Interviewed Guest | Martha Collison |
| Interviewed Guest | Matt Hawkins |
| Interviewed Guest | Catriona Clancy |
| Interviewed Guest | Leanne Holmes |
| Interviewed Guest | Caroline de Guitaut |
| Interviewed Guest | Shahidha Bari |
| Interviewed Guest | Sarah Gristwood |