Main content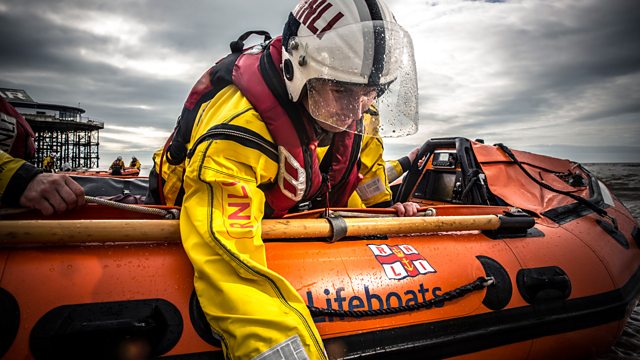 A crew member is washed off a cliff trying to save a concussed spearfisherman, a rescue in Blackpool goes wrong, and volunteers try to rescue families from rising waters in Cumbria.
Every day around the UK, an army of unpaid volunteers put their lives on the line to try and save complete strangers. Saving Lives at Sea tells the story of the ordinary men and women of the Royal National Lifeboat Institution (RNLI) who, across the country, are ready to launch their boats and race to the rescue within minutes of a cry for help, 24 hours a day, 365 days a year, whatever the weather.
Over 150 years, the volunteers of the RNLI have saved the lives of more than 140,000 people. The winter months are the most treacherous for the people they are called upon to rescue and for the volunteers themselves.
In the first episode, a retired nursery teacher gets herself into danger when attempting to rescue her two dogs after they became cut off by the rising tide. In Wales, one volunteer crew member is washed off a cliff into the sea trying to rescue a concussed spearfisherman, and, in Blackpool, a rescue in a force seven gale goes badly wrong, putting all three crew members' lives in jeopardy. When torrential floods hit Cumbria shortly before Christmas the volunteers are again on hand to try and rescue families trapped by the rising waters.
More episodes
Previous
You are at the first episode