Main content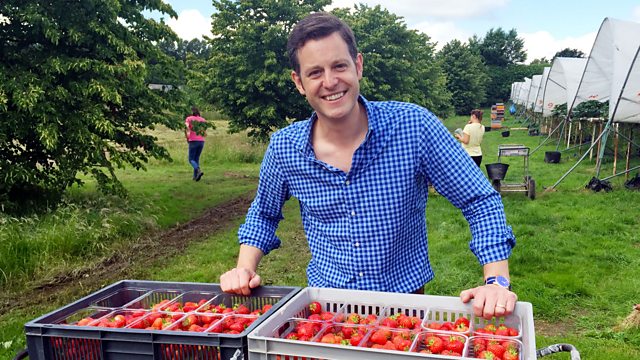 Kent
It is tennis season and Countryfile is visiting Kent, where Matt Baker finds out about Wimbledon strawberries and gets to grips with the harvest.
It's tennis season and Countryfile is visiting Kent, where Matt Baker will be finding out about Wimbledon strawberries and getting to grips with the harvest.
Naomi Wilkinson is meeting the couple who turned their love of wildlife into an animal rescue centre, looking after everything from hedgehogs to flocks of jackdaws and magpies. In the shadow of the white cliffs of Dover she'll also be finding out about the long history of channel swimming and donning her wetsuit to try out the ultimate wild swim.
John Craven meets a farmer who is growing Chinese vegetables and produce, from pak choi to chrysanthemums, and Adam Henson is at the Royal Three Counties show, meeting youngsters with the farming bug. Plus Tom Heap investigates calls to ban live plant imports and asks what dangers could be hiding in the soil that comes into the country with them.
Anyone for tennis?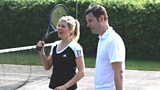 Kent's sunny south facing slopes are ideal for growing the Wimbledon Tennis Tournaments favourite snack, strawberries. After showing off his on court skills with Naomi, Matt Baker meets Marion Regan of Hugh Lowe Farms in Kent. They've been supplying Wimbledon with strawberries for more than 25 years. Like tennis, strawberry growing has evolved into a slicker game over the last few decades. New varieties of plants and the use of poly-tunnels mean that what was once a five week season now lasts five months. Oh and apparently they taste even better too! 
Channel Swimming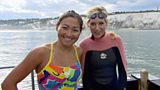 Away from Wimbledon Naomi Wilkinson contemplates taking on a different sporting challenge, swimming the English Channel. Three times more people have summited Everest than completed the 20 mile crossing to France. It requires a huge amount of physical and mental preparation. Naomi meets Kevin Murphy who has completed the crossing an astonishing thirty four times. She also gets into the water for a training swim with Anel Sytdykova a 36 year old mother of three from Kazakhstan who has traveled four thousand miles from her home to take on the challenge. 
Imported Plants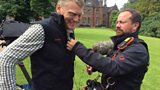 Tom Heap is looking at calls to ban the import of pot plants into Britain for fear of the bugs and insects that could be hiding out in the soil. He meets up with Matt Shardlow from Buglife, who introduces Tom to some of the invasive insects that have made it in to Britain like the Harlequin Ladybird. He also catches up with the beautifully named Carol Honeybun Kelly from the Woodland trust, who is encouraging us to buy British.  
Controlling the strawberry pests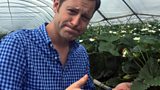 Strawberry plants are constantly under attack from a host of insect pests but as Matt discovers a more natural approach to farming has almost done away with the need for insecticides. Natural borders encourage the insect predators of common pests such as aphids, mites and thrips. Matt helps farm manager Tom Pearson release thousands of commercially reared pirate bugs. These aggressive bugs are used as a biological control establishing a population that prevents the build up of pests. 
Royal Three Counties Agricultural Show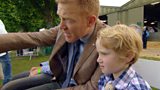 This week Adam is at the Royal Three Counties Agricultural Show in Malvern, offering advice and support to the young handlers competing and hoping for the winning rosette. A year and a half ago Adam sold an Exmoor pony to Aimee Hanford, 18 months later he catches up with her at the show as Aimee and her pony, Autumn also try their luck. Adam then teams up with 4 year old Lilly Nicholas as she prepares her pig for the young handlers class. What could possibly go wrong?  
Animal Rescue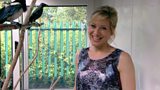 Naomi visits Folly Wildlife Rescue Trust, a charity dedicated to the rescue and rehabilitation of injured, orphaned and distressed wild animals and birds. The project was started by Dave and Annette Risley who were taking rescued animals into their home as a hobby before setting up the charity and eventually building a dedicated wildlife hospital. Naomi gets up close and personal with tawny owlets and baby hedgehogs before helping release rescued jackdaws and magpies back into the wild. 
Chinese Veg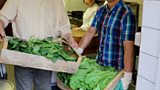 Kent may be famous for hops and soft fruits but as John Craven discovers it's also one of the few places where Chinese vegetables are grown commercially in the UK. John visits a family run farm that has been using traditional Chinese methods to grow veg for more than thirty-five years. David Chipin inherited the farm from his father and grows pak choi, choy sum and Chinese broccoli among others. John helps David harvest Choy Sum to supply a local restaurant and then gets to try it in a traditionally cooked dish. 
Strawberry competition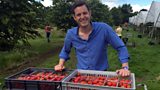 Matt joins the teams of strawberry pickers at Hugh Lowe farms. Strawberry picking to supply commercial buyers is not an easy task. The berries must be picked and graded by hand and then placed undamaged into trays. The experts do it with lightning efficiency. Matt gets a quick lesson in strawberry gathering and then teams up with George – who can, amazingly, pick a ton of strawberries in a day. Together they enter a doubles contest picking against another pair of experts. Will strawberry picking turn out to be Matt's secret talent?   
Credits
| Role | Contributor |
| --- | --- |
| Presenter | Tom Heap |
| Presenter | Matt Baker |
| Presenter | Naomi Wilkinson |
| Presenter | John Craven |
| Executive Producer | William Lyons |
| Series Producer | Joanna Brame |