Main content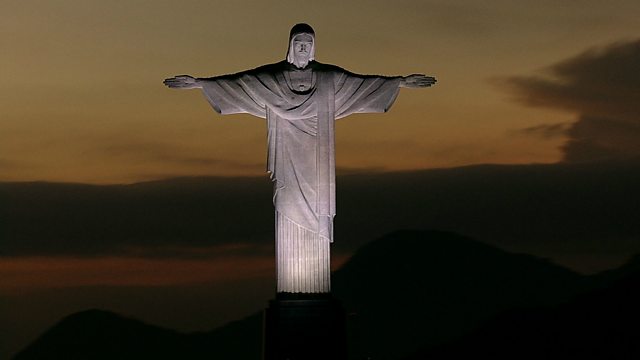 Rio Archbishop, Church PokeStops, Trump's religious sidekick.
Religious and ethical news. The archbishop of Rio, Church PokeStops, Trump's religious sidekick. With Edward Stourton.
Terrorism is a major concern for the organisers of Rio's Olympics due to start in less than three weeks time. So is the city's high levels of violent crime. The Archbishop of Rio, Dom Orani Tempesta, was recently caught up in a gun battle there. He spoke to our reporter, Bruce Douglas.
World Youth Day has been described by one commentator as sort of Olympic Games of the Catholic Church. It's the largest regular youth gathering in the world. This year it's being held in Krakow in Poland, home one former Papal superstar and about to welcome another - Pope Francis. Jonathan Luxmore will be there.
"Educate Together" run 77 primary and 4 secondary level schools in the Republic of Ireland and demand is said to outstrip supply. It also runs one in Bristol and plans to open more. What are these schools are doing differently? Kevin Boquet went to Bristol for the last day of term to find out.
Donald Trump has chosen his running mate, Indianan Senator Mike Pence, and unlike Mr Trump, Mike Pence knows his Bible and asks God for forgiveness. Sarah Posner talks to Edward about what the Senator will bring to the Republican campaign for the White House.
The Muslim Council of Britain, now in its twentieth year, has a new Secretary General, Haroon Khan. We hear from him about his childhood growing up in 1980s London, the need of MCB to reflect the diversity of Muslims in Britain and what he thinks of Theresa May.
It seems Pokemon Go has taken over the world and the churches. Emma Thomas joins Pokemon hunters at a church in Staffordshire. Dr Bex Lewis from Manchester Metropolitan University and "Geek Dad" Andy Robertson discuss the effectiveness of church engagement with digital youth culture.
Producer: Rosie Dawson
Series Producer: Amanda Hancox.
Clips

Chapters
Archbishop of Rio

The archbishop of Rio talks about the threat of terrorism ahead of the Olympic Games.

Duration: 04:48

Poland Pope Visit

Pope Francis will be visiting Krakow for World Youth Day.

Duration: 04:21

Educate Together

Kevin Bouquet reports from the Redfield Educate Together Academy in Bristol.

Duration: 07:22

Turkey

Lina Khatib talks to Edward about the purge in Turkey after last week's failed coup.

Duration: 04:40

Pence and Trump

Sarah Posner talks about Senator Pence and what he will bring to the Republican campaign.

Duration: 05:29

Muslim Council of Britain

Edward speaks to Harun Rashid Khan, the new leader of the MCB.

Duration: 05:52

Pokemon Go

It seems Pokemon Go has taken over the world and the churches.

Duration: 09:48