Main content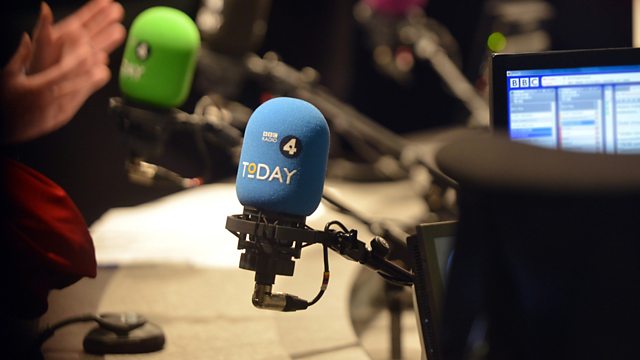 21/07/2016
Morning news and current affairs. Including Sports Desk, Yesterday in Parliament, Weather and Thought for the Day.
Last on
Today's running order
All timings subject to change
0650
Police are hunting for two men after a serviceman was threatened with a knife outside an airbase in Norfolk. Nick Quraishi reports.
0653
A few months ago, scientists found a group of planets comparable in size and temperature to Earth and Venus where moderate temperatures could allow for liquid water on the surface. Dr Karen Masters is an astronomer at the Institute of Cosmology Gravitation at Portsmouth University.
0709
Everyone should consider taking vitamin D supplements in autumn and winter, public health advice in England and Wales says. Dr Louis Levy is head of nutrition science at Public Health England.
0712
Thursday is the final day of the Republican National Convention in Cleveland. James Naughtie reports.
0720
Theresa May will have a working dinner with the French President, Francois Hollande, to discuss Brexit. Paris correspondent Lucy Williamson reports.
0734
A soldier who died while training in the Brecon Beacons on the hottest day of the year has been named as Corporal Josh Hoole. David Dunsby is father of James Dunsby, who died during a training exercise in the same area in 2013 and Johnny Mercer MP is member of the defence select committee.
0743
English Heritage says it is time jousting was taken much more seriously as a sport - they want jousters to be able to compete at the Olympics this year. Zoe Conway reports from Dover Castle.
0749
Jeremy Corbyn, who is facing challenge from Owen Smith, is to promise to tackle the "five ills of 21st Century Britain" as he launches his official campaign to remain as Labour leader today. Gisela Stuart is a Labour MP who chaired the official Vote Leave campaign.
0810
More on Theresa May's visit to France to discuss Brexit: Pascal Lamy is the former director-general of the World Trade Organisation.
0820
More on the official launch of Jeremy Corbyn's campaign to remain as Labour leader: Diane Abbott is Labour MP and shadow health secretary.
0831
Turkish President Tayyip Erdogan has announced a three-month state of emergency to enable the authorities to take "swift and effective action" against those responsible for Friday's failed military coup. Dr Can Onal is a follower of US-based cleric Fethullah Gulen.
0838
More on the final day of the Republican National Convention in Cleveland: James Naughtie reports.
0844
Ros Altmann MP resigned from the government on Friday. She is very angry that the government is, in her view, delaying increasing the Pension Protection Fund cap.
0848
Margaret Thatcher's husband Denis wrote a personal letter of complaint to the BBC's chairman, Marmaduke Hussey, according to government papers released to the National Archives at Kew, after an item on the Today  programme compared Thatcherism to Hitler's Final Solution in 1988. Nick Higham reports.
0851      
Sam Allardyce is to be named the new England manager. The Sunderland boss will replace Roy Hodgson, who stepped down after England was knocked out of the European Championships by Iceland. Simon Barnes is an author and journalist and David Bernstein is former FA chairman.
Broadcast