Main content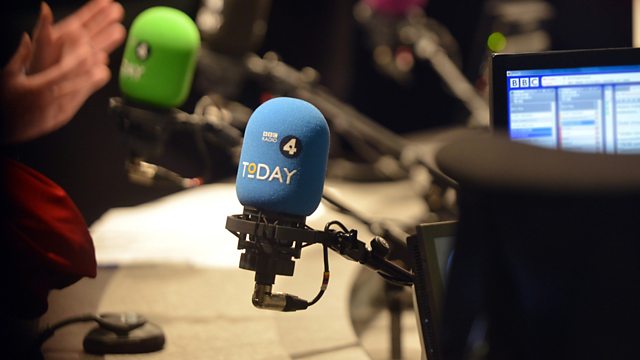 20/07/2016
Morning news and current affairs. Including Sports Desk, Yesterday in Parliament, Weather and Thought for the Day.
Last on
Today's running order
All timings subject to change.
0650
With little more than two weeks before the start of the Olympics, the International Olympic Committee has postponed making a decision on whether or not to ban Russian athletes. Oxana Boyko is a presenter at Russia Today.
0709
More than 15,000 education staff in Turkey have been suspended after last week's failed coup, as a purge of state officials widens still further. Gulnur Ayvbet is professor of international relations at Bahcesehir University in Istanbul.
0712

The National Counter Terrorism Police have been investigating how easy or difficult it would be to carry out an attack in the UK similar to the one in Nice last week. Sima Kotecha reports.
0720
More on talks of Russia being banned from the 2016 Rio Olympics: Dick Pound is former head of WADA.
0725
Britain's infrastructure is vulnerable to flooding from extreme rain, a government review will say. It warns that flooding from rivers and at the coasts is likely to get worse with climate change. BBC environment analyst Roger Harrabin reports.
0730
An employment tribunal is to hear a case supported by the GMB union that taxi hailing app firm Uber denies drivers' basic worker's rights. Justin Bowden, GMB national secretary, joins us on the programme.
0745
Tiny tracking devices fitted to 42 British cuckoos may finally have solved the mystery of the birds' dramatic decline.  Researchers from the British Trust for Ornithology have been tagging the migrating birds since 2011, revealing the spots along their journey where many birds disappear. Chris Hewson is the senior ecologist who led the research at the British Trust for Ornithology.
0750
Owen Smith is now the lone leadership challenger to Jeremy Corbyn after Angela Eagle pulled out of the race. He joins us on the programme.
0810
Prime Minister Theresa May will make her debut on the international stage today, meeting European leaders for talks in Berlin and Paris. How will Brexit discussions fare between the prime minister and German Chancellor Angela Merkel?
0830
Despite new legislation introduced in the UK last year to criminalise FGM, and previous measures to outlaw the practice, there have been no FGM convictions in 20 years. Hibo Wardere was cut aged 6 in Somalia and has written a memoir about the experience.
0835
The war in Syria has raged for five years and claimed the lives of more than a quarter of a million people. Human rights activist Mazen Darwish was released from prison last August, after being detained for three years. He is the founding director of the Syrian Centre for Media and Free Expression.
0840
More on future flood warnings in the UK: Swenja Surminski is senior research fellow at the Grantham Research Institute on Climate Change and the Environment.
0850
Theresa May appears in the Commons for her first PMQs as leader later today. Sean Worth is former advisor to David Cameron and Ayesha Hazarika is former advisor to Ed Miliband and Harriet Harman who is currently writing a book about PMQs.
Broadcast