Main content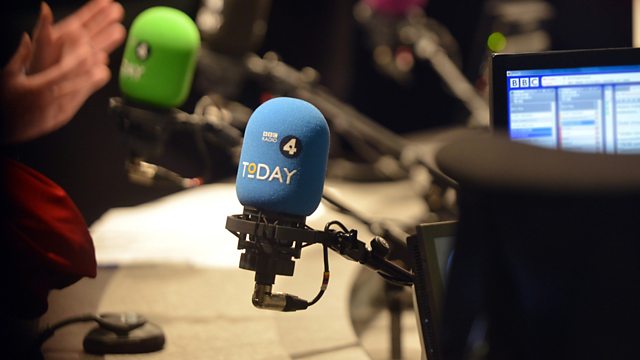 19/07/2016
Morning news and current affairs. Including Sports Desk, Yesterday in Parliament, Weather and Thought for the Day.
Last on

Today's running order
All timings subject to change.
0650
President Erdogan is accusing an Islamic cleric, Fethullah Gulen, of orchestrating last week's coup attempt. The BBC's UN correspondent, Barbara Plett-Usher, has been to Mr Gulen's spiritual retreat Centre to find out more.  
0710
A teenage Afghan refugee armed with an axe and a knife injured four people on a train in southern Germany before being shot dead by police, officials say. Christian Papay is editor of the Wurzburg news website, Erleben.
0715
Russia should be banned from this summer's Olympics and Paralympics after evidence was found of a four-year, state-sponsored doping programme, says the World Anti-Doping Agency. Dmitry Babich is a Russian journalist for the Russian news agency, Sputnik. 
0720
Google's artificial intelligence business DeepMind is branching out into healthcare, working with the NHS to develop an app to provide an early warning of kidney disease and working with Moorfields to diagnose eye problems. Jane Wakefield is the BBC's technology correspondent.
0730
Earlier this month the Today programme covered the 20th anniversary of the birth of Dolly the sheep - the first mammal ever cloned. Dolly who died age six has sisters - four identical twins all cloned from the same adult ewe. Scientists wanted to find out whether they - like Dolly - would die young. Tom Fielden the BBC's science editor reports.
0740
The Republican convention opened to chaotic scenes on Monday as Donald Trump's opponents and supporters traded angry shouts, disrupting his plans for a smooth coronation as the party's White House nominee. The BBC's special correspondent James Naughtie reports.
0745
Today is due to be the hottest day of the year - with high temperatures across the country. The BBC's Zoe Conway is in Lewes - at the Pells Pool - the oldest outdoor public swimming pool in the UK.
0750
MPs say the government has fallen short on its commitment for health spending in England. A report by the Health Select Committee says ministers' claims on funding for health are "misleading". Dr Sarah Wollaston is chair of the health select committee.
0810
MPs have backed the renewal of the UK's Trident nuclear weapons system, voting 472 to 117 in favour in Parliament. Labour was split over the issue with about 60% of MPs defying leader Jeremy Corbyn and backing the government. Hilary Benn, former shadow foreign secretary, joins us on the programme.
0820
More on talks to ban Russia from the 2016 Olympics and Paralympics in Rio after evidence was found of a four-year, state-sponsored doping programme: Dan Roan is the BBC's sports editor.
0830
Boris Johnson is to share the foreign secretary's official country residence with cabinet colleagues David Davis and Liam Fox.  The 17th-century manor house Chevening, in Kent, has been used by foreign secretaries since the 1980s as a country retreat and a venue to host international visitors. Sir Christopher Meyer was foreign secretary Geoffrey Howe's press secretary from 1984-88 and Sophia Money-Coutts is features director at Tattler.
0840
The street in the Iraqi capital Baghdad, shattered by the deadliest single bombing since the war of 2003, is now being reopened. Nearly 300 people died two weeks ago when a suicide truck bomb exploded, The BBC's chief international correspondent Lyse Doucet reports.
0845
Mark Lawson was a star presenter on Radio 4, BBC2 and BBC Four, until he was accused of bullying staff. An established novelist, his latest book The Allegations features two male characters - one accused of historic sexual abuse and the other of bullying colleagues. He joins us on the programme.
0850
Should the takeover of a world class UK tech firm be a cause for celebration or despair? The computer chip manufacturer ARM joins the list of successful British companies bought up by foreign investors. Hussein Kanji is founding partner of Hoxton Ventures and Gemma Godfrey is CEO of Moola, a digital wealth management firm.
0855
Families of some of the 179 British service personnel killed in the Iraq war have launched a crowd funding appeal asking the public to help enable lawyers to carry out preliminary legal work to bring those responsible for mistakes to account. Roger Bacon whose son Major Matthew Bacon was killed on duty in Iraq in 2006 joins us on the programme.
Broadcast