Main content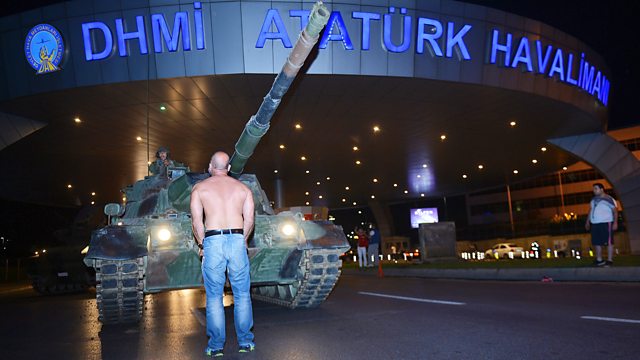 Turkish media crackdown, Ed Vaizey's legacy, Live streaming.
How the Turkey crisis is impacting on journalists, how live streaming is changing our expectations of traditional news, and Ed Vaizey on his big achievements.
Dramatic events in Turkey are leading to a crackdown on journalists and coverage. Turkey's media regulation body has revoked the licences of 24 radio and TV channels accused of links to US-based cleric Fethullah Gulen, the man accused by the government of directing the coup. A list has also been circulating on a pro government account on twitter which names around 70 journalists which the government allegedly wishes to detain. Steve Hewlett speak to Yavuz Baydar, writer for the Arab Weekly and Munich's Süddeutsche Zeitung paper, whose name appears on this list, and Andrew Finkel, co-founder of P24 - an initiative to support independent Turkish media.
Ed Vaizey has ended his six year stint as Minister of State for Culture and the Digital Economy. In that time, he's overseen some key broadband projects, addressed the lack of diversity in the creative industries, and has been credited by some with helping the DCMS avoid the worst of government cuts in the most recent budgets. Steve Hewlett speaks to him about his biggest achievements, his legacy and the challenges that face his successors Karen Bradley and Matthew Hancock.
There are a multitude of live streaming apps now; Periscope, FacebookLive, You Tube mobile, Meerkat, to name a few. Plus, real time material posted by ordinary people can easily be sourced on the web - just this week, footage can be viewed showing the moment a truck ploughed into crowds in Nice as can Facebook Live footage of three men in Virginia being shot whilst sitting in their car. So, what does access to this kind of amateur, unedited and often graphic material have on our relationship with events? Steve Hewlett speaks to Emily Bell, director of the Tow Center for Digital Journalism at Columbia University.
Producer: Katy Takatsuki.
Chapters
Turkish media crackdown

Journalists in Turkey Yavuz Baydar and Andrew Finkel

Duration: 10:39

Live streaming

Emily Bell, director of the Tow Centre for digital journalism at Columbia University

Duration: 07:52

Ed Vaizey

Ed Vaizey on his six years as a junior minister for the arts and broadcasting.

Duration: 08:26
Become a TV mogul and get rich
A celebration of Steve Hewlett, presenter of The Media Show