Main content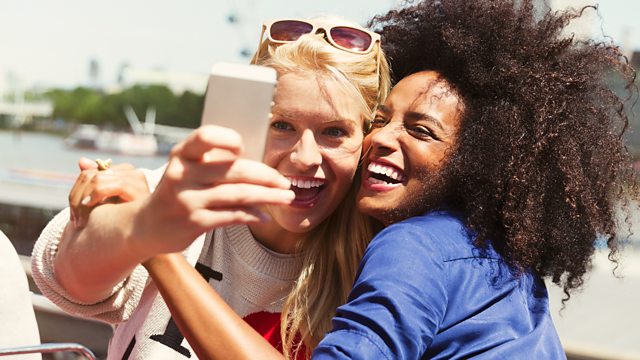 Young Women and Social Media
From self-representation to political engagement, social media has changed the way we view the world, each other and ourselves. Emma Barnett looks at its impact on women.
Louise Pentland, also known as Sprinkles of Glitter, is one of the most popular YouTube bloggers in the UK. She speaks to Emma about her career and following. What is it like to be a celebrity online?
How much of ourselves should we present on social media? Amalia Ulman is a performance artist and the creator of "Excellences & Perfections," a project which aimed to demonstrate how femininity is constructed online. Ruby Elliot, known as Rubyetc, is a British illustrator who takes a far more open approach. She uses social media to express her own struggles with mental health.
With the rise of live streaming websites and apps like Facebook Live and Periscope, how should harassment and crime shared online be tracked? And what responsibility do we have as viewers? Rossalyn Warren is a Senior News Reporter for Buzzfeed UK. Steve Shepherd is an Operations and Media Consultant for the UK Safer Internet Centre.
And, we discuss social media's impact on social justice and politics. Patrisse Cullors is one the founders of the Black Lives Matter Movement, which started online and has resulted in an international outcry against police brutality and institutional racism. Emma Dabiri is a cultural commentator and teaching fellow in the Africa Department at the School of Oriental and African Studies. Mollie Goodfellow is the Editorial Assistant for the Sky News Political Team.
Chapters
Where Are We Now In 2016?

Louise Pentland, or Sprinkles of Glitter, is one of the most popular YouTubers in the UK.

Duration: 09:15

Self-Representation Online

How much of ourselves should we present on social media? Amalia Ulman and Rubyetc discuss

Duration: 09:55

Online Harassment and Live Streaming

With the rise of live streaming apps, how should harassment & crime online be handled?

Duration: 08:31

How Has Social Media Changed Political Activism?

What impact has social media had on women's voices being heard in political activism?

Duration: 14:19

Find Today's Guests Online:

You can find out more about Amalia Ulman's performance art "Excellences & Perfections" here  

See Rubyetc's illustrations here 

And Louise Pentland at SprinklesOfGlitter

Credits

| Role | Contributor |
| --- | --- |
| Presenter | Emma Barnett |
| Interviewed Guest | Louise Pentland |
| Interviewed Guest | Ruby Elliot |
| Interviewed Guest | Amalia Ulman |
| Interviewed Guest | Steve Shepherd |
| Interviewed Guest | Rossalyn Warren |
| Interviewed Guest | Patrisse Cullors |
| Interviewed Guest | Emma Dabiri |
| Interviewed Guest | Mollie Goodfellow |
| Producer | Olivia Cope |
| Editor | Erin Riley |