Main content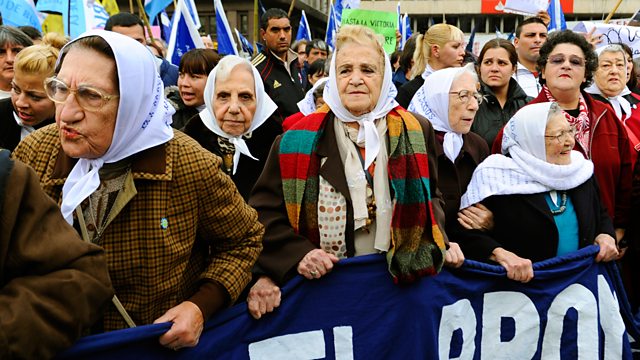 Argentina and the disappeared, Dirty Dancing, Women politicians cleaning up the mess?
Rhetoric or reality: female politicians cleaning up the mess left behind by male leaders? A new novel, The Memory Stones, to mark the 40th anniversary of Argentina's military coup.
Are female politicians cleaning up the mess left behind by male leaders? Theresa May has been called a 'safe pair of hands'. How much is this rhetoric, how much reality?
This year marks the 40th anniversary of the military coup in Argentina. A new novel by Caroline Brothers, The Memory Stones, captures the violence and fear experienced by one family during this period and reveals how, with the help of The Grandmothers of the Plaza de Mayo, one family is eventually reunited with the
child of their disappeared daughter. The novel is based on real events that took place 40 years ago in Argentina.
The film, Dirty Dancing, first released in 1987, still has legions of fans. This summer Secret Cinema brings back one of its most popular experiences, creating a fully immersive world of Dirty Dancing in a secret London location. We discuss Dirty Dancing's appeal.
Felicia Brown was a British artist who was killed in 1936 while fighting Franco's fascist forces in Spain. She was the only British woman to have engaged in combat in the Spanish Civil War. She was also a very good artist. On the 80th anniversary of the Spanish Civil War we reflect on her life and work.
Presenter: Emma Barnett
Interviewed guest: Niamh Ni Mhaoileoin
Interviewed guest: Julie Gottlieb
Interviewed guest: Caroline Brothers
Interviewed guest: Karen Krizanovich
Interviewed guest: Rhianna Dhillon
Interviewed guest: Sonia Boue
Interviewed guest: Pauline Fraser
Producer: Lucinda Montefiore.
Chapters
Why are female politicians a "safe pair of hands"?

Duration: 10:00

Caroline Brothers on Grandmothers of the Plaza de Mayo

Duration: 09:32

Dirty Dancing - a feminist celebration

Duration: 10:58

Felicia Brown

Duration: 09:04

Felicia Browne

A selection of Felicia Browne's archives will be on display at Tate Britain, outside the Hyman Kreitman Reading Rooms from 18 July to 14 August.

See the images here

Credits

| Role | Contributor |
| --- | --- |
| Presenter | Emma Barnett |
| Producer | Lucinda Montefiore |
| Interviewed Guest | Niamh Ni Mhaoileoin |
| Interviewed Guest | Julie Gottlieb |
| Interviewed Guest | Caroline Brothers |
| Interviewed Guest | Karen Krizanovich |
| Interviewed Guest | Rhianna Dhillon |
| Interviewed Guest | Sonia Boue |
| Interviewed Guest | Pauline Fraser |