Main content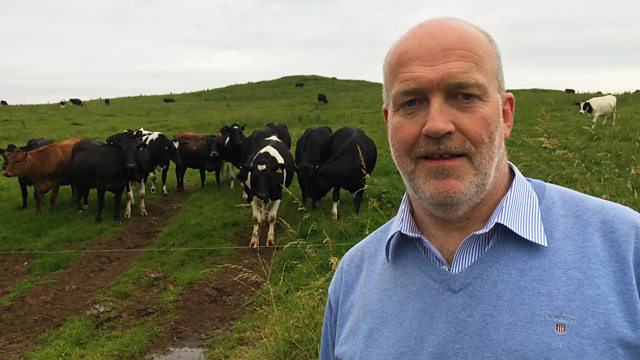 The Water Margin: A Tale of Two Drinking Troughs
A tale of two water troughs. Teresa May appoints a new pensions minister. The Bank of England holds base rates. Plus: the taxman's bumper Wimbledon.
A tale of two water troughs. Money Box listener, farmer Ian Potter, is puzzled over very differing bills for his cow's drinking water from two utility companies. He pays 44% more for his supply with one provider than the other. The programme asks whether the higher water bills paid in some geographical areas will decrease when competition is introduced from April 2017 for business customers. It also looks at the implications for domestic customers and what they might save from increased competition in the sector. Deryck Hall from the Consumer Council for Water joins the programme.
Pensions Minister Baroness Altmann has been dismissed. In a brief conversation Prime Minister Theresa May told Lady Altmann that she wanted the job done by a member of the House of Commons. That person is expected to be the new DWP Minister Penny Mordaunt, a leave campaigner who supported Andrea Leadsom in her brief leadership bid. She is the Member of Parliament for Portsmouth North. Independent pensions expert John Ralfe gives his assessment of Ros Altmann's achievements and the challenges facing her successor.
Despite much media speculation, the Bank of England's Monetary Policy Committee decided not to change interest rates or press the button on Quantitative Easing money printing. But it's expected that the committee may make changes at its next meeting in early August. So what does this say about the state of the UK economy? And the implications for savers, who've seen poor returns on their money since the credit crunch? Tony Yates, Professor of Economics, University of Birmingham and Anna Bowes, Savings Champion, discuss the issues.
Serena Williams won a record £2million for her eighth singles tennis title at Wimbledon last weekend. Plus another £175,000 as her share of the ladies doubles with her sister Venus. But much of that money could go to HMRC. How are international sports stars taxed when they visit the UK? Sports tax expert Julian Hedley, at Saffery Champness talks to the programme.
Last on
Chapters
Baroness Ros Altmann fired as Pensions Minister

What is Ros Altmann's legacy after 14 months in office?

Duration: 06:33

Interest Rates

For the 88th time interest rates have not changed

Duration: 05:46

A tale of two troughs

Should we be able to switch our water supplier?

Duration: 05:31

Sports Tax

Was HMRC the big winner at Wimbledon?

Duration: 04:31

Broadcasts