Main content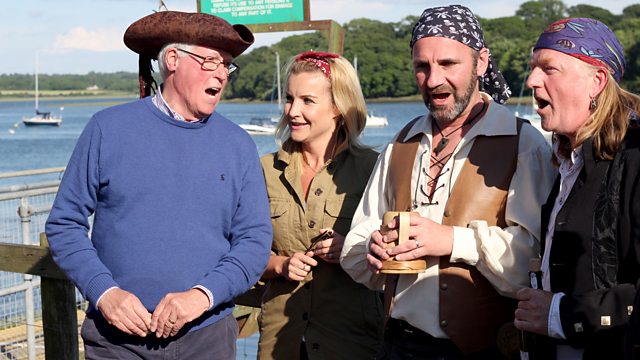 Pembrokeshire
John Craven takes to the water in Pembrokeshire to find out about the area's boating heritage, painting boats and learning sea shanties along the way.
This episode comes from Pembrokeshire. John Craven takes to the water to find out about the area's boating heritage, painting boats and learning sea shanties along the way. Helen Skelton is foraging on Freshwater West beach and cooking up a seaweed feast. She also meets the team building the ultimate ecohouse using locally sourced materials. Sanjida O'Connell is on Skomer helping to count the Manx shearwaters who call this island home.
And Adam Henson is in Cornwall making a special delivery of rare-breed cattle to the Heligan estate, while Tom Heap is looking at what is being done to reduce greenhouse gas emissions on farms after claims that agriculture produces larger quantities of gases than traffic.
West Wales Maritime Heritage Society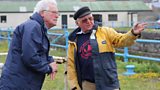 Captain John Craven drops anchor with David James of the West Wales Maritime Heritage Society to find out a little more behind the rich seafaring history of the Daugleddau estuary. John meets up with Brian and Luke and helps out restoring a 1930's 'Pembroke I', heritage racing boat. Just don't get any paint on you John and watch out for splinters!  
Discover more about the West Wales Maritime Heritage Society
Tŷ Solar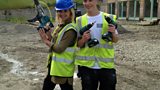 Helen Skelton meets up with the team behind a brand new eco project called Tŷ Solar (Welsh for Solar House) which is taking place in North Pembrokeshire. Helen meets architect Gareth Dauncey who gives her a tour of the brand new design of an affordable and eco-friendly housing. But this isn't just a dream! Helen visits a site where they are building a small hamlet of Ty Solar houses where she chats to site manager Jens Schroeder and apprentice Adam Derbyshire. 
Agricultural Emissions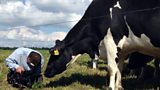 It's claimed that, globally, agriculture emits more greenhouse gasses than traffic and with the first legally binding climate change agreement in place, climate scientists agree something needs to be done to tackle the problem. Tom Heap finds out why farming emits such a high level of these gasses and discovers what can be done to limit them. 
Skomer Island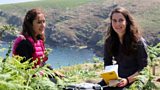 Zoologist Sanjida O'Connell visits the beautiful but harsh island of Skomer found just off the Welsh coast. Sanjida meets Bee Bueche and her team and helps count the Manx Shearwaters, not easy when half the world's population is on the island! But it does not end there as the island is also home to more than a million puffins, guillemots and other seabirds, they all need counting too! 
The Heligan herd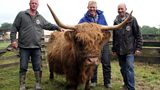 This week Adam Henson is delivering some of his rare breed cattle and sheep to the Heligan Estate in Cornwall. They share his passion for supporting rare breeds. While Adam's helping the stock settle in to their new home, there's time to have a look around the farm estate and check out the Victorian Gardens and even try a strawberry or two.
Seaweed delicacies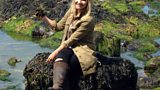 Helen stops off at Freshwater West where she meets Jonathan Williams, founder of The Pembrokeshire Beach Food Company. He specialises in gathering and cooking seaweed. Helen also meets PHD student Jessica Knoop to discuss the research she is undertaking into the sustainability of seaweed. Helen later meets up with Jonathan again and tries some seaweed pasta, but where's the pasta?
Seafair Haven Festival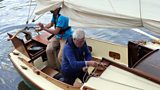 John steps aboard with father and son duo Steve and Kieran Latham to take their self-designed and self-built boat 'Leila' up the river Creswell as part of the Seafair Haven flotilla. It's a biennial festival celebrating the history of the area and its connection to the sea and surrounding rivers. John then throws three sheets to the wind and joins Welsh based shanty group Môr-Ladron y Borth for a traditional sea shanty or two!
Credits
| Role | Contributor |
| --- | --- |
| Presenter | John Craven |
| Presenter | Tom Heap |
| Presenter | Adam Henson |
| Presenter | Helen Skelton |
| Presenter | Sanjida O'Connell |
| Executive Producer | William Lyons |
| Series Producer | Joanna Brame |