Main content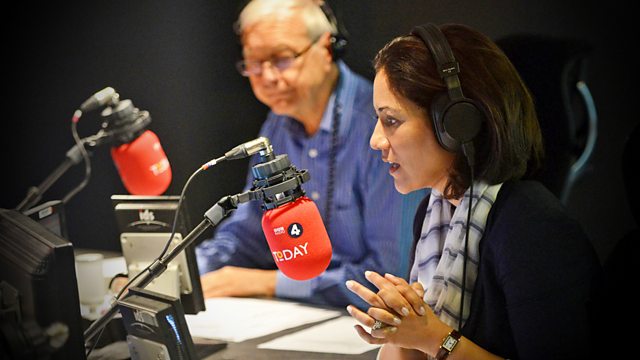 12/07/2016
Morning news and current affairs. Including Sports Desk, Yesterday in Parliament, Weather and Thought for the Day.
Today's running order
0650
Today will be Nazanin Zaghari-Ratcliffe's 100th day in detention in Iran. The dual British-Iranian national was detained by the Revolutionary Guard Corps on April 3 as she tried to leave Iran with her now two-year-old daughter after a holiday with her parents in Tehran. Richard Ratcliffe is Nazanin Zaghari-Ratcliffe's husband.
0655
She has been at the top of the Cabinet for many years and yet few feel they really know Theresa May, our next prime minister. One who does is Alistair Morgan, who lobbied the Home Secretary to set up an inquiry into the unsolved murder of his brother, the private investigator Daniel Morgan.
0710
This time yesterday David Cameron thought he had another nine weeks as prime minister. But by yesterday afternoon all that had changed. Nick Robinson was amidst the action in Westminster.
0715
Climate change is likely to cause a domino effect of risks to the UK's infrastructure, government advisors have warned. Professor Lord Krebs is chair of the adaptation sub-committee at the Committee on Climate Change.
0720
A new smartphone app that encourages gamers to search local areas to find the hugely popular Japanese Pokemon animations in the "real world" has proved a huge hit. Dave Lee is the BBC's North America technology reporter.
0730
Angela Eagle has said she can provide the leadership "in dark times for Labour" that Jeremy Corbyn cannot, as she launched her leadership challenge. Speaking on the programme is former Labour business secretary Angela Eagle.
0740
Brothers Noor and Alam were separated in Afghanistan when a warlord killed their father and burnt their house down. Alam and his mother fled to Pakistan and Noor escaped to Europe. With the help of journalist Edward Lawrence, Alam tracked his older brother down. Zoe Conway was there for the reunion in Calais.
0750
The general secretary of Unite Len McCluskey has given Jeremy Corbyn his full support. We speak live to Len McCluskey.
0810
Theresa May has promised to build a "better Britain" and to make Brexit a "success" after she was announced as the new Conservative leader and soon-to-be Prime Minister. The BBC's Ross Hawkins reports and we speak live to former chancellor and May supporter Ken Clarke, and Northern Ireland secretary and Leadsom supporter Theresa Villiers.
0820
One of the UK's most successful film directors, Paul Greengrass, is returning to the Bourne franchise after nearly a decade, with the fifth film, Jason Bourne, coming out at the end of the month. Nick Robinson spoke to Paul Greengrass.
0830
Today is David Cameron's last full day as Prime Minister. What is his legacy and how will he be judged by the history books? Sir Anthony Seldon is political historian and co-author of Cameron At 10, Lord Francis Maude is former Conservative Party chairman and Polly Mackenzie is former Liberal Democrat policy adviser at Number 10.
0845
Are we seeing a surge of women in senior political roles because life in politics is easier now? Shirley Williams is former leader of the Liberal Democrats in the House of Lords, Tulip Siddiq is Labour MP for Hampstead and Kilburn and Maria Miller is chair of the Commons women and equalities committee.
All subject to change.