Main content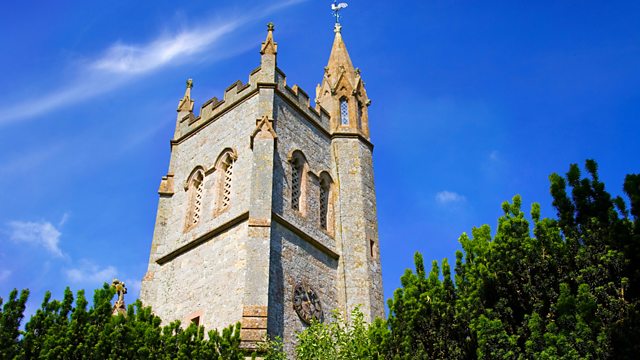 Deliver Us from Evil
The next in an occasional series on the Lord's Prayer, Sunday Worship comes from Emmanuel Church, Didsbury, in Manchester, featuring Sermon of the Year winner, Natalie Collins.
The next in an occasional series on the Lord's Prayer, Sunday Worship comes live from Emmanuel Church, Didsbury, in Manchester, with preacher Natalie Collins, who won this year's "Sermon of the Year" competition. The programme explores the complex life of Dorothy Lawrence, the English reporter who secretly posed as a man to become a soldier in the Battle of the Somme one hundred years ago.
Born in London in 1896, Lawrence was abandoned by her mother and adopted by a guardian of the Church of England. When she returned after the war, she confided to a doctor that she had been raped in her teenage years by her church guardian. She was not believed and was sent to a lunatic asylum in Barnet. She died in 1964, and was buried in a pauper's grave.
Natalie Collins works to prevent and respond to violence against women and enable others to do the same. In telling the story of Dorothy Lawrence, she reflects on the ways in which, one hundred years on, individuals and communities can still be ignored and diminished.
The service is led by the Rev Dr Kirsty Thorpe and music is provided by the Manchester Singers, directed by Aimee Presswood. The producer is Andrew Earis.
Script
Please note:
This script cannot exactly reflect the transmission, as it was prepared before the service was broadcast. It may include editorial notes prepared by the producer, and minor spelling and other errors that were corrected before the radio broadcast.
It may contain gaps to be filled in at the time so that prayers may reflect the needs of the world, and changes may also be made at the last minute for timing reasons, or to reflect current events.
ANNO: It's ten past eight. Winner of the 2016 Sermon of the Year Competition Natalie Collins gives the address on Sunday Worship now. The service explores the complex life of Dorothy Lawrence, the only female who acted as a British soldier at the Battle of the Somme.  It comes live from Emmanuel Church, Didsbury, in South Manchester, and is led by the Revd Dr Kirsty Thorpe. The service begins as the choir sings Drop, drop slow tears.
CHOIR: Drop drop slow tears (Gibbons)
Phineas Fletcher (1582-1650)

RECORDED INSERT: TRACK 1 (ACTOR)
"Perhaps I shall never come back. Anyhow, I mean to get into the very thick of it. And if I die or if I am killed, well, I die, and my corruptible hide simply parts company with me"

INTRODUCTION: KIRSTY THORPE
Good morning. A hundred years ago, during the Battle of the Somme, the words 'walking wounded' gave hope to relatives waiting for news of loved ones. But all of us, at times, can be walking wounded in different ways – physical or emotional. Unbeknownst to all but a few of the thousands of soldiers fighting on the Front line in 1916, there was a woman in British army uniform among their ranks. Dorothy Lawrence – whose words we heard read just a moment ago - went to France as an undercover reporter, escaping an earlier life blighted by sexual violence. Dorothy's story, and the pain of other victims of coercive and abusive people, men and women, will be explored in today's service.
It sometimes seems that people who have been subjected to abuse find themselves being victimized time and time again. Our worship explores what it means to ask that God might 'Deliver us from evil'. 
Let us pray.
Gracious God,
in Jesus Christ you enter our broken, pain-filled world,
bringing healing and hope, truth and light.
We ask your forgiveness for the part we have played - both men and women - in hurting others,
and remember before you our tendency to hurt ourselves.
Give us your strength
as we confront evil,
your persistence
as we challenge oppression,
your loving protection
as we enter dangerous places
in order to witness to your truth.
In Jesus' name we pray,  Amen.
HYMN: THE KING OF LOVE (St Columba)
Henry Williams Baker (1821-1877)

KIRSTY
Dorothy Lawrence was born in Hendon in North London in 1896. Abandoned by her mother, or perhaps because her mother had died, she was adopted by a guardian of the Church of England. When she left school, she had a strong desire to become a journalist. In 1914, she was living in Paris when World War One was declared. She contacted several British newspapers offering to work as a war correspondent but they all refused to employ a woman, considering it to be very dangerous work. But she would not be deterred.
RECORDED INSERT: TRACK 2 (ACTOR)
 "I'll see what an ordinary English girl, without credentials or money, can accomplish. If war-correspondents cannot get out there, I'll see whether I cannot go one better than these big men with their cars, credentials, and money. I'll see what I can manage as a war correspondent!"

KIRSTY
She convinced some British army soldiers to smuggle her a uniform, she flattened her figure with a home-made corset, and persuaded two Scottish military policemen to cut her long, brown hair in short military style. She roughed her pale skin with a razor blade in the hope of giving herself a shaving rash, and to this added shoe-polish tan. She took up the name Denis Smith, managed to obtain some fake army papers, and  signed up.
Weeks later, Dorothy reached the town of Albert on the Somme, and then spent quite a short time on the front line.

RECORDED INSERT: TRACK 3 (ACTOR)
"Approximately four hundred yards from the German front line I put in most of my time as a British soldier. I divided the ten days and nights either alone in the open of no man's land, under simultaneous fire of shell, rifle and shrapnel, or within one of three dugouts appropriated at night for my own use; though several nights I slept alone, under fire, among the ruins."

KIRSTY
After reaching the front she was quickly found out, and detained in a French convent. Dorothy was only released when she signed an affidavit promising not to reveal publically how she had eluded the military. On her return to Britain she tried to publish an account of her time at the Somme, but it was banned by the War Office.
RECORDED INSERT: TRACK 4 (ACTOR)
"In making that promise I sacrificed the chance of earning by newspaper articles written on this escapade, as a girl compelled to earn her livelihood"

KIRSTY
She later managed to write a book about her experiences, but it was so heavily censored it didn't become the commercial success that she both wanted and needed.
With no income and her journalistic credibility in ruins, her life took a turn for the worse. By 1925, some ten years later, her increasingly unpredictable behaviour was brought to the attention of the authorities. She confided in a doctor that she had been raped in her teenage years by her church guardian. She was not believed, she was taken into care, and deemed insane. She remained in a lunatic asylum for many years, until hear death in 1964. She was buried in an unmarked pauper's grave.

CHOIR: MISERERE MEI – WILLIAM BYRD

KIRSTY
Miserere Mei by the 17th century English composer William Byrd, with words from Psalm 51, 'Have mercy upon me O God, after thy Great Goodness'. Our preacher today is Natalie Collins, who works to prevent domestic abuse and violence against women. But before that, a reading from the Old Testament.
READING: GENESIS 16.1-6
A reading from the Book of Genesis, Chapter Sixteen, beginning at the first verse.
Now Sarai, Abram's wife, bore him no children. She had an Egyptian slave-girl whose name was Hagar, and Sarai said to Abram, 'You see that the LORD has prevented me from bearing children; go in to my slave-girl; it may be that I shall obtain children by her.' And Abram listened to the voice of Sarai. So, after Abram had lived for ten years in the land of Canaan, Sarai, Abram's wife, took Hagar the Egyptian, her slave-girl, and gave her to her husband Abram as a wife. He went in to Hagar, and she conceived; and when she saw that she had conceived, she looked with contempt on her mistress. Then Sarai said to Abram, 'May the wrong done to me be on you! I gave my slave-girl to your embrace, and when she saw that she had conceived, she looked on me with contempt. May the LORD judge between you and me!' But Abram said to Sarai, 'Your slave-girl is in your power; do to her as you please.' Then Sarai dealt harshly with her, and she ran away from her.

SERMON PART 1 – Natalie Collins
The story of Dorothy Lawrence reminds me of that of Hagar, the Egyptian slave of Abraham's wife Sarah. When Hagar became pregnant her relationship with Sarah broke down, so pregnant, powerless and abused she fled into the desert to escape mistreatment. 
Dorothy Lawrence's story is amazing and heart wrenching.   But, like Hagar, she lived many years ago and it would be easy to imagine the painful parts of her story relegated to the past – to distance ourselves from the horrors that she endured. But my work with women and children who have been subjected to abuse, suggests otherwise. Indeed, my own story, and that of countless others around the world, echoes both that of Dorothy Lawrence, and of Hagar. I was brought up in a Christian household, and the teaching I received in church disabled me from recognising the abuse that I was subjected to. How, after that, could I possibly continue to follow Jesus or the Christian faith?
So the story of Hagar is a powerful one for me. The reading we've just heard continues as Hagar fled into the desert. As she sat devastated near a spring, an angel appeared to her.  And the angel told her – amazingly - that she would be blessed.
"I will increase your descendants so much that they will be too numerous to count."  The angel of the Lord also said to her: "You are now pregnant and you will give birth to a son.
You shall name him Ishmael, for the Lord has heard of your misery." 
Ishmael means "God hears".  This woman, powerless and abused; and God, Creator of all, appeared to her and told her He had heard her! 
And Hagar spoke to God.   She said, "I have now seen the One who sees me."  Hagar, abused and alone, is the first person in the Bible to give God a name, - a highly significant act in ancient middle eastern cultures for whom God was so holy he could hardly BE named.  Hagar's relationship with God was enduring, despite what she'd been through. How characteristic of our loving God to take the initiative, appearing to Hagar as he did, affirming her personal significance strongly and profoundly.
For me too, it was through Jesus that I found a new way to live, with life in all its fullness. I came to realise that some of the horrid things which had been done to me - did not diminish my significance as a human being, that in God, wholeness and healing can be found and this God was the God who heard me.
My personal journey and professional expertise led me to found and run a consultancy to enable individuals and organisations to prevent and respond to male violence against women and also to found a youth domestic abuse and exploitation education programme. And though we must recognise the gendered nature of abuse, it has never been solely women who are subjected to abuse; men, and children of both genders are too. It is not before time that our society is becoming more sensitized to and aware of such issues, including in our churches and religious communities, and taking steps to safeguard the vulnerable and young.
People often ask why God doesn't just stop bad things happening, if He is real.  As Teresa of Avila famously said, "Christ has no body now but yours. No hands, no feet on earth but yours. Yours are the eyes through which he looks compassion on this world. Yours are the feet with which he walks to do good.
Yours are the hands through which he blesses all the world. Yours are the hands, yours are the feet, yours are the eyes, you are his body. Christ has no body now on earth but yours." 

HYMN (CHOIR ONLY): WHO CAN SOUND THE DEPTHS OF SORROW (Kendrick)
Graham Kendrick

BIBLE READING: LUKE 10.25-37
A reading from the Gospel according to Luke, Chapter 10, beginning at the 25th verse.
A lawyer stood up to test Jesus. "Teacher," he said, "what must I do to inherit eternal life?" He said to him, "What is written in the law? What do you read there?" He answered, "You shall love the Lord your God with all your heart, and with all your soul, and with all your strength, and with all your mind; and your neighbor as yourself." And he said to him, "You have given the right answer; do this, and you will live."
But wanting to justify himself, he asked Jesus, "And who is my neighbor?" Jesus replied, "A man was going down from Jerusalem to Jericho, and fell into the hands of robbers, who stripped him, beat him, and went away, leaving him half dead. Now by chance a priest was going down that road; and when he saw him, he passed by on the other side. So likewise a Levite, when he came to the place and saw him, passed by on the other side. But a Samaritan while traveling came near him; and when he saw him, he was moved with pity. He went to him and bandaged his wounds, having poured oil and wine on them. Then he put him on his own animal, brought him to an inn, and took care of him. The next day he took out two denarii, gave them to the innkeeper, and said, 'Take care of him; and when I come back, I will repay you whatever more you spend.' Which of these three, do you think, was a neighbour to the man who fell into the hands of the robbers?" He said, "The one who showed him mercy." Jesus said to him, "Go and do likewise."

 
SERMON PART 2 – Natalie Collins
The story of the Good Samaritan encapsulates for all time Jesus' own understanding: Namely that compassion can be exercised in surprising ways by surprising people, including those we might ourselves most naturally despise, be suspicious of, or exclude. How badly do we need to hear that message in our society that feels increasingly beset by divisions! How important is it for us to break down walls of suspicion between all sorts of groupings – be they of class, politics, race, gender or sexuality, at this particular moment in our national life.  It's good to remember that Dorothy's story also involved people who saw her as their neighbour, both men and women, who got involved and supported her.  A man called Tom found her a safe place to sleep when she was in the trenches.  Ten men Dorothy described as the "khaki accomplices" also helped her when she was in the trenches..  Emmeline Pankhurst, listened to her, believed her and gave her an opportunity to speak about her experiences.
There are so many women, and men, like Dorothy.  They are our neighbours, friends, work colleagues and family members in need.  We pass them in the street and sit next to them on the bus.
The story of the Good Samaritan reminds me of a woman I met some years ago.  Her husband was an elder in their church.  For twenty years he had abused her.  And when she finally left him, the people in the church abandoned her.  She told me that the church women literally walked by on the other side of the road when they saw her.  "And do you know who helped me?"  She asked.  Her voice rose louder, "An atheist, a group of Hindu people and a homosexual couple.  They are the ones who helped me."
It's my experience that in many ways some church communities have been disabled from effectively supporting those who are subjected to abuse, often having sided with the perpetrator.  This is not limited to the church, many communities and individuals would prefer to imagine that abuse happens "out there" to people unlike them.  Yet the church has a history of mistreating, not only children, but women too.  Tertullian said that woman is a temple built over a sewer, St Augustus Magnus said woman is a misbegotten man and Martin Luther said women should remain at home and sit still.  Although there has been much progress since these early church fathers, I think we still have a long way to go until women are understood and respected as within our churches, and the wider world.
Fortunately there are also many, many Good Samaritans across our communities, and there is so much good to celebrate. It's noteworthy that Jesus tells the parable of the Good Samaritan in response to a question 'What must I do to inherit eternal life'? This is so important it affects our salvation, as individuals, as communities. Being Good Samaritans - taking notice of the marginalized or abused, being a good neighbour in every way to those around us - is our very spiritual life blood! Christ has no body but us on this earth, we are Christ's eyes and we must be a people who see the Dorothy's.  We must be willing to take seriously the stories of those like Dorothy and we must help them to see that God does indeed see them, as Hagar herself came to understand. He sees, He cares. When we ourselves see them and we get involved we become Christ's hand, holding theirs in ours.  We become Christ's feet walking with them.
If you are hurting today, know that God knows you and sees you, and loves you.

CHOIR: PEACE I LEAVE WITH YOU – AMY BEACH
KIRSTY THORPE
Peace I leave with you, an anthem by the American composer Amy Beach, performed by the Manchester Singers, directed by Aimee Presswood. And so to our prayers.

READER 1
We bring our prayers for the victims of violence in our world,
children subjected to abuse and neglect of all kinds,
women and men trapped by unloving relationships,
relatives, neighbours, and others within communities,
who suspect or know something is wrong behind closed doors,
but may not see a way to deliver those in suffering
from the evil they are subjected to.

CHOIR: PRAYER RESPONSE – NADA TE TURBE (TAIZE)

 
READER 2
We pray for those choosing to be abusive, violent, controlling or hurtful to others, that they would be convicted to stop and that as a community we would not collude with abusers' behaviour.
We remember before God those who are drawn to challenge oppression –
social workers, counsellors, doctors and nurses,
lawyers, police officers, teachers and refuge workers –
asking that their sensitivity may not be blunted
by the things they uncover,
and that their commitment may not be diminished
by the scale of the evil they confront.

CHOIR: PRAYER RESPONSE – NADA TE TURBE (TAIZE)

READER 1
We pray for ourselves, recognizing the inner conflicts we often face
when we are subjected to pressure or manipulative behavior by others.
Help us to confront what we are denying,
to allow your healing to touch and transform what faces us,
and to receive the peace, love and joy
which you alone can give us.
CHOIR: PRAYER RESPONSE – NADA TE TURBE (TAIZE)
READER 2
Bringing together all our prayers, we join in the words that Jesus taught us.

Our Father,
who art in heaven,
hallowed be thy name;
thy kingdom come;
thy will be done;
on earth as it is in heaven.
Give us this day our daily bread
and forgive us our trespasses,
as we forgive those who trespass against us.
And lead us not into temptation;
but deliver us from evil.
For thine is the kingdom,
the power, and the glory,
for ever and ever.
Amen.

KIRSTY
Our final hymn comes from the Iona Community in Scotland. Jesus Christ is waiting.

HYMN: JESUS CHRIST IS WAITING (Bell/Maule/Iona Community)
John L Bell (born 1949) and Graham Maule (born 1958)
KIRSTY
The blessing of the God of Sarah and Hagar,
as of Abraham,
the blessing of the Son, born of the woman Mary,
the blessing of the Holy Spirit
who broods over us
as a mother, her children,
be with you all.
Amen 
ORGAN VOLUNTARY – Theme and Variations (Andriessen) (publisher Zengerink)