Main content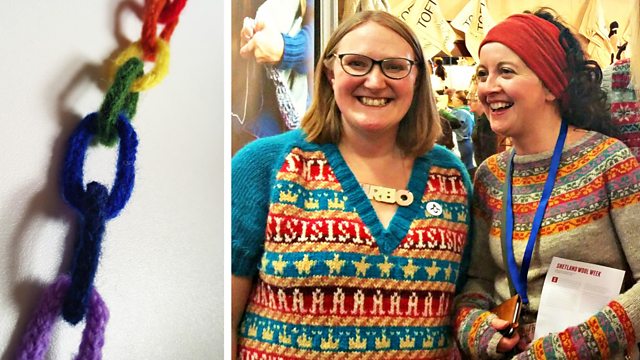 Listener Week
Kate Davies who changed career after an unexpected stroke in her 30s to become a successful knitter and wool maker. Plus the first black nurse in the NHS, Kofoworola Abeni Pratt.
At the suggestion of listener, Maylin Scott we talk to Kate Davies in the first of a Listener Week chain of interviews. After an unexpected stroke in her 30s Kate changed career to become a knitter and wool maker. She tells us about her recovery and her love of knitting.
What is it like to want a sex life with your partner but find that you have a low libido? We hear from one listener, while sexual health consultant Jane Ashby and Katherine White a Clinical Pyschologist have some advice.
We hear about the first black nurse in the NHS, Kofoworola Abeni Pratt. Janet Davies from the Royal College of Nurses explains her legacy.
Listener Lucy Humphries and her sister Sarah discuss becoming adult orphans and the impact on them of losing both their parents after a car crash. Julia Samuel a Psychotherapist offers her insight.
In the late 1990s, Claudia Rizzo's dad found the 1929 diary of May Stewart a teenage girl from Letchworth, at a small railway station in Southern Italy. Claudia tells us about the diary and why she wants to find May Stewart's family.
Osteoarthritis of the hands usually runs in families. Linda Muller got in touch to say her and her friends all in their 50s have the condition and find life very difficult. Professor Tonia Vincent a Professor of Musculoskeletal Biology at Oxford University explains why it occurs, how it can be treated and whether it can be prevented.
School holidays are a time of greater stress for some families who struggle with finding childcare, cannot afford to feed their children well or keep them occupied. The issue was discussed by Listener Val Barron who works as a development worker for Communities Together Durham and Sara Bryson is a policy advisor at Children North East who has researched the subject.
Why when we talk about successful women and their careers do we often refer to male dominated professions like banking or the law? Listener Chris Gent tells us why he believes his wife, a teacher, and his sister, a nurse are just as successful and need to be recognised.
Presented by Jane Garvey
Producer: Rabeka Nurmahomed
Editor: Jane Thurlow
Interviewed guest: Kate Davies
Interviewed guest: Jane Ashby
Interviewed guest: Katherine White
Interviewed guest: Janet Davies
Interviewed guest: Julia Samuel
Interviewed guest: Claudia Rizzo
Interviewed guest: Tonia Vincent
Interviewed guest: Val Baron
Interviewed guest: Sara Bryson.
Credits
| Role | Contributor |
| --- | --- |
| Presenter | Jane Garvey |
| Producer | Rabeka Nurmahomed |
| Editor | Jane Thurlow |
| Interviewed Guest | Kate Davies |
| Interviewed Guest | Jane Ashby |
| Interviewed Guest | Katherine White |
| Interviewed Guest | Janet Davies |
| Interviewed Guest | Julia Samuel |
| Interviewed Guest | Claudia Rizzo |
| Interviewed Guest | Tonia Vincent |
| Interviewed Guest | Val Barron |
| Interviewed Guest | Sara Bryson |