Main content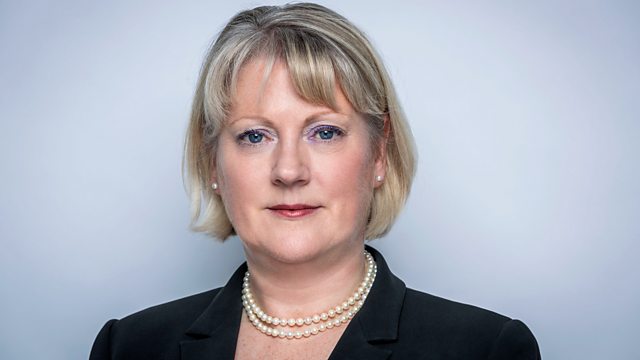 BBC deputy director-general Anne Bulford, Should BBC have filmed the raid on Cliff Richard's home, Risks of true crime TV shows
New BBC deputy director-general Anne Bulford gives her first interview. Plus was the BBC right to film the raid on Sir Cliff Richard's home? And behind the scenes of TV true crime.
One of the most senior women in media gives her first interview. The BBC's new Deputy Director General Anne Bulford talks Top Gear, top executives' pay and how the broadcaster plans to make hundreds of millions of pounds in savings.
Sir Cliff Richard says he will sue the BBC and South Yorkshire Police over TV coverage of the raid on his home in 2014 in connection with historical sex abuse allegations. After 22 months without being arrested or charged, Sir Cliff was told that the case had been dismissed. He says the behaviour of the police and BBC at the time his home was raided was unfair and caused him distress and financial loss. The House of Commons Home Affairs Select Committee criticised the police, but said the BBC did nothing wrong. However, should the law be changed to protect the anonymity of people who fall under suspicion but are never arrested or charged? Or should the media be free to report on police action against public figures, even if they emerge as completely innocent at the end of the process? We hear contrasting views from two legal experts.
Also - Since the success of the Serial podcast in the United States, UK broadcasters have been looking for a successful true crime formula here. This Thursday on ITV, award-winning investigator and former police detective Mark Williams-Thomas tackles a cold case in "The Investigator: A British Crime Story". It uses dramatic reconstruction to delve into a story of murder and disappearance. We hear from Mark Williams-Thomas and also the executive producer of the BAFTA-winning Channel Four series "The Murder Detectives", Neil Grant, on how they choose their cases and the production and ethical challenges involved when real tragedy becomes TV entertainment.
Become a TV mogul and get rich
A celebration of Steve Hewlett, presenter of The Media Show