Main content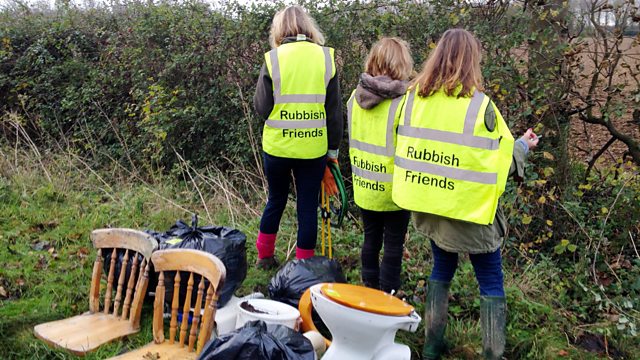 Listener week: Rubbish friends, Adult orphans, 170 years of family recipes
We speak to two listeners about the experience of becoming adult orphans, and we hear from a group of friends who pick litter together.
The death of your parents is never easy, however old you are. Lucy Humphries wrote to us about the experience of becoming an adult orphan. She joins Jenni along with her sister Sarah and the psychotherapist Julia Samuel, a specialist in grief and a vice-chair of the British Association for Counselling and Psychotherapy.
Our Listener Week chain of interviews continues. The sonic artist Felicity Ford suggested we speak to her friend and fellow knitter Lara Clements. Lara talks about the pressures on women in their thirties to marry and have children and reveals why she loves being an aunt.
We hear from a group of friends in Suffolk who meet every week to pick litter. Fiona Unwin, Julia Squier and Etta Lloyd-Jones are Rubbish Friends.
Listener Jenny Mallin on her family's 170 year old book of recipes, passed down and added to by five generations of Anglo-Indian women.
Presenter: Jenni Murray
Producer: Helen Fitzhenry.
Clips

Chapters
Adult Orphans

Listener Lucy Humphries, her sister Sarah and psychotherapist Julia Samuel discuss

Duration: 10:40

Rubbish Friends

Reporter Catherine Carr meets a group of friends who meet every week to pick litter

Duration: 09:03

Five Generations of Family Recipes

Listener Jenny Mallin on her family's 170 year old Anglo-Indian cookery book

Duration: 08:17

Listening From Abroad

Ayo Obe from Lagos, Nigeria on why she listens to Woman's Hour

Duration: 02:19

The Listener Chain: Lara Clements

The pressures on women in their 30s to have children and why she loves being an aunt.

Duration: 07:03

From The WH Archive On A Historic Day

Credits

| Role | Contributor |
| --- | --- |
| Presenter | Jenni Murray |
| Producer | Helen Fitzhenry |
| Interviewed Guest | Lucy Humphries |
| Interviewed Guest | Julia Samuel |
| Interviewed Guest | Lara Clements |
| Interviewed Guest | Jenny Mallin |
| Interviewed Guest | Fiona Unwin |
| Interviewed Guest | Julia Squier |
| Interviewed Guest | Etta Lloyd-Jones |