Main content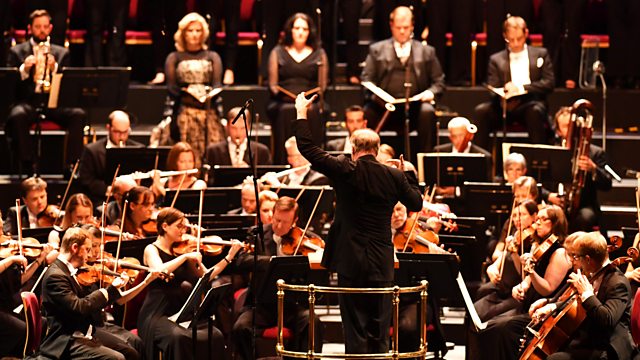 Prom 05: Beethoven's Missa solemnis
A Prom in which Gianandrea Noseda conducts the BBC Philharmonic in Beethoven's Missa solemnis. With soprano Camilla Nylund, mezzo-soprano Birgit Remmert and tenor Stuart Skelton.
With Verity Sharp
Another chance to hear the BBC Philharmonic and Gianandrea Noseda in Beethoven's Missa solemnis from the BBC Proms
Presented by Sara Mohr-Pietsch from the Royal Albert Hall, London
In 1819 Ludwig van Beethoven was stirred by a new creative energy. Sketched over the next four years, on specially enlarged sheets of paper, was the work Beethoven himself came to admire above all others: his grand solemn mass, the Missa solemnis. Using every means of musical imagery available, Beethoven demonstrated his supreme mastery of the orchestral-choral model in this musical glimpse of heaven. The BBC Philharmonic, along with the Hallé Choir and Manchester Chamber Choir, bring Beethoven's vision to life under the orchestra's dynamic Conductor Laureate, Gianandrea Noseda.
2pm
Beethoven: Missa solemnis
Camilla Nylund (soprano)
Birgit Remmert (mezzo-soprano)
Stuart Skelton (tenor)
Hanno Müller-Brachmann (bass)
Hallé Choir
Manchester Chamber Choir
BBC Philharmonic
Gianandrea Noseda (conductor).