Main content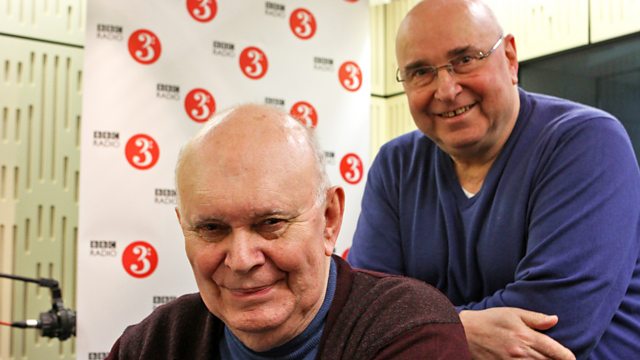 Monday - Rob Cowan with Alan Ayckbourn
With Rob Cowan. Including My Favourite Romantic and 20th-Century Shakespearean Music; Dvorak's Suite (American); Artist of the Week: Marc Minkowski conducts Charpentier: Te Deum.
9am
My favourite... Romantic and 20th-Century Shakespearean Music. Throughout the week Rob shares a selection of music from the last two hundred years inspired by the plays of the Bard. The line-up includes Korngold and Mendelssohn's musical interpretations of the comedies Much Ado About Nothing and A Midsummer Night's Dream, as well as the Queen Mab Scherzo from Berlioz's choral symphony Roméo et Juliette and the conclusion of Verdi's masterful comic opera Falstaff.
9.30am
Take part in our daily musical challenge: can you work out which two composers are associated with a particular piece?
10am
Rob's guest is the Olivier and Tony Award winning playwright and director Sir Alan Ayckbourn. Alan has written eighty plays to date, including Relatively Speaking, How the Other Half Loves, Absurd Person Singular, Bedroom Farce and The Norman Conquests. His plays have been produced in the West End as well as around the world, though Alan is most associated with the Stephen Joseph Theatre in Scarborough where he was Artistic Director for many years, and where the majority of his work has been premiered. Alan will be talking about his life in the theatre and sharing a selection of his favourite classical music, including works by Janácek, Tallis and Bartók, every day at 10am.
10.30am
Music in Time: Romantic
Rob places Music in Time. Today the spotlight is on the Romantic era. Having travelled to America in 1892, the Czech composer Dvorák was quick to embrace the culture of his new environment, resulting in several American-themed works, including his 'American' Suite in A major.
11am
Rob's artist of the week is the conductor Marc Minkowski. Hailed as one of the finest early music specialists of his generation, Minkowski founded the period-instrument ensemble, Les Musiciens du Louvre. With this much-praised ensemble he has performed and recorded repertoire not only from the Baroque and Classical periods, but also by Romantic composers including Bizet and Wagner. Throughout the week Rob shares Minkowski's distinctive accounts of Charpentier's Te Deum, Berlioz's dramatic Symphonie fantastique, Schubert's final 'Great' Symphony in C major, Handel's cantata Il delirio amoroso (with soloist Magdalena Kozena), and Méhul's rarely-heard First Symphony.
Charpentier
Te Deum
Annick Massis (soprano)
Magdalena Kozená (mezzo-soprano)
Patrick Henckens (tenor)
Eric Huchet (tenor)
Russell Smythe (baritone)
Jean-Louis Bindi (bass)
Chorus of Les Musiciens du Louvre
Les Musiciens du Louvre
Marc Minkowski (conductor).
Music Played
My favourite...Romantic and 20th-Century Shakespearean Music

ALAN AYCKBOURN'S CHOICE NO.1

ALAN AYCKBOURN'S CHOICE NO.2

MUSIC IN TIME: ROMANTIC

PROMS ARTIST OF THE WEEK: MARC MINKOWSKI

PROMS ARTIST OF THE WEEK: MARC MINKOWSKI
By Association
Answer: Bruckner and Wagner
The music played:
Bruckner
Symphony No.3 in D minor 'Wagner Symphony': 1st movement
Netherlands Radio Philharmonic Orchestra
Jaap van Zweden (conductor)
CHALLENGE CLASSICS