Main content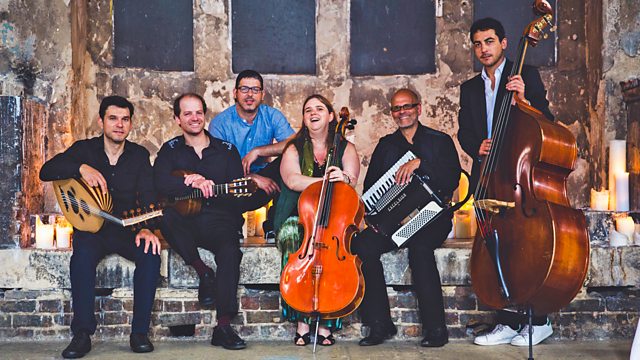 Lopa Kothari - Melange in Session
Lopa Kothari presents sounds from around the globe with live music from Melange, founded by UK cellist Shirley Smart, who lived for ten years in Jerusalem, the ensemble gathers musicians from Europe, North Africa and the Middle East.
Last on

Music Played
Bitori

Bitori Nha Bibinha

Legend of Funana - The Fobidden Music of the Cape Verde Islands.
Analog Africa.
1.

Fanfare Ciocarlia

Crayfish Hora

Onwards To Mars!.
Asphalt Tango.
1.

Andres de Colbert y Su Orquesta

Lobos Al Escape

The Rough Guide To Peru Rare Groove.
World Music Network.
8.

Stanley and the Ten Sleepless Knights

Musician Want Something to Drink

Quelbe! Music of the U.S. Virgin Islands.
Smithsonian Folkways Recordings.
17.

Malawi Mouse Boys

Mau a Mulungu (The Ways of God)

Justin Thurgur

Straight Down To My Soul

No Confusion.
Funkiwala.
1.

Lokkhi Terra Meets Shikor Bangladesh All Stars

Ronger Duniya

Bangla Rasta.
Funkiwala Records.
1.

Vula Viel

Zine Dondone Zine Daa

Bustan Abraham

Sama'i Nahawand (Heritage Track)

Pictures Through The Painted Window.
Nada Records.

Fanfare Ciocarlia

Trenul, masina mica

Onwards To Mars!.
Asphalt Tango.
4.

Bitori

Munana

Legend of Funana - The Fobidden Music of the Cape Verde Islands.
Analog Africa.
5.

The Furrow Collective

Many's the Night's Rest

Wild Hog in the Woods.
www.thefurrowcollective.co.uk.
2.

Graveola e o Lixo Polifônico

Aurora

Camaleão Borboleta.
Mais Um Discos.
3.

Karl Hector & The Malcouns

Kingdom of D'mt

Beyond Addis 02 (Modern Ethiopian Dance Grooves Inspired by Swinging Addis).
Trikont.
1.

Songs of Separation Collective

Unst Boat Song feat. Karine Polwart

Songs Of Separation.
Navigator Records.
7.

Mec Yek

Odi Thsori Mri Daj

Super DiverCity.
Choux de Bruxelles.
6.

Las Hermanas Caronni

Agua de río

Navega Mundos.
lashermanascaronni.com.
1.

Beautiful Nubia and the Roots Renaissance Band

Tiwalanse

Taabaku.
Olusegun Akinlolu/Eniobanke.
2.

Sidiki Coulibaly

Donzo Fasa

Every Song Has It's End: Sonic Dispatches From Traditional Mali.
Glitterbeat.
9.

The Gloaming

The Old Favourite

The Gloaming 2.
Real World Records.
Broadcast