Main content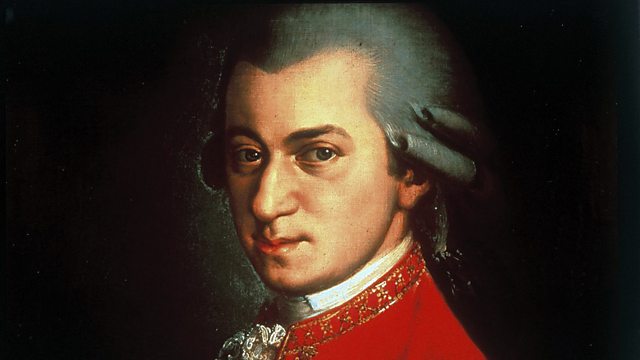 Donald Macleod explores Mozart's childhood, which was spent as much away from Salzburg visiting royal courts across Europe with his father as at home.
Donald Macleod explores Mozart's complex relationship with the city of his birth, Salzburg.
There is no place where Mozart's name is more feted than in his home city of Salzburg. Mozart's own feelings about the city of his birth were ambivalent at best. He was often unhappy there; frustrated by the limitations of musical life in Salzburg and increasingly at loggerheads with his overbearing employer, the high-handed Archbishop Colloredo. "How I detest Salzburg", he wrote, and sought to escape the place on many occasions. Nevertheless this was the place where he spent his formative years, where he composed many great works, and where he developed into the composer we now celebrate as one of the greatest of any age. All this week Donald Macleod explores the story of Mozart's relationship with the place where his genius was forged.
Mozart's childhood was spent as much away from Salzburg as at home. Colloredo's predecessor, old Archbishop Schrattenbach, tolerated, even encouraged the young prodigy's trips abroad with his father to visit royal courts across Europe. He must have suspected, though, that the Mozart family was even then planning their escape from provincial Salzburg.
Don Giovanni: Overture
La Cetra Barockorchester Basel
Andrea Marcon, conductor
Coronation Mass K317 (Kyrie, Gloria & Credo)
Susan Gritton, soprano
Frances Bourne, mezzo-soprano
Sam Furness, tenor
George Humphreys, baritone
Choir of St. John's College, Cambridge
St. John's Sinfonia
John Challenger, organ
Andrew Nethsingha, conductor
Church Sonata K.67
Margaret Faultless, violin
Simon Jones, violin
Andrew Skidmore, cello
Kate Aldridge, double-bass
Symphony No.8 in D major
English Chamber Orchestra
Jeffrey Tate, conductor
Regina coeli K108
Lynda Russell, soprano
St Paul's Cathedral Choir
St. Paul's Mozart Orchestra
Andrew Carwood, conductor.
More episodes
Previous
You are at the first episode