Main content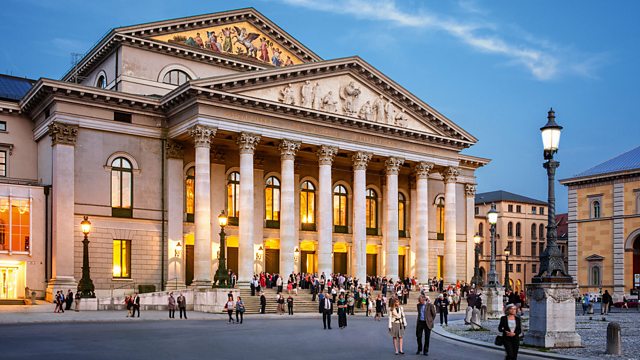 Halevy's La Juive
A performance of Halevy's La Juive from Bavarian State Opera conducted by Bertrand de Billy and starring soprano Aleksandra Kurzak as Rachel and tenor Roberto Alagna as Eleazar.
Halévy: La Juive
Although Fromental Halévy wrote almost forty operas, La Juive is the only opera of his that we're likely to hear today, but it is an early high point of French grand opera and was one of the most performed works in the nineteenth century. Halévy was among the most successful composers of his time, and his distinguished admirers included Berlioz, Wagner and Mahler, who regarded La Juive as one of the greatest operas ever created. The libretto was by Scribe, a dramatic writer of the time too, but despite the opera's grandeur, La Juive tells a profoundly human story, of an impossible love between a Christian man and a Jewish woman.
Alexandra Wilson introduces this recent performance from the Bavarian State Opera, which stars soprano Aleksandra Kurzak as Rachel, the opera's title character, and Roberto Alagna as her father, the Jewish goldsmith Eleazar. The Chorus and Orchestra of the Bavarian State Opera are conducted by Bertrand de Billy.
Rachel ..... Aleksandra Kurzak (soprano)
Eléazar ..... Roberto Alagna (tenor)
Léopold ..... John Osborn (tenor)
Princess Eudoxie ..... Vera-Lotte Böcker (soprano)
Cardinal Gian Francesco de Brogni ..... Ain Anger (bass)
Ruggiero ..... Andrea Borghini (baritone)
Albert ..... Tariq Nazmi (bass)
A Herald in the Imperial Army ..... Christian Rieger (baritone)
An Officer to the Emperor ..... Petr Nekoranec (baritone)
Executioner ..... Peter Lobert (bass)
The Chorus of the Bavarian State Opera
The Orchestra of the Bavarian State Opera
Bertrand de Billy (conductor).
Synopsis
Act I
The people rejoice. Not only have Emperor Sigismund's troops succeeded in defeating the Hussites, but the Council of Constance is about to overcome the schism within the Roman Church. As a result, the opening of the Council has been declared a national holiday on which any kind of work is strictly forbidden. The Jewish blacksmith, Éléazar, is the only one who ignores the prohibition. As a result, the Sheriff Ruggiero sentences him to death. Not even the pleas of Éléazar's daughter, Rachel, can sway him. In the end, Cardinal Brogni, the President of the Council, steps in between the parties. He recognizes Éléazar, whom he has already met once in Rome, his former home.In his role as magistrate, Brogni had exiled Éléazar and condemned his sons to death. Yet Brogni himself had had to leave Rome after an attack by Neopolitans in which his wife and daughter were said to have been killed. After this fateful event, he entered the religious order. Now the two meet again by coincidence in Constance. On the basis of their common history, he begs for Éléazar's forgiveness and pardons him. However Éléazar rejects the apology and continues to rile against the Cardinal. Meanwhile, Rachel invites her secret lover to the evening Passover feast at her father's house. Yet she does not know that beneath the so-called Jew Samuel there hides the Christian Prince Léopold, In the meantime, the people crowd together to witness the Emperor's ceremonial procession. Rachel and Éléazar are dragged in the stream of people to the steps of the cathedral, which, they are forbidden to enter as Jews. When Ruggiero spots this blasphemy, he wants to execute them again. This time it is Léopold who saves the day. He orders the seargent Albert to recall the guards and, at the same time, he makes sure he isn't recognized. Rachel and Éléazar are left behind, confused and failing to understand how an apparently simple Jew could have saved them.
Act II
In the evening, Éléazar and his relatives gather together to celebrate Passover. As the host and prayer leader, Éléazar performs the blessing of the seder and hands the unleavened bread around the group. Léopold, however, does not want to eat it, since he is really a Christian. Only Rachel notices. A knock on the door interrupts the meal. The Emperor's niece, Princess Eudoxie, would like to purchase a particularly ornamental and precious necklace from Éléazar, which she plans to give to her husband Léopold as a token of her love. When Léopold recognizes his wife, he hides in the furthest corner of the room. Meanwhile, Eudoxie asks Éléazar to engrave the necklaceand to personally deliver it to the palace the next day. Meanwhile, Éléazar has noticed the intimacy between Léopold and Rachel and asks him to leave. On her own, Rachel asks herself whether Léopold is being honest with her. Léopold cannot leave her alone. Wracked by guilt, Léopold finally confesses to her that he is a Christian. Rachel is shocked, since she knows that relations between Jews and Christians are forbidden on pain of death. Léopold persuades her to elope with him. Rachel hesitates. She is torn between her attachment to her Jewish father and her love for Léopold. Yet the moment she decides to flee with her lover, her father bursts in. Mad with rage, he wants to kill the Christian who has seduced his daughter, but she stops him. Instead, Rachel begs her father to allow her to marry Léopold. Moved by his daughter's love, Éléazar agrees. Léopold, however, rejects the marriage and flees. She's left with a broken heart, and so she decides to follow him in order to finally uncover his secret.
Act III
Eudoxie is looking forward to being reunited with her husband. Suddenly Rachel appears and asks to be accepted into her service as part of the celebrations for Léopold's return from the battlefield. Rachel hopes to confront Léopold there. Completely unaware, Eudoxie hires her.The celebrations honour Léopold's bravery and strength. The moment Eudoxie goes to hang the necklace on her husband, Rachel steps between them. Only now does she realise that Léopold has been married all this time. In front of everyone, Rachel accuses the Prince of committing adultery with a Jewess, namely herself. Léopold's silence reinforces her accusation, whereupon Cardinal Brogni, one of the guests, sentences him, Rachel and Éléazar to death. All three are arrested and taken to be executed.
Act IV
Eudoxie goes to see Rachel in prison. She implores the Jewess to save Léopold's life by retracting her charge. Rachel refuses. She wishes to be at one with Léopold, even in death, whom she loves despite his betrayal. Yet faced with Eudoxie's true love, she softens and promises to retract her accusation in front of the court. Léopold's rescue will be Eudoxie's final act. After her husband's betrayal, she can see no future in life and wishes only to die. Brogni prepares Rachel for the trial. She is determined to die and wants to face the court alone. The fate of the Jewish woman, who will die so young, awakens unexplained fatherly feelings in Brogni. He wants to save her, so he summons her father to him. He confesses to Éléazar that he could save Rachel's life if she were to recant her faith and be baptized. Horrified, the Jew refuses. He wants nothing more for himself and his daughter than redemption in death. In order to injure the Cardinal, he tells him he knows a secret about his apparently dead daughter. The child didn't die during the attack in Rome, but is in fact still alive. Since Éléazar claims to know the whereabouts of Brogni's daughter, Brogni begs the condemned Jew to reveal it. Éléazar refuses to answer. His revenge on Brogni will be to take this secret to the grave. Left alone, Éléazar struggles to send his daughter to a sacrificial death. He wants to rescue her and decides contra his religion. But, when he hears the angry mob baying for the murder of the Jews, the gruesome, Jew-hating words of the Christians annul all his doubts and he opts for death for himself and Rachel - and his revenge on Brogni.
Act V
Just before the execution, Éléazar discovers that his daughter claimed her accusation was a lie in front of the court and that Léopold has been spared. He asks her if she wants to recant the Jewish faith and continue to live as a Christian. Rachel can't imagine an existence without her father and her faith. She willingly chooses martyrdom. Brogni tries once more to persuade Éléazar to reveal the whereabouts of his daughter. In the moment of Rachel's execution, Éléazar points at her. It was he who pulled the child out of the flames and raised her as his own daughter. Rachel is Brogni's biological daughter. The cardinal breaks down while Éléazar, triumphing over his enemy.
- With thanks to the Bavarian State Opera.