Main content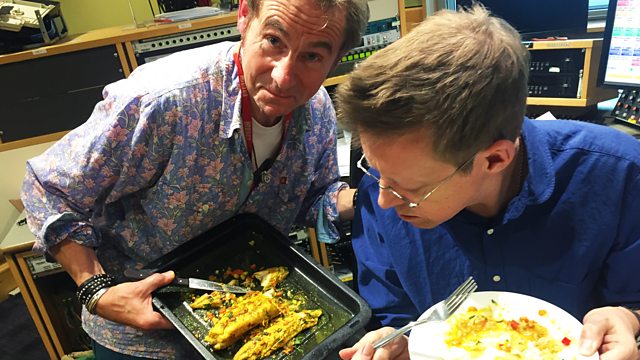 Foodie Thursday
Resident cook Nigel Barden serves up a dish for Foodie Thursday.
Pan Fried Monkfish Satay with Shallot, Chilli & Cucumber salsa
by Preechaya Phetprasert of The Coconut Kitchen.co.uk
This is a great summer dish you can also grill the monkfish on the BBQ instead of panfrying. I think you will love the really easy method of making a great tasting satay sauce using our seasoned Thai Massaman Paste.
A lot of people think that satay sauce just goes with chicken or pork but it's great with prawns & seafood too. In fact when the mackerel come in July & August it's definitely worth substituting the monkfish for fillets of mackerel. It's also really good with, scallops, langoustines or even lobster too!
Serves 2
Prep time: 25mins
Cooking time: 30mins
Marinade ingredients for the monkfish:
2 fillets of monkfish tails (250g each)
4 garlic cloves, crushed
2 red chillies, de-seeded & finely chopped
Small handful fresh coriander, finely chopped
Zest & juice of 1 lime
1 tsp ground turmeric
1 tsp ground coriander
Salt & pepper, a pinch
Knob of butter for frying monkfish.
Ingredients for the Satay Sauce:
1 x 125g jar of The Coconut Kitchen Easy Thai Massaman Curry paste, or any commercial Thai Massaman curry paste, or Red Curry Paste recipe below.
200ml or ½ tin of coconut milk
100g of ground salted peanuts or cashew nuts, crushed quite fine
1 tsp turmeric
2 fresh or dried kaffir lime leaves, finely chopped
<?xml:namespace prefix = "u5" />
Ingredients for the Salsa:
¼ of a cucumber
½ a shallot
½ a fresh red chilli, de-seeded
½ a small carrot
(Cut all the above ingredients into a small dice about 4-5 mm)
Ingredients for the syrup for the salsa
120ml white wine vinegar
180g granulated sugar
10g salt
Ingredients to Serve:
A crisp herb salad, coriander & lime. Steamed jasmine rice or noodles.
Method
1. Marinade the monkfish
Mix all the marinade ingredients together with the monkfish & chill for at least 20 mins.
2. Make the satay sauce
Fry the Easy Thai Massaman Curry Paste with the turmeric & lime leaves over a gently heat for 5 mins, add the coconut milk & simmer for 8-10 mins, stirring well. Then add the peanuts & cook for another minute & its ready to use.
3. Make the salsa  Put all the syrup ingredients in a pan & bring to the boil, simmer for 2 mins then leave to cool down. Once cool mix in a bowl with all the diced vegetables.
4. Fry the monkfish Fry the monkfish in a pan on a medium heat with a knob of butter for about 2-3 mins each side depending on how thick the fillets are then put in an oven at about 180C for 3-5 mins.
5. Serve the dish Serve the monkfish on a plate with 2-3 spoons of the satay sauce & top the fish with 2 spoons of the salsa. Serve with salad & rice or noodles on the side. Garnish with fresh coriander & a wedge of lime.