Main content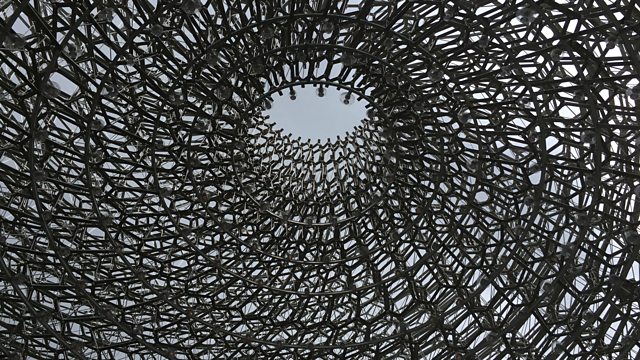 Galleries of Justice, Nottingham
Eric Robson and the panel answer horticultural questions from the Galleries of Justice, Nottingham. Dealing with the queries this week are Bob Flowerdew, Anne Swithinbank and Pippa Greenwood
Produced by Dan Cocker
Assistant producer: Laurence Bassett
A Somethin' Else production for BBC Radio 4.
Fact Sheet
Q – My washing machine has recently died on me – any suggestions for the stainless steel drum?
Bob – They make fantastic planters.  You'll need to line it with some old sacking or an old t-shirt.  Plants that like aerated soil will like it – Citrus plants for example.  A good thing to do is plant a Fig tree in them – the roots can get out but they do cut themselves off so it stays quite small.
Q – We've got an alley which is in the sunshine for most of the day.  Are there any fruit/veg that I can grow in containers here?
Pippa – Try rotating containers – so move containers from the alleyway to sunnier bits of the garden regularly.  Paint the walls white.  Attempt things which are leafy – so salad crops, beet, spinach – something that is up and ready to eat quickly.
Bob – You'll have no problem growing redcurrants, blackcurrants, or whitecurrants in big containers.  You'll need netting to keep birds off and they won't be as sweet as ones in the sun but they'll grow fine in the shade. 
Eric – You're going to need a sack barrow for moving containers around.
Anne – I would green herbs – mint, parsley – they grow well in semi shade.  Maybe even coriander too.
Q – My tomatoes are spindly and feeble, what can I do to give them a boost?  They are 'Gardener's Delight' and 'Moneymaker' varieties.  I've tried dilute Comfrey juice but to no avail.
Pippa – Are they getting enough light?
Bob – It's been a hard year for tomatoes.  I normally manage to get mine in June – in very very good years in May.  This year I only brought some in last week.  This is due to cold and low light.  Nitrogen will do them some good.
Anne – You could use a well-balanced general-purpose liquid feed.
Q – We've noticed a curious corkscrewing of the leaves of our seed-raised onions over the last two years.  We practice crop rotation, the varieties are 'Walla walla', 'Ailsa Craig', and 'Bedfordshire Champion'.  What is it?
Pippa -  I think this is due to an Eelworm infestation.  There's a wonderful little Eelworm called Ditylenchus dipsaci that adores onions.  Unfortunately, there's nothing you can do about it. 
Q -  Last November we had a Wisteria, Clematis and a Jasmine removed from an arbour.  We discovered that the bed is only about 1.3m x 0.5m (4.2ft x 1.6ft).  Has the patch been left long enough to plant a Climbing Rose there?
Anne – You could have put a Rose in almost straight away to be honest as it's a different plant family to any of the others.  Any idea what you'll plant?
Q – 'Generous Gardener'
Anne – Great choice.
Q – We have a newly planted orchard with about ten mixed Apple, Pear and Cherry trees.  One of the 'William' Pears has rust spots – is this going to hurt the tree and will it spread to the others?
Pippa – It's an interesting rust – almost eerie and finger-like in looks.  There is no control for it.  Collect and pick up infected sections and bin/burn.  Chances of it spreading to other Pear trees is high but the others should be fine.  Rust fungi all love damp/gloomy weather like we've had recently – so if weather improves or if you can improve circulation that will help keep it in check.
Q – I have never been able to grow sweet peas in pots.  Can you help?
Anne – It's possible to grow in a pot but it would be much easier in the ground. They like really well-conditioned soil – the more organic matter the better.  Best place is in a kitchen garden or allotment.  For a pot you'll need a container of 45-60cm (17inch-23inch) across, good potting compost (50/50 John Innes No 2/and soilless potting mix and some of my own garden compost too.  I'd use Beech/Hazel from the garden for supports.  Sow in October or February.  Put them in long modules.  Then lift the roots out carefully, never let them get dry, as soon as they've begun to climb give them liquid feed.  They're not going to grow in compost alone.
Q – I leave the seed heads on my Alliums – because they're attractive and for the birds – but their numbers are reducing.  Should I deadhead them? 'Purple Sensation' in particular has dwindled.
Bob – I leave them because they're good for the insects.  Leaving the flower on is brilliant but as soon as it forms seed it takes energy out of the bulb.  So chop as soon as it finishes flowering.
Anne – I think the soil is too wet in winter and some of the bigger bulbs are rotting off.  Raising the bed up slightly, say 6-8 inches (15-20cm), would help.
Pippa – If you're mulching be careful not to suffocate the bulbs.  Whack on some sulphate of potash too.
Q – Which weed, if you had to pick one, would you most like to destroy?
Pippa – I can't just pick one! Stinging Nettles and 'Hairy Bittercress'
Anne – A Creeping Cinqefoil called Potentilla reptans
Bob – I don't like ones with thorns and those little ones like the Potentillas and the Oxalis
Eric – Bracken