Main content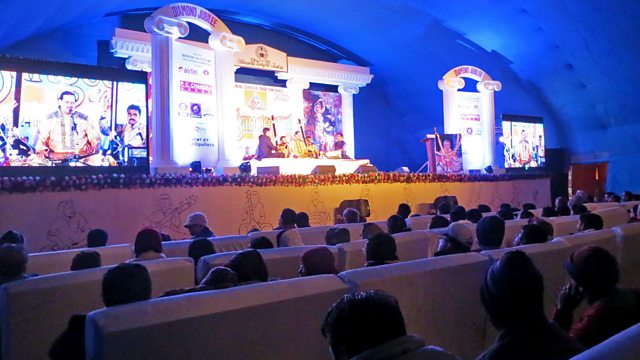 India's Classical Music Marathon
Documentary. Aditya Chakrabortty journeys to Kolkata to report on the fate of one of India's most unique traditions, the all-night classical music concert.
Aditya Chakrabortty journeys to Kolkata and into the mythology of one of India's most precious musical traditions.
Over the course of an all-night classical music concert - or 'conference' - hear some of the best Indian classical musicians on the planet describe the intricacies of their art, and explain why it might not last much longer in a culture short of attention and keen for quick satisfaction.
"The whole day is so much full of noise, of work, of distraction ... Indian classical music is more about meditation. Nights give us that tranquillity. The listener needs to be free of his worldly worries, as musicians paint on the canvas of silence."
At the Uttarpara Sangeet Chakra Conference, on the bank of the river Ganges just north of Kolkata, sitarists, tabla-players, vocalists and other instrumentalists start at 8pm and try to outplay each other until 7 o'clock in the morning, to an audience of nearly 3,000. In doing so, they re-enact a tradition central to Indian classical music, which was based on such a competitive tradition with artists battling each other in front of a royal court.
It's magical, hypnotic, mesmerising - but do modern audiences have the stamina or the will to keep awake for arguably the world's most famous sitar player, Shahid Parvez, at 5 o'clock in the morning?
Aditya meets some of the audience members and musicians trying to keep the all-night conference alive, including some of Indian classical music's biggest names - Shahid Parvez, Tanmoy Bose and Ajoy Chakrabarty, as well as the Kolkata-based writer and classically trained singer Amit Chaudhuri.
Produced by Eve Streeter
A Greenpoint production for BBC Radio 4.