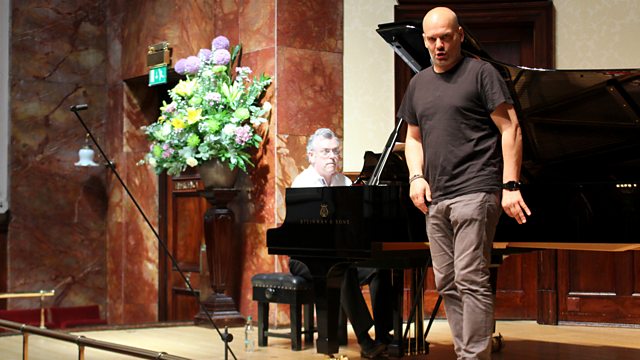 Wigmore Hall Mondays: Florian Boesch and Malcolm Martineau
Florian Boesch, baritone, and Malcolm Martineau, piano, perform songs by Schumann and Wolf.
Live from Wigmore Hall
Presented by Clemency Burton-Hill
Schumann: Die beiden Grenadiere, Op.49 No.1
Abends am Strand, Op.45 No.3
Die feindlichen Brüder, Op.49 No.2
Märzveilchen, Op.40 No.1
Muttertraum, Op.40 No.2
Der Soldat Op. 40 No. 3
Der Spielmann, Op.40 No 4
Wolf: Goethe Lieder: Der Schäfer; Phänomen; Wandrers Nachtlied; Anakreons Grab; Harfenspieler I - III;
Schumann: Belsatzar Op.57
Florian Boesch, baritone
Malcolm Martineau, piano
Austrian baritone Florian Boesch is widely regarded among today's foremost interpreters of Lieder. Here he collaborates with Malcolm Martineau in a programme of Schumann and Wolf.
Last on