Main content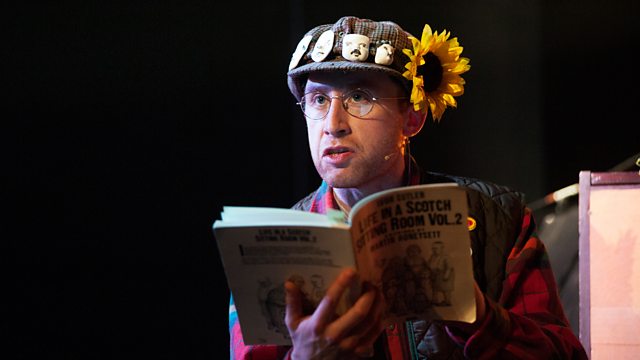 The Beautiful Cosmos of Ivor Cutler
The fragmented life of the surrealist, poet, songwriter and eccentric Ivor Cutler. His admirers included the Beatles, John Peel and Bertrand Russell. With Sandy Grierson as Ivor.
The fragmented life of the surrealist, poet, songwriter and eccentric, Ivor Cutler. He shot to fame, when The Beatles cast him in The Magical Mystery Tour. George Martin produced his records, John Peel had him on numerous sessions, Bertrand Russell admired him, he wrote plays for Radio 3. But it is his voice that distinguishes Cutler. His studied melancholia and frail persona tells naive fables which have an existential sting in the tail. He grew up in Glasgow when the pursuit of happiness was never going to be written in the constitution.
The radio adaptation is based on an original play by Vanishing Point and National Theatre of Scotland created by Sandy Grierson, James Fortune and Matthew Lenton, with Ed Gaughan and the company.
Like most 'loveable' eccentrics Ivor was a provocateur. Off stage we also tell the love story of Ivor and the poet Phyllis King who were together 40 years. It is a romance told in tiny moments of cups of tea and trips to the zoo, and his most lovely song: Beautiful Cosmos. Ivor is played by Sandy Grierson and Phyllis is played by Elicia Daly.
Like Bob Dylan, Ivor's brilliant song writing is sometimes hidden by an idiosyncratic delivery. James Fortune has arranged Ivor's songs for a small ensemble which have been specially recorded for Radio 3 by Julian Simmons.
Ivor's many characterisations were just seen as amusing when he appeared later in life on Andy Kershaw's Radio 1 show. In fact Ivor was already showing signs of the dementia that would engulf him. He once told Piers Plowright (who had produced him for Radio 3) 'My mind has been broken into.'
Ivor Cutler ..... Sandy Grierson
Phyllis King ..... Elicia Daley
The Other Characters ..... Ed Gaughan
Ivor Cutler songs arranged by James Fortune.
The Band: James Fortune, Jo Apps, Nick Pynn, Pete Flood and Ed Gaughan.
Music recorded and mixed by Julian Simmons at Din Studios
Adaptation for radio by Sandy Grierson and Matt Thompson
Musical Director James Fortune
Director Matt Thompson
Rockethouse Productions Ltd.
Last on
Communicating by means of sticky labels, we explore the zany sayings Ivor Culter

Communicating by means of sticky labels, we take a look at these zany 'Cutlerisms'.
Credits
| Role | Contributor |
| --- | --- |
| Ivor Cutler | Sandy Grierson |
| Phyllis King | Elicia Daly |
| Actor | Ed Gaughan |
| Adaptor | Sandy Grierson |
| Adaptor | Matt Thompson |
| Director | Matt Thompson |
Broadcasts

Binaural sound: doing the best for Beckett