Main content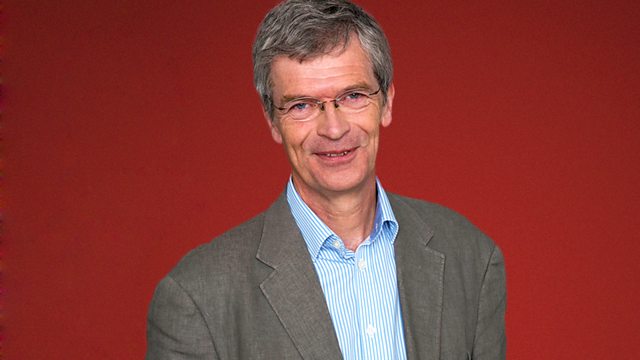 02/07/2016
Alyn Shipton plays requests from listeners for music in all styles and periods of jazz. This week he includes the famous duo of "new thing" saxophonist Archie Shepp and pianist Mal Waldron, as well as a selection of traditional and mainstream fare.
Performers
Artist  Louis Armstrong
Title  When You're Smiling
Composer Shay / Fisher / Goodwin
Album  VSOP Vol 5/6
Label  Columbia
Number  88003 Side B Track 6
Duration  2.54
Performers:  Louis Armstrong, t; Jimmy Strong, cl; Fred Robinson, tb; Gene Anderson, p; Mancy Carr bj; Zutty Singleton, d. 1929

Artist  Mezz Mezzrow
Title  Blues as we like 'em
Composer Mezzrow
Album  1947-1951
Label  Classics
Number  Track 8
Duration  3.24
Performers:  Claude Luter, Mezz Mezzrow – clt; Guy Longnon – t; Bernard Zacharias – tb; Christian Azzi – p; Roger Bianchini – b; François "Moustache" Galipedes – d.  Paris, 30 October 1951.

Artist  Sir Charles Thompson
Title  For The Ears
Composer Thompson
Album  Sir Charles Thompson Sextet
Label  Vanguard
Number  8003 S2 T 1
Duration  11.17
Performers:  Joe Newman, t; Benny Powell, tb; Pete Brown, as; Sir Charles Thompson, p; Gene Ramey , b; Osie Johnson, d. 1954.

Artist  Gerry Mulligan
Title  Darn That Dream
Composer Lange / Van Heusen
Album  Complete 1953 Studio Masters
Label  Jazz Factory
Number  22872 Track 18
Duration  3.51
Performers:  Gerry Mulligan, bars; Chet Baker, t; Carson Smith, b; Larry Bunker, d, April 1953.

Artist  Archie Shepp
Title  Everything Happens to me
Composer Adair / Dennis
Album  Left Alone Revisited
Label  Enja
Number  91412 Track 4
Duration  5.49
Performers Archie Shepp, ss; Mal Waldron, p. 2002

Artist  Cannonball Adderley
Title  The Chant
Composer Feldman
Album  What Is This Thing Called Soul
Label  Pablo
Number  Track 4
Duration  8.51
Performers Cannonball Adderley, as; Nat Adderley, c; Victor Feldman, p; Sam Jnes, b; Louis Hayes, d. 1960

Artist  Wood & Steel
Title  Notturno
Album  Secret Ingredient
Label  Unit
Number  UTR 4652 Track 11
Duration  5.17
Performers:  Marc Muellbauer, b; Kristian Kogel, g; Roland Neffe, marimba. 2014

Artist  Andy Sheppard / Michel Benita / Seb Rochford
Title  Libertino
Composer Sheppard
Album  Trio Libero
Label  ECM
Number  278 6630 Track 1
Duration  3.40
Performers:  Andy Sheppard, ts;  Michel Benita, b; Seb Rochford, d. 2012

Artist  Count Basie
Title  I Left My Heart In San Francisco
Composer Cory / Cross
Album  This Time By Basie
Label  Reprise
Number  523 Track 2
Duration  2.31
Performers Thad Jones, Al Aarons, Sonny Cohn, Eddie Preston, Fip Ricard, t; Henry Coker, Urbie Green, Grover Mitchell, Benny Powell, tb; Marshall Royal, Frank Wess, Eric Dixon, Frank Foster, Charlie Fowlkes, reeds; Count Basie, p; Freddie Green, g; Buddy Catlett, b; Sonny Payne, d.  1963

Artist  Sweet Emma Barrett
Title  I Ain't Gonna Give Nobody None of This Jelly Roll
Composer        Williams
Album  The Bell Gal and Her Dixieland Boys
Label  Riverside
Number  9364 Track 5
Duration  5.32
Performers:  Sweet Emma Barrett, p, v;  Percy Humphrey, t; Jim Robinson, tb; Willie Humphrey, cl; Emanuel Sayles, bj; McNeal Breaux, b; Josiah Frasier, d, 1961