Main content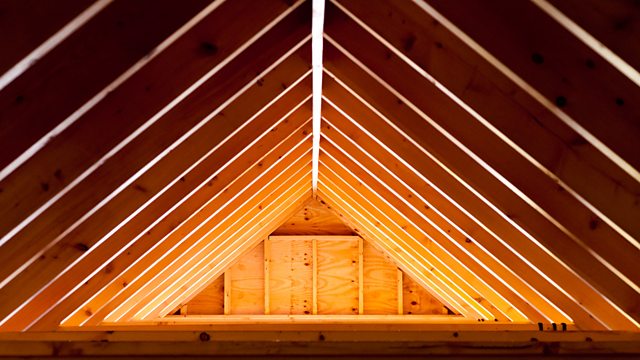 House Fly and Soprano Pipistrelle Bat
A house fly (Lee Mack) and a soprano pipistrelle bat (Pam Ferris) reveal the funny and warm sides of life in an attic.
An annoying House Fly played by Lee Mack and a warm-hearted Soprano Pipistrelle Bat played by Pam Ferris, reveal the truth about life in a draughty old attic in a house in Amersham in the second of three very funny tales, written and introduced by Lynne Truss, with additional sound recordings by Chris Watson.
The House Fly loves life. "The best bit is the buzzing". He loves the aerobatics, dodging the flypapers in the attic and "... my favourite manoeuvre, settling on the ceiling. It is unbelievably brilliant" He loves to buzz. But he also loves, what to humans, is a disgusting way of life. He loves to walk around on filth and to poo everywhere and to spread disease "And listen, we don't mind! Not at all. It's the least we can do". He would love to spread more diseases and takes great joy in telling us just exactly how he does this ... perhaps best not to listen if you're eating!
The Soprano Pipistrelle Bat is a very different creature; a tiny bat with a huge and loving heart. She is nine years old and has given birth to a single pup each year. Her newest pup, Jethro, is her darling; "... such a lovely little face. Chestnut fur. Perfect little ears. He smells like chicken flavour crisps. Ooh, I could eat him." He is six weeks old and weaning - proudly catching insects for himself; and this is always a poignant time for this mother-bat, where pride and sadness mingle. The main concern with Jethro, she finds, is that he can't seem to grasp the idea of torpor, "Oh don't mum. Don't go torpid. It's like you're dying", but as she knows "torpor is nothing to be scared of, .. torpor is your friend".
House Fly: Lee Mack
Soprano Pipstrelle Bat: Pam Ferris
Written and introduced by Lynne Truss
Wildlife sound recordings Chris Watson
Producer Sarah Blunt.
Credits
| Role | Contributor |
| --- | --- |
| Presenter | Lynne Truss |
| House Fly | Lee Mack |
| Soprano Pipstrelle Bat | Pam Ferris |
| Producer | Sarah Blunt |
| Writer | Lynne Truss |