Main content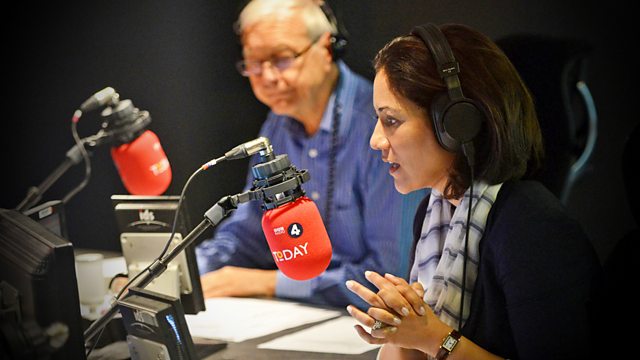 30/06/2016
Morning news and current affairs. Including Sports Desk, Yesterday in Parliament, Weather and Thought for the Day.
Today's running order
All timings subject to change.
0650
Human disturbances are making the Amazon rainforest more flammable, according to researchers. Professor Jos Barlow is from the Lancaster Environment Centre who is lead author of the study.
0710
The former shadow business secretary, Angela Eagle, is to challenge Jeremy Corbyn for the Labour leadership today. Mr Corbyn told supporters last night that he had a mandate from his election by party activists last year and would be carrying on despite losing the backing of 80% of his MPs. Matthew Price reports from Stoke.
0715
An independent review has found that patients were put at risk of harm at Bristol Royal Hospital for Children, a specialist unit serving the south west of England and south Wales. Eleanor Grey QC chaired the Bristol Review.  
0720
The 33rd British Social Attitudes survey reveals that the public believe there is a wide gulf between people of different classes and that it is harder today to move from one class to another. Miranda Phillips is research director of British Social Attitudes Survey.
0730
Who holds power over the EU? Some may argue that it is Germany. German Chancellor Angela Merkel does not give too many interviews, but John Humphrys has been talking to the man who is her chief of staff. Peter Altmaier, the head of the federal chancellery.
0740
The two front-runners for the Conservative leadership, Boris Johnson and Theresa May, will set out their competing visions for the party and the country. Ross Hawkins has been looking at the relationship between the two and how they got to this point.
0750
Experts say that hearing or reading a poem can trigger memories in people with dementia. A charity is launching a UK-wide event today to help people with dementia find their own poem. Tracey Guiry is CEO of the charity Literature Works and cares for her mother who has dementia. Ian Sherriff is academic partnership lead for dementia at Plymouth University.  
0810
More on the race for leader of the Conservative party and UK prime minister: Damian Green is Theresa May's campaign spokesman and former Home Office minister for immigration and Dominic Raab is Justice Minister and MP for Esher and Walton who's supporting Boris Johnson's leadership bid.
0820
Tomorrow will mark exactly 100 years since the Battle of the Somme on the first of July 1916. Jim Naughtie has been talking to the choristers of Westminster Abbey who will be singing at the start of an all-night vigil this evening.
0830
The BBC's editors try to answer your questions about last week's vote to leave the EU. Katya Adler is the Europe editor, Norman Smith is the assistant political editor, Mark Easton is the home editor and Simon Jack is the business editor.
0840
More on Jeremy Corbyn's position as leader of the Labour Party: Dick Greenslade is chair of Stroud Constituency Labour Party, and Councillor Alice Smart is on the Leeds City Council and is one of 77 Labour Councillors who signed a joint letter calling on Corbyn to go.
0850
More on poor care of patients at Bristol Royal Hospital for Children: Robert Woolley is the chief executive of University hospital Bristol NHS Foundation Trust.