Main content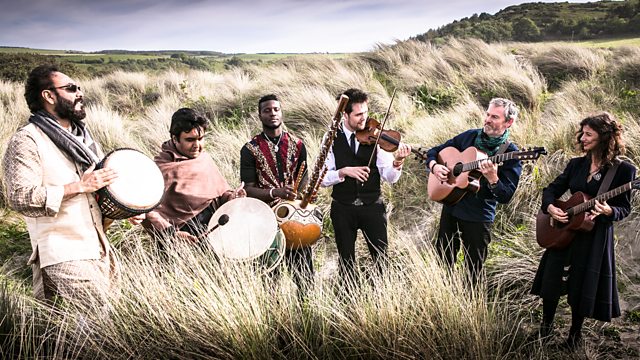 Mary Ann Kennedy with Ghazalaw in session
Mary Ann Kennedy presents new music from around the world, plus a live session with Ghazalaw, a band who mix the music of Wales and India. With Tauseef Akhtar and Gwyneth Glyn.
Mary Ann Kennedy with new music from across the globe, plus a live session with Ghazalaw, a band who mix the music of Wales and India.
Ghazalaw emerged from a collaboration between Mumbai singer Tauseef Akhtar and Welsh singer-songwriter Gwyneth Glyn - the name merges Indian song style 'ghazal' with the Welsh word 'alaw' which can mean melody, or harmony. Together with other leading musicians from India and from the Welsh folk scene, the band has played concerts across India, including the Desert Festival in Delhi and the Ghazal Bahaar in Mumbai, as well as back in Wales. They have now come together again for their current tour of the UK.
Last on
Music Played
Claudia Aurora

A Tua Ausencia

Mulher do Norte.
Red Orange.
8.

Viguela

Seguidillas Carpenas 'la rabo el guarro'

Ferhat Tunç

Anne beni haziranda bul

Kel Assouf

Ahile Lamma

Tikounen.
Igloo Records.
1.

Trad

Moliannwn - Ishq Karo

Ensemble: Ghazalaw.

Kaela Rowan

Lord Gregory

The Fruited Thorn.
Shoogle.
3.

Adam Holmes

&

Eddi Reader

Love Down the Line

Brighter Still.
Gogar Records.
7.

Dana Immanuel and the Stolen Band

Clockwork

Dana Immanuel and the Stolen Band.
Self-release.
2.

The Lowest Pair

Shuck It

Fern Girl and Ice Man.
Team Love.
8.

Griselda Sanderson

The Clattering Polska

Radial.
Waulk Records.
14.

Akhtar Azad

Allah Janta Hai (Heritage Track)

Performer: Jagjit Singh. Performer: Lata Mangeshkar.

Ghazalaw

Allah Hoo - Pontypridd

Ralph Stanley And Friends With Patty Loveless

Pretty Polly

Clinch Mountain Country.
Rebel.

Ralph Stanley

O Death

O Brother Where Art Thou?.
Mercury.

Reem Kelani

Sprinting Gazelle

Live at the Tabernacle.
Fuse Records.
6.

Gong Linna

Hua Fei Hua (Flowers, yet not flowers)

The most beautiful songs of the world.
ARC.
11.

Te Vaka

Amataga

Amataga.
Warm Earth Records.
5.

Moh! Kouyaté

Beniala

Loundo (Un jour).
Foli Son.
4.
Broadcast