Main content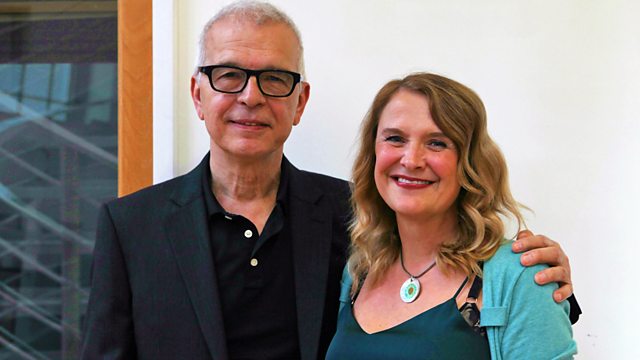 Tuesday - Sarah Walker with Tony Visconti
With Sarah Walker. My Favourite Elgar Salon Pieces; Music in Time: polystylism; Artists of the Week: Freiburg Baroque Orchestra, featured in Haydn's Cello Concerto in C, H VIIb 1.
9am
My favourite... Elgar salon pieces. Throughout the week Sarah shares a selection of Elgar's chamber music, written for small musical soirées. The line-up includes his Chanson de nuit, Chanson de matin and Salut d'amour, and the two songs Come Gentle Night, and Speak My Heart! Speak My Heart!
9.30am
Take part in today's music-related challenge: listen to the clues and identify the mystery person.
10am
Sarah's guest this week is the record producer Tony Visconti. In his own words Tony is a 'band geek' who started his musical life playing the tuba and the double bass at school, but who ended up producing some of the most famous names in music. Tony worked on many of David Bowie's most acclaimed albums and has also produced an array of legendary bands and solo artists from Iggy Pop to Morrissey and Manic Street Preachers. Tony will be talking about his life in music, and sharing a selection of his favourite classical works, every day at 10am.
10.30am
Music in Time: Modern
Sarah places Music in Time. Today she looks at the Modern period, focusing on 'polystylism'. Two works by James MacMillan and Charles Ives manage to incorporate well known melodies from Knees up Mother Brown and God Save the Queen to Elgar's Cockaigne and Campdown Races.
11am
Sarah's artist of the week is the Freiburg Baroque Orchestra, widely regarded as one of the finest period-instrument ensembles in recent times. Known for its energetic performances, the orchestra has been praised for its clean sound and intelligent interpretations. JS Bach is a key composer for the ensemble, and his music frames the week with the Orchestral Suite No. 4 and the Keyboard Concerto No. 1 in D minor (with Andreas Staier as soloist). Other highlights during the week include Haydn's Cello Concerto in C major (with Jean-Guihen Queyras), a selection of Telemann's Tafelmusik, and Mozart's 'Jupiter' Symphony under René Jacobs.
Haydn
Cello Concerto in C major, Hob.VIIb: 1
Jean-Guihen Queyras (cello)
Freiburg Baroque Orchestra
Petra Müllejans (director).
Music Played
MY FAVOURITE...ELGAR SALON PIECES

TONY VISCONTI'S CHOICE NO.1

TONY VISCONTI'S CHOICE NO.2

TONY VISCONTI'S CHOICE NO.3

Music in time: Modern

ARTIST OF THE WEEK: FREIBURG BAROQUE ORCHESTRA