Main content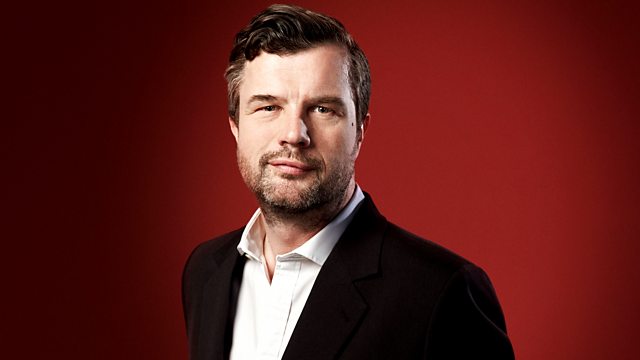 Friday - Petroc Trelawny
Petroc Trelawny presents Radio 3's classical breakfast show, featuring listener requests.
Email 3breakfast@bbc.co.uk.
Last on
Music Played
Gerald Finzi

Fear no more the heat o' the sun (Let us garlands bring, Op.18)

Singer: Roderick Williams. Performer: Iain Burnside.

Ernest Farrar

Variations for Piano and Orchestra Op.25

Performer: Howard Shelley. Orchestra: Philharmonia Orchestra. Conductor: Alastair Mitchell.

Farrar: Orchestral Works.
Chandos.
2.

Thomas Tallis

O Salutaris hostia (Proms 2015)

Orchestra: The Cardinall's Musick. Director: Andrew Carwood.

Tallis: Ave, Rosa Sine Spinis.
Hyperion.
1.

Johann Sebastian Bach

Trio Sonata No. 6, BWV 530, Lento

Performer: Marie‐Claire Alain.

Bach - Sonates en Trio.
Erato.
17.

Henry Purcell

The Fairy Queen - Overture

Orchestra: The Symphony of Harmony and Invention. Conductor: Harry Christophers.

Purcell: The Fairy Queen, Z629: The Sisteen, Harry Christophers.
Coro.

Ralph Vaughan Williams

Serenade to Music

Singer: Norma Burrowes. Singer: Sheila Armstrong. Singer: Susan Longfield. Singer: Marie Hayward. Singer: Alfreda Hodgson. Singer: Gloria Jennings. Singer: Shirley Minty. Singer: Meriel Dickinson. Singer: Ian Partridge. Singer: Bernard Dickerson. Singer: Wynford Evans. Singer: Kenneth Bowen. Singer: Richard Angas. Singer: John Carol Case. Singer: John Noble. Singer: Christopher Keyte. Orchestra: London Philharmonic Orchestra. Conductor: Adrian Boult.

Vaughan Williams: Serenade to music etc: Sir Adrian Boult.
EMI.
18.

Maurice Ravel

Le Tombeau de Couperin for piano, no.2; Fugue

Performer: Steven Osborne.

Ravel: The Complete Solo Piano Music: Steven Osborne, Piano.
Hyperion.
2.

George Butterworth

The Banks of Green Willow

Orchestra: London Symphony Orchestra. Conductor: Richard Hickox.

Vaughan Williams: A London Symphony: LSO/Hickox.
Chandos.
1.

Carlos de Seixas

Toccata No. 8

Performer: David Gordon. Performer: Žak Ozmo.

18th-century Portuguese Love Songs.
Hyperion.
13.

Juan Vásquez

En la Fuente del rosel (In the spring of the rose tree)

Ensemble: Orlando Consort.

Medieval Gardens.
Harmonia Mundi USA.
11.

Jón Leifs

Icelandic Dances for piano, Op.11 - Nos. 2 and 4

Performer: Örn Magnússon.

Jón Leifs: The Complete Piano Music.
BIS.
33/35.

Pauline Hall

Suite for Wind Quintet; 3. Polka

Performer: The Bergen Wind Quintet.

Norway in Music: Pauline Hall.
Simax.
011.

John Foulds

A World Requiem: Part 1 - Requiem

Singer: Gerald Finley. Choir: Trinity Boys Choir. Choir: Crouch End Festival Chorus. Choir: Philharmonia Chorus. Choir: BBC Symphony Chorus. Performer: Malcolm Hicks. Orchestra: BBC Symphony Orchestra. Conductor: Leon Botstein.

Georg Philipp Telemann

Overture from Overture in B flat major

Ensemble: Syrinx.

The Saxon Alternative: Telemann Music for Wind Band.
Resonus.
18.

George Butterworth

The Lads in their hundreds from 6 Songs from 'A Shropshire lad' for voice and piano

Singer: Bhanu Sharma. Performer: Sonal Sikka.

Live recording from the Delhi War Cemetary..

Ludwig van Beethoven

Sonata No. 7 in D major Op.10 No.3, 1st Mvt.

Performer: Martha Argerich.

Martha Argerich Early Recordings.
DEUTSCHE GRAMMOPHON.
4.

Erich Wolfgang Korngold

Love Scene from Robin Hood

Orchestra: The Moscow Symphony Orchestra. Conductor: William T. Stromberg.

Korngold: The Adventures of Robin Hood.
Naxos.
17.

Dmitry Shostakovich

Folk Festival from The Gadfly

Music Arranger: Vadim Borisovsky. Performer: Lawrence Power. Performer: Simon Crawford‐Phillips.

Ivor Gurney

In Flanders

Singer: Stephen Varcoe. Performer: Clifford Benson.

Edward Elgar

Piano Quintet in A Minor, last Mvt.

Ensemble: Nash Ensemble.

Elgar: Violin Sonata / Piano Quintet.
Hyperion.
6.

Brian Eno

1st – 14th January 07003, hard bells, Hills algorithm

Performer: Brian Eno.

Benjamin Britten

Let us sleep now…In paradisum from War Requiem

Singer: Galina Pavlovna Vishnevskaya. Singer: Peter Pears. Singer: Dietrich Fischer‐Dieskau. Choir: The Bach Choir. Choir: Highgate School Choir. Choir: London Symphony Chorus. Performer: Simon Preston. Ensemble: Melos Ensemble. Orchestra: London Symphony Orchestra. Conductor: Benjamin Britten.

Britten: War Requiem.
Decca.
4.
Broadcast