Main content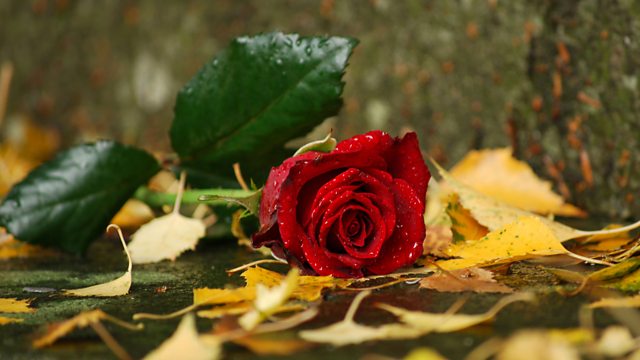 Infidelity
Texts and music on the theme of infidelity, with readings by Fenella Woolgar and Timothy Watson. Includes Browning and Jackie Kay, plus Purcell, Mozart, Schoenberg and Nina Simone.
Fenella Woolgar and Timothy Watson explore infidelity from Tristan and Iseult to Anthony Blunt with texts from Dante, the Earl of Rochester, Robert Browning, Dorothy Parker, W.H. Auden, Hugo Williams and Jackie Kay, accompanied by music from Purcell, Mozart, Diego Ortiz, Rachmaninov, Schoenberg, Pinho Vargas and Nina Simone
Producer: Philippa Ritchie
Scroll down the webpage for more information about the music used, and the producer's note.
Music Played
Timings (where shown) are from the start of the programme in hours and minutes
Hugo Williams

Prayer read by Timothy Watson

Dorothy Parker

Unfortunate Coincidence read by Fenella Woolgar

Racine

Phèdre adapted by Ted Hughes, read by Fenella Woolgar

Racine

Phèdre adapted by Ted Hughes, read by Fenella Woolgar

John Donne

Woman's Constancy, read by Timothy Watson

Jackie Kay

Divorce, read by Fenella Woolgar

Earl of Rochester

Letter from the Earl of Rochester to his mistress the actress Elizabeth Barrie, written in 1678, read by Timothy Watson

Earl of Rochester

'Anger, Spleen, Revenge and Shame' - a second letter from Rochester to Elizabeth Barrie, read by Timothy Watson

Joseph Bedier translated by Hilaire Belloc

The Romance of Tristan and Iseult, read by Fenella Woolgar

Robert Browning

My Last Duchess, read by Timothy Watson

Robert Browning

My Last Duchess, read by Timothy Watson

Augusta Fullam

Letter from Augusta Fullam, read by Fenella Woolgar (real letter from the woman who poisoned her husband in Agra, India in 1912 with the help of her doctor lover who supplied the poison and was poisoning his own wife at the same time.)

John Banville

The Untouchable, read by Timothy Watson

Dante, translated by Clive James

The Inferno, Volume I, Canto v, read by Timothy Watson and Fenella Woolgar

Stella Gibbons

Deserted Girl, read by Timothy Watson

Linda Chase

Married Woman, read by Fenella Woolgar

W.H. Auden

Lullaby, read by Timothy Watson and Fenella Woolgar

Producer's Notes - Infidelity

You will not need Sir David Attenborough to tell you that fidelity is a rare phenomenon in the animal kingdom.  In fact there are only about eight species that mate for life: they include swans, elephants, angel fish, gibbons and, curiously, termites; and it seems, if the seventh commandment is anything to go by, that human beings are expected to be included in this select group.  Yet, who knows if an elephant, or even a termite, has not occasionally strayed from the path of strict monogamy? Human beings certainly have, and their erring ways have been the source of great misery, and a great deal of creativity as well.  Infidelity is a worldwide phenomenon that occurs with remarkable regularity across cultures and has inspired much great literature and music.  In this programme I've focused mainly on romantic betrayal, but also included are examples of infidelity to friends, causes and beliefs.


We start with one of Schoenberg's 6 Little Piano Pieces, composed in 1911 by which time he had abandoned tonality but not yet developed his twelve note system.  In a letter to Ferruccio Busoni two years previously he explained that he wanted to discard protracted scores and write short, lean pieces.  He hoped the result was "without stylized and sterilized drawn-out sentiment. That is not how man feels; it is impossible to feel only one emotion."  What he wanted to express in his music was the "multi-coloured, polymorphic, illogical nature of our feelings... Now I have said it, and they may burn me."   Schoenberg's insight into the complex way our emotions work may be an explanation of why fidelity to our partners, our friends or our beliefs sometimes comes hard to us.  Marital infidelity played a central role in Schoenberg's life: he was devastated by his wife Mathilde's affair with their mutual close friend, the painter Gerstl.  The liaison ended in tragedy when Mathilde was persuaded by Webern to leave Gerstl, with whom she was living, and return to her husband.  Soon after Gerstl killed himself.  Mathilde visited his grave every year for the rest of her life.  The Schoenbergs attempted to repair their marriage but according to friends their relationship had been damaged irrevocably.


Most of the texts I've chosen are self-explanatory.  There's Racine's Phèdre, translated by Ted Hughes, detailing how she was love-stricken by Hippolytus – a difficult situation as he was her stepson.  And we hear from Francesca da Rimini trapped in Dante's Second Circle of Hell (reserved for the lustful) who explains how she and Paolo fell for each other while reading about Lancelot and Guinevere.  A contemporary of Dante Alighieri, Francesca da Rimini had been forcibly married to Lanciotto Malatesta at the age of 15 or 16 for dynastic reasons.  She had a long term love affair with her handsome brother in law Paolo.  Tragedy ensued when Malatesta surprised the lovers in Francesca's bedroom and killed them both.  Several composers were inspired by the story, including Tchaikovsky.  I have used an extract from Rachmaninoff's opera Francesca Da Rimini to accompany the reading.   


I was intrigued to come across two letters from John Wilmot, the Earl of Rochester, to his mistress, the actress Elizabeth Barry.  Rochester is famous for his erotic poetry and promiscuous behaviour, but clearly in 1678 when he wrote these letters, the tables were turned and Barry was rejecting him, despite having borne him a child.


In The Untouchable, John Banville writes a fictionalised account of the Cambridge spy Anthony Blunt. The novel is narrated in the first person and is a fascinating account of the state of mind of a man who lived a long term double life. He confessed to being a spy in 1964, but was not publically unmasked until 1979.


Perhaps the most chilling text I discovered is a letter written by Augusta Fullam to her doctor-lover Henry Clark in 1911.  The notorious Agra Double Murder Case became the talk of British India over tea and tiffin.  At the time of Augusta's letter she and her lover were in the process of attempting to poison their respective spouses.  Clark regularly posted packets of arsenic marked 'Tonic Powders' to Mrs Fullam.  She succeeded in killing her husband in 1911, but when her lover failed in his attempts to kill his spouse he hired assassins to murder her.  Unwisely, Augusta kept a trunk of all her incriminating letters to Clark under her bed.  The couple were tried jointly at Allahabad in 1913 and found guilty. Clark was hanged but Augusta's sentence was commuted to life imprisonment as she was pregnant with Clark's child. She died of heatstroke in Naini prison in 1914. 


In terms of music, I chose Chopin's Variations on Mozart's La ci darem la mano to follow on from Hugo Williams' poem near the start of the programme.  Don Giovanni sings the famous aria while naughtily attempting to seduce Zerlina only minutes after promising to hold a wedding reception for her and her fiancé at his castle.  One could forgive her for yielding to him in response to the charm of the melody but luckily Donna Elvira arrives in the nick of time and interrupts the seduction.


Janáček's String Quartet No. 1, The Kreutzer Sonata, was inspired by Tolstoy's 1889 controversial novella of the same name.  In the story an unhappily married woman meets a violinist at a soirée during which Beethoven's Kreutzer Violin Sonata (No. 9, Op. 47) is performed and the pair are mutually attracted.  The husband, returns from a trip to discover the couple together, possibly quite innocently, and kills his wife, though the violinist escapes.  The tale is narrated by the husband, Posdnicheff, who expresses the opinion "many adulteries originate in our society" under the influence of music.


I have chosen two Purcell songs:  the beautiful and plaintive song 'Fled is my love' is from his incidental music to D'Urfey's 1688 play 'A Fool's Preferment' and 'I attempt from love's sickness to fly' from his semi-opera The Indian Queen based on a tragedy by John Dryden.


Browning's My Last Duchess is narrated by a 16th century Italian Duke, who has organised the murder of his wife whose eye he felt to be too roving.  Browning's Duke is thought to have been inspired by Alfonso II, the fifth duke of Ferrara, who married the fifteen year old Lucrezia de Medici in 1558.  She died three years later and there were suspicions she had been poisoned.  The controlling and violent behaviour of the outwardly charming Duke towards his wife is perhaps not a million miles away from the character of Rob in The Archers, as portrayed so brilliantly by our reader Timothy Watson. 


To follow Browning's murderous duke I have used music from Jean Baptise Lully's ballet Theseus.  Theseus was the king who abandoned Ariadne, but was himself betrayed by Phaedra when she fell for his son Hippolytus, as described earlier. 


In conclusion it appears a completely monogamous human is quite rare.  Men and women are not gibbons or elephants or termites, and perhaps, in the end, it is just as well they are not.

Philippa Ritchie


The hidden history of plant-based diets