Main content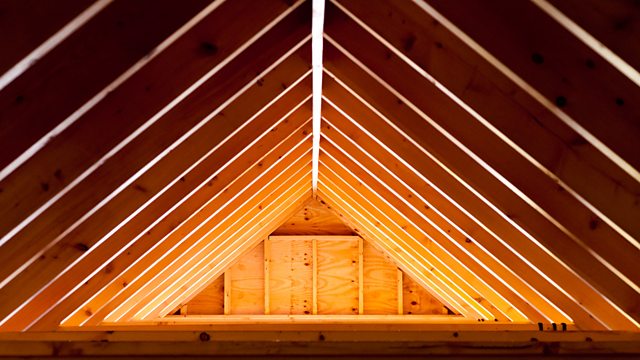 Death Watch Beetle and Queen Wasp
A death watch beetle (Bill Paterson) and a bossy queen wasp (Alison Steadman) reveal the funny side of life in an attic.
A Death Watch Beetle, played by Bill Paterson, and a bossy Queen wasp played, by Alison Steadman, reveal the truth about life in a draughty old attic in a house in Amersham in the first of three very funny tales, written and introduced by Lynne Truss, with additional sound recordings by Chris Watson.
The Death Watch Beetle is a wood-boring beetle. Having spent twelve years as a larva boring through a single rafter in the house with no one to talk to, our beetle is now an adult with about 5 weeks left to live. He has just three aims in life. Firstly, to find a mate, which he does by banging his head on the timber "Oh Come on girls, .. I know you're out there ... Don't tell me this attic has ever seen such a specimen before. This lovely compact dark brown capsule of hard cuticle covered with yellowish scale-like hair and just under a centimetre long - it could all be yours! Secondly, to make as much noise as he can and finally to live long enough to see the roof cave in.
The Queen Wasp is very, very bossy, and very, very stressed. She carries the entire responsibility for the wasp colony and its thousands of inhabitants, all of whom are her own progeny. There is an enormous amount of work to be done. "They call themselves workers, these girls, but quite frankly, none of them knows what real work actually is." It is lonely at the top too," I did consider leaving all this, at one point. None of them knows this; they'd be heartbroken to think I might have left them" and she is just beginning to lose her grip. "Bring me my list" she constantly yells. Life doesn't get much more stressful than this.
Death Watch Beetle: Bill Paterson
Dragonfly: Alison Steadman
Written and introduced by Lynne Truss
Wildlife sound recordings Chris Watson
Producer Sarah Blunt.
More episodes
Previous
You are at the first episode
Credits
| Role | Contributor |
| --- | --- |
| Presenter | Lynne Truss |
| Tadpole | Julian Rhind-Tutt |
| Dragonfly | Alison Steadman |
| Producer | Sarah Blunt |
| Writer | Lynne Truss |