Main content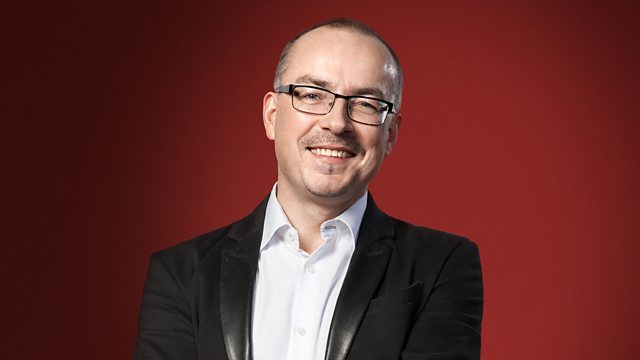 Building a Library: Victoria's Masses
With Andrew McGregor. Including Building a Library: Tomas Luis de Victoria: Masses; Gillian Moore explores new recordings of 20th- and 21st-century chamber music; Disc of the Week.
with Andrew McGregor
0930
Building a Library: Tess Knighton comes up with a recommendation for Victoria's Masses from among available versions.
One of eleven children, Spaniard Tomás Luis de Victoria's family was peppered with high-achievers (cousins included a naval commander, a Jesuit pioneer in the New World and a successful Florentine-based merchant who married into the Medicis). But Tomás trumped them all to become one of the greatest church composers of Renaissance Europe, famous for the intensity of his music, including his Mass settings. Perhaps surprisingly, the recording catalogue reflects a still-current tradition of Victoria performance begun at Westminster Cathedral at the end of the nineteenth century, and a comparative dearth of Iberian performances of the Masses.
1030
Gillian Moore rounds-up recent recordings of twentieth- and twenty-first century chamber music.
1145
Disc of the Week: Andrew makes a personal choice from among the latest outstanding releases.
9.00am
Brahms: Lieder & Liebeslieder Waltzes
BRAHMS: Neue Liebeslieder-Walzer Op. 65; Lieder (5) Op. 94; Unbewegte laue Luft (No. 8 from Acht Lieder und Gesange Op. 57); Wir wandelten, wir zwei zusammen Op. 96/2; Das Madchen spricht Op. 107 No. 3; Liebeslieder-Walzer Op. 52; Immer leiser wird mein Schlummer Op. 105 No. 2; Feldeinsamkeit Op. 86 No. 2; An eine Aolsharfe Op. 19 No. 5; Meine Liebe ist grun Op. 63 No. 5; Wie bist du, meine Konigin Op. 32 No. 9; Botschaft Op. 47 No. 1
Thomas Quasthoff, James Levine, Andrea Rost, Magdalena Kozena, Matthew Polenzani, Andrea Rost (soprano), Magdalena Kožena (mezzo), Matthew Polenzani (tenor), Thomas Quasthoff (bass-baritone), Yefim Bronfman, James Levine (piano duet)
DG 4796044 (CD)
Debussy & Takemitsu for strings
DEBUSSY: String Quartet in G minor Op. 10; Preludes - Book 1: No. 8, La fille aux cheveux de lin; Jimbo's Lullaby (from Children's Corner)
TAKEMITSU: Three Film Scores for string orchestra: Music of Training and Rest (from Jose Torres); Three Film Scores for string orchestra: Funeral Music (from Black Rain); Nostalghia, for violin & string orchestra
Scottish Ensemble, Jonathan Morton
LINN CKD512 (CD)
Colin Matthews: Violin Concerto
MATTHEWS, C: Violin Concerto; Cortege; Cello Concerto No. 2
Leila Josefowicz (violin), BBC Symphony Orchestra, Oliver Knussen (conductor), Royal Concertgebouw Orchestra, Riccardo Chailly (conductor), Anssi Karttunen (cello), Rumon Gamba (conductor)
NMC NMCD227 (CD)
9.30am Building a Library
Tess Knighton compares recordings of Tomas Luis de Victoria's masses, and recommends a version. 
Building a Library Recommendations
Top recommendation:
Victoria: Sacred Works
VICTORIA: Missa Pro Victoria; Missa Pro Defunctis; Psalms and Responsories; Lamentations of Jeremiah; Missa Gaudeamus; Magnificat Octavi toni; Missa Ave Maris Stella; Missa de Beata Virgine; Motets; Magnificat Primi Toni; Alma Redemptoris Mater; Missa O quam gloriosum; Christe redemptore omnium; Doctor bonus amicus Dei Andreas; Tibi Christe; Music for the Easter Liturgy in Habsburg Madrid; Missa Ave Regina caelorum for eight voices; Motets and music for Vespers; Missa Salve a 8; Motets and Hymns for the liturgical year
Ensemble Plus Ultra, Michael Noone
DG ARCHIV 4779747
Other recordings:
Below is a shortlist of other recordings which Tess Knighton also liked, although we can't guarantee the availability of these discs.
Victoria: Missa Ave Maris Stella
VICTORIA: Missa Ave Maris Stella; O quam gloriosum, motet; Missa O quam gloriosum
Westminster Cathedral Choir, David Hill (conductor)
HYPERION CDA66114

10.20am New Releases (Contemporary Chamber Music)
Gillian Moore rounds-up recent recordings of twentieth- and twenty-first century chamber music.
Allegri Quartet play String Quartets by Alec Roth
ROTH, A: String Quartet No. 2; String Quartet No. 3 'Autumnal'; String Quartet No. 4 'On Malvern Hills'
Allegri Quartet
NIMBUS NI6321 (CD)
Schoenberg, Berg & Webern: Complete Works for String Quartet
BERG: String Quartet Op. 3; Lyric Suite - for soprano and string quartet
SCHOENBERG: Presto in C major for string quartet; Scherzo for String Quartet in F major (1897); String Quartet in D major (1897); String Quartets Nos. 1 - 4 (complete)
WEBERN: Langsamer Satz, (slow movement) Op. post. (1905); String Quartet Op. post. (1905); Rondo Op. post. (1906); Five movements for String Quartet Op. 5 (1909); Six Bagatelles for String Quartet Op. 9 (1911-1913); String Quartet Op. 28 (1937-38)
Quatuor Diotima
NAIVE V5380 (5CD budget)
Thomas Ades, Per Norgard & Hans Abrahamsen
ABRAHAMSEN: Preludes (10) (String Quartet No. 1)
ADES: Arcadiana
NORGARD: Quartetto Breve (String Quartet No. 1)
Danish String Quartet
ECM 4812385 (CD)
Augusta Read Thomas: Of Being is a Bird
THOMAS, AUGUSTA: Helix Spirals for string quartet; Selene (Moon Chariot Rituals); Capricious Toccata for solo violin; Of Being is a Bird (Emily Dickinson Settings); Caprice for solo violin; Rush for solo violin; Love Twitters
Parker Quartet, Third Coast Percussion, Spektral Quartet, Nathan Giem (violin), Claire Booth (soprano), Aurora Orchestra, Nicholas Collon (conductor), Nathan Cole (violin), Nicola Melville (piano)
NIMBUS NI6323 (CD)
Joan Tower: String Quartets Nos. 3, 4 & 5
TOWER: String Quartet No. 3; String Quartet No. 4; String Quartet No. 5; Dumbarton Quintet
Miami String Quartet, Daedalus Quartet, Blair McMillen (piano)
NAXOS 8559795 (CD budget)
Re-inventions
BACH, J S: Chorale Prelude BWV622 'O Mensch, bewein' dein' Sunde gross'; Cantata BWV85 'Ich bin ein guter Hirt': Seht, was die Liebe tut
BOWMAN, C: Homage to Mozart
KATS-CHERNIN: Re-inventions (6) after JS Bach
MOZART: Flute Quartet No. 3 in C major, K285b
Genevieve Lacey (recorders), Flinders Quartet
ABC CLASSICS ABC4811562 (CD)

11.20am Reissues: Martha Argerich
Martha Argerich & Daniel Barenboim: Live from Buenos Aires
BARTOK: Sonata for Two Pianos & Percussion, BB 115, Sz. 110
DEBUSSY: En blanc et noir
SCHUMANN: Studies (6) in Canonic Form Op. 56
Pedro Manuel Torrejon Gonzalez, Lev Loftus (percussion), Martha Argerich (piano), Daniel Barenboim (piano)
DG 4795563 (CD)
Martha Argerich: The Complete Sony Classical Recordings
BEETHOVEN: Piano Concerto No. 2 in B flat major Op. 19
DEBUSSY: Violin Sonata
FRANCK, C: Flute Sonata in A major; Violin Sonata in A major
HAYDN: Keyboard Concerto No. 11 in D major, HobXVIII:11
PROKOFIEV: Flute Sonata in D major Op. 94
SCHUMANN: Fantasie in C major Op. 17; Fantasiestucke Op. 12
SCRIABIN: Prometheus (The Poem of Fire) Op. 60
STRAUSS, R: Burleske for Piano and orchestra in D minor, AV85
Martha Argerich (piano, conductor), London Sinfonietta, Ivry Gitlis (violin), James Galway (flute), Berliner Philharmoniker, Claudio Abbado (conductor), Martha Argerich (piano)
SONY 88985320352 (5CD budget)
Martha Argerich: Early Recordings
BEETHOVEN: Piano Sonata No. 7 in D major Op. 10 No. 3
MOZART: Piano Sonata No. 18 in D major, K576 'Hunt'
PROKOFIEV: Toccata in D minor Op. 11; Piano Sonata No. 3 in A minor Op. 28; Piano Sonata No. 7 in B flat major Op. 83
RAVEL: Gaspard de la Nuit; Sonatine
Martha Argerich (piano)
DG 4795978 (2CD mid-price)
11.50am
All You Need Is Bach
BACH, J S: The Art of Fugue, BWV1080: Contrapunctus IX a 4 alla duodecima; Trio Sonata No. 3 in D minor, BWV527; Prelude & Fugue in B minor, BWV544; French Suite No. 5 in G major, BWV816; Trio Sonata No. 1 in E flat major, BWV525; Chorale Prelude BWV622 'O Mensch, bewein' dein' Sunde gross'; Passacaglia & Fugue in C minor, BWV582
Cameron Carpenter (International Touring Organ – Marshall and Ogletree Op. 8)
SONY 88875178262 (CD)
11.55am Disc of the Week
BACH, J S: French Suites Nos. 1-6, BWV812-817
Richard Egarr (harpsichord)
HARMONIA MUNDI HMU907583/84 (2CD mid-price)