Main content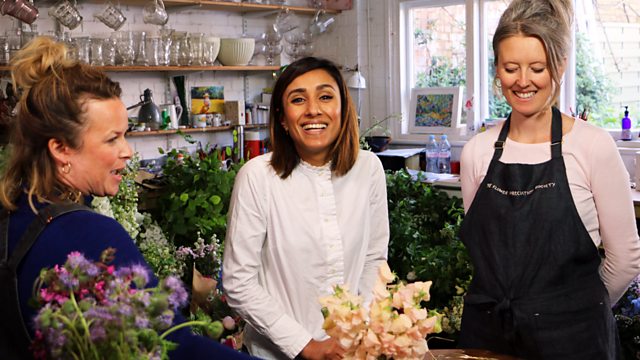 Hampshire
To celebrate British Flowers Week, Charlotte Smith and Anita Rani look at the resurgence of British flowers. Charlotte finds out why the smell of flowers is so popular.
To celebrate British Flowers Week, Charlotte Smith and Anita Rani are looking at the resurgence of British flowers. Charlotte meets Rosebie Morton, a Hampshire farmer who has diversified into British blooms in a big way. On her farm there are as many acres given over to flowers as there is food. For Rosebie it is all about the scent. Charlotte is intoxicated by their fragrance and finds out from scientist Dr Lorenzo Stafford what it is about the smell of flowers we find so bewitching.
Anita is up bright and early at Covent Garden Flower Market, where she meets the traders doing a roaring trade in homegrown roses, including Rosebie's. She also meets up with two floral artists who have turned their hands to creating fantastic floral headdresses.
Matt Baker takes to the old pack horse trails through the New Forest with Gale Gould and her trusty pack horse Josh. Josh is all done up in period livery, and Matt hears how these ponies were used by smugglers to ply their illicit trade. He also hears that the forest was used for bombing practice by the RAF. Where the bombs fell, the craters filled with water to become ponds rich in wildlife.
Matt also visits a farm where water buffalo are the main livestock. He helps farmer Dagan James round them up and learns that their meat is reckoned to be better for us. To put this to the test, he tries buffalo carpaccio at a riverside restaurant.
Adam Henson gets stuck in with the sheep shearing and hears from different farmers about the prices they are getting for their wool.
Tom Heap investigates why areas set up by the government to protect our seas are being branded by some scientists as worse than useless.
Packhorse trail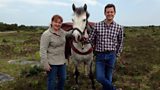 Hampshire is not only renowned for the beauty of the New Forest but also for its ponies. Matt Baker is in Fordingbridge, where he joins Gale Gould and her native pack horse pony Josh walking along the old smuggling track. In their day, packhorses would have been the 4x4s of their time, carrying useful goods as well as lots of contraband. As Josh was once a free roaming pony, along the way Matt and Josh are joined by many of his inquisitive friends who still live in the forest.
The flower farm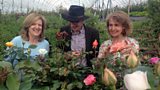 British Flower Week is celebrating its fourth year and to mark it, Charlotte Smith visits Rosebie Morton at her farm in Hampshire. Rosebie and her family farm 500 acres of arable land, of which, 12 acres have been given over to flowers. Rosebie can remember the smell of roses as a child and wanted to produce flowers with that scent. Charlotte has the opportunity to smell a variety of different roses and Dr Lorenzo Stafford is on hand to tell us more about the link between scent and memory.
Covent Garden Flower Market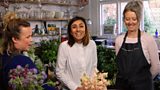 Anita Rani heads to New Covent Garden Flower Market, it is the only dedicated wholesale flower and plant market in the country. Anita goes in search of British cut flowers and meets suppliers Mick Waite of Pratley Flowers and Graeme Diplock of Zest Flowers, both of whom are passionate about British cut flowers. Graeme sells a large proportion of Rosebie's flowers. Anita then meets Ellie Jauncey and Anna Day who teach her how to make a British floral headdress at their studio in Hackney.
Marine Conservation Zones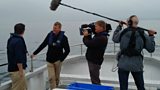 Tom Heap is investigating what Marine Conservation Zones, or MCZs, actually mean and how they protect our seas. Along the way he catches up with environmentalists and fishermen who both say, the new zones are just not working. Tom visits Lyme Bay where no fishing zones have been put into place and finds out what difference it has made to the reef habitat.
Find out where MCZs are with this interactive map
It's shearing time!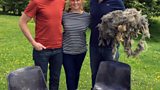 Sheep shearing is underway on Adam's Farm with the Herdwicks and Whiteface Dartmoors, but the price of wool still doesn't return a massive profit. So keen to look into other options Adam visits his neighbouring farm. They've invested in Easy Care Sheep which they've bred into their flock. These sheep shed their own fleece naturally, removing shearing costs completely. But not wanting to turn his back on the wool industry entirely, Adam meets Justin and Hannah from Solidwool, who have invented a way to solidify Herdwick sheep wool and turn it into fancy furniture.
Earthquake bombs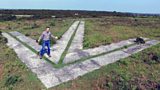 While on his his pack horse trail with Gale and Josh, Matt comes across a gigantic concrete arrow. During WWII, The New Forest was used as a training ground and before deploying new weapons on the front line, they were tested here on British soil. This arrow would have been vital for directing pilots to their training targets. The biggest bomb ever detonated on British Soil was tested in the New Forest and decades on, nature has now reclaimed the destruction, creating perfect watering holes for both local wildlife and Josh.
Whitchurch Silk Mill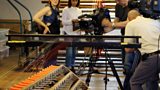 Hampshire's chalk streams were once a fine attraction for the silk industry as it fled London's rising costs. Whitchurch silk mill is still running and still uses water power. Anita Rani meets Sue Tapliss, the Mill Director, who shows her how to control the water, an important part of the process.  Richard Humphries is a member of the Worshipful Company of Weavers and explains to Anita how the silk was invented. Anita then meets Hannah Futcher who demonstrates the Victorian machinery,still in use today.
Broughton water buffalo farm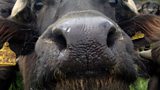 Matt Baker visits Dagan James at his farm near Stockbridge in Hampshire. But Dagan's farm is a bit different from the norm. When he took it over, 15 years ago, he decided to improve the soil. He invested in the land by planting a range of different grasses and to help fertilize and manage it, he went for 250 water buffalo! Dagan farms the buffalo for their meat and sells it locally, so Matt heads off to meet head chef Chris Heather at a local restaurant and tries Buffalo Carpaccio, one of the restaurants most popular dishes.
Credits
| Role | Contributor |
| --- | --- |
| Presenter | Charlotte Smith |
| Presenter | Anita Rani |
| Presenter | Matt Baker |
| Presenter | Adam Henson |
| Presenter | Tom Heap |
| Executive Producer | William Lyons |
| Series Producer | Joanna Brame |