An Explosion of Geraniums - The International Surrealist Exhibition of 1936
"There is an explosion of geraniums in the ballroom of the hotel" is a line from the first English surrealist poem ever published, written by David Gascoyne when he was 17. Gascoyne was one of the organisers of the International Surrealist Exhibition which, like an explosion of geraniums, shocked, puzzled and amused the staid ballroom that was the British art world in 1936. Strange events unfolded in the New Burlington Galleries, London. Salvador Dali delivered a lecture from a deep-sea diver's suit, the better to plumb the depths of his unconscious. This, Gascoyne recalled, almost rendered him unconscious. He nearly suffocated, and Gascoyne had to borrow a spanner to release him. Sheila Legge, the Surrealist Phantom of Sex Appeal, wandered around Trafalgar Square in a satin gown, her head completely shrouded by a helmet of red roses. She carried an artificial leg in one hand and a pork chop in the other. Dylan Thomas went through the dense crowd - 25,000 people attended - with teacups full of boiled string, enquiring whether people preferred it weak or strong.
In a programme that is itself a surrealist work, Ian McMillan tells the story of the exhibition, and the influence it has had on art and writing. There is recorded testimony from some of the artists, such as David Gascoyne, Roland Penrose and Eileen Agar. Ian speaks to Michel Remy, editor of 'On the Thirteenth Stroke of Midnight', an anthology of surrealist poetry, and John Goodby, Dylan Thomas expert. With composer Robert Worby he seeks surrealist music. Louisa Buck leads him around the surrealist sites of London, original catalogue in hand. Ian confronts a diving helmet, and lovingly creates that noble dish - boiled string - and samples it to see if he prefers it weak or strong.
Producer: Julian May.
Last on
Ian McMillan samples the string he has boiled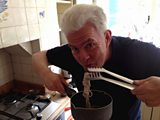 A homage to Dylan Thomas who in 1936 offered visitors to the International Surrealist Exhibition teacups of boiled string, asking whether they preferred it weak or strong.
Salvador Dali in the deep sea diver's suit in which he delivered a lecture (and almost suffocated) at the Exhibition.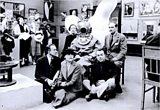 He is surrounded by fellow exhibitors, clockwise from left: Paul Eluard, Nusch Eluard, E.L.T.Mesens,Rupert Lee and Diana Brinton Lee, with some of the works on display at the New Burlington Galleries.
Sheila Legge, who appeared in Trafalgar Square as the Surrealist Phantom of Sex Appeal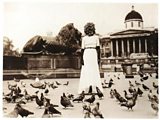 Her costume was inspired by a Salvador Dali painting and created by the poet David Gascoyne.