Main content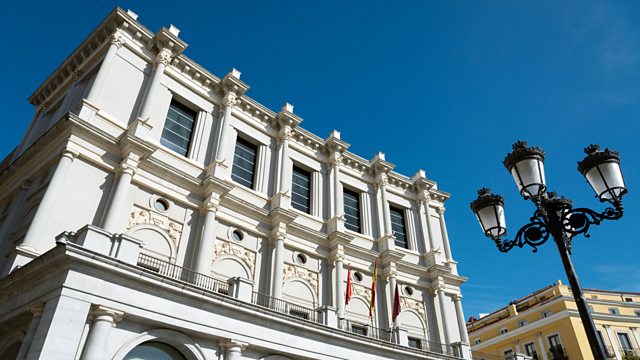 Wagner's Das Liebesverbot
A performance of Wagner's early comic opera Das Liebesverbot, given at the Teatro Real in Madrid. Starring baritone Christopher Maltman and tenor Peter Lodahl.
Andrew McGregor introduces a performance of Wagner's early comic opera, Das Liebesverbot, or "The Ban on Love", based on Shakespeare's Measure for Measure, from the Teatro Real, Madrid. Baritone Christopher Maltman sings the role of Friedrich, the viceroy of Sicily, whose ban on all public displays of affection causes uproar in the city of Palermo. Ivor Bolton conducts the Chorus and Orchestra of the Teatro Real, Madrid.
Friedrich ..... Christopher Maltman (baritone)
Luzio ..... Peter Lodahl (tenor)
Claudio ..... Ilker Arcayürek (tenor)
Antonio ..... David Alegret (tenor)
Angelo ..... David Jerusalem (baritone)
Isabella ..... Manuela Uhl (soprano)
Mariana ..... María Miró (soprano)
Brighella ..... Ante Jerkunica (baritone)
Danieli ..... Isaac Galán (baritone)
Dorella ..... María Hinojosa (soprano)
Ponzio Pilato ..... Francisco Vas (tenor)
The Chorus of the Teatro Real, Madrid
The Orchestra of the Teatro Real, Madrid
Ivor Bolton (conductor).
Synopsis
Act I
The King of Sicily has left the tyrannical Viceroy Friedrich in charge of law and order in Palermo while travelling. Friedrich has banned all public displays of affection that infringe upon morality. His lieutenant Brighella and his cohort do the rounds of taverns and brothels, arresting anyone they regard as guilty of drunkenness or lechery. The carnival has been cancelled and those who breach the Viceroy's decree face death.
Among the arrested is young, noble Claudio, who pleads with his friend Luzio to visit Claudio's sister Isabella in the convent and asks her to intervene for him before Friedrich to save his life. In the convent, Isabella and Mariana, the Viceroy's ex-wife, enjoy a peaceful existence. Mariana confesses that she decided to take her vows when her husband rejected her to further his political career. When Luzio sees Isabella, he is captivated by her beauty and begs her to leave the convent and marry him. But all she can think of is how to help her brother. Brighella interrogates some of the prisoners before Friedrich enters. As Friedrich is about to sentence Claudio to death, Isabella arrives and requests a private hearing. She speaks to him of love, trying to remind him of his feelings for his ex-wife, but he misunderstands and thinks she is trying to seduce him. He offers to set Claudio free, if Isabella will spend a night with him, breaking his own laws. Isabella is outraged by his hypocrisy, and she plots a hoax: she agrees to his request, but plans to send his ex-wife Mariana to the encounter instead.
Act II
With the intention of verifying whether her brother truly deserves to be freed, Isabella contacts Claudio in Prison. She doesn't tell him the real plan, but says Friedrich has offered to set Claudio free in return for a night with Isabella. As Claudio suggests she should go through with it to save his life, she is outraged by his attitude and bids farewell without confessing her real intentions and hoping that the uncertainty of his destiny will serve as punishment for her brother's cowardice. She sends a message to Friedrich arranging a date in one of the venues he has banned during the carnival. He is to come in disguise, wearing a mask. When Luzio learns that Isabella seemingly will give Friedrich her virginity in exchange for her brother's freedom, he swears he will stop this from happening.
Friedrich reflects upon the consequences of his dealings with Isabella, and decides to go through with the date, but to send Claudio to the gallows anyway. Despite Friedrich's ban, the entire town disobeys and celebrates carnival, including Isabella and Mariana, both disguised in identical masks. When Friedrich approaches the date venue, he mistakes Mariana for Isabella. In the meantime, Isabella intercepts the alleged order from Friedrich to set Claudio free. When she reads it, she discovers that Friedrich has deceived her, as it is in fact a death sentence for her brother. Furious, Isabella turns the crowd against and reveals his hypocrisy as he is finally unmasked. Claudio is set free and Isabella finally accepts abandoning the convent and marrying Luzio. The return of the King is announced and everyone gathers to celebrate the end of Friedrich's tyranny.
- With thanks to the Teatro Real, Madrid.