Main content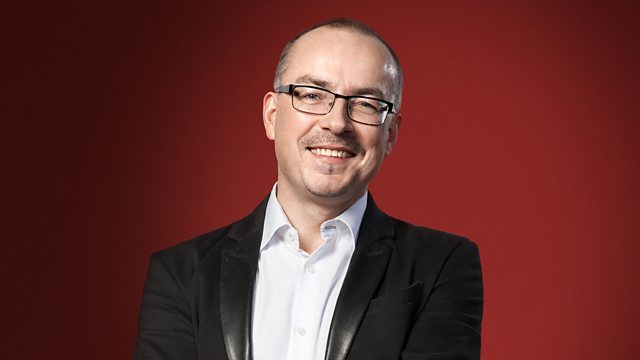 Building a Library: Mahler: Symphony No 5
With Andrew McGregor. Including Building a Library: Mahler: Symphony No 5; Andrew and baritone Roderick Williams discuss new releases of vocal music; Disc of the Week.
with Andrew McGregor
0930
Composer and broadcaster William Mival joins Andrew for a live traversal of Mahler's colossal 5th Symphony on record
1030
Andrew chats to renowned baritone Roderick Williams about exciting recent releases of a huge variety of vocal repertoire
1140
Andrew chooses an outstanding new release as his Disc of the Week.
9.00am
John Blow: Symphony Anthems
BLOW: God spake sometime in visions; Hear my voice, O God; O sing unto the Lord a new song; When the Son of Man; When Israel came out of Egypt; I was glad when they said unto me
Choir of New College Oxford, St James' Baroque (on period instruments), Robert Quinney (conductor)
NOVUM NCR1389 (CD)
Purcell: Come all ye songsters
PURCELL: Come All Yee Songsters; Ye gentle spirits of the air (from The Fairy Queen, Z629); A dance of fairies (instr.) (from The Fairy Queen Z629); Sing while we trip it (from The Fairy Queen Z629); Suite No. 5 in C major, Z 666; The cares of lovers (from Timon of Athens, Z632); Fly swift ye hours, Z369; Not all my torments can your pity move, Z400; From Rosy Bow'rs (from Don Quixote); Let the dreadful engines (from Don Quixote, Z578); Mystery's Song (from The Fairy Queen, Z629); Music from the guitar book of Princess Anne (instrumental); I see she flies me ev'rywhere (from Aureng-Zebe or The Great Mogul, Z573); What a sad fate is mine, Z428A; Pious Celinda goes to prayers, Z410; Tis Nature's voice (from Hail, Bright Cecilia, Z328); Abdelazer or The Moor's Revenge: incidental music, Z570; Hark! The Echoing Air (from The Fairy Queen, Z629); I attempt from love's sickness to fly in vain (from The Indian Queen); Fairest Isle (from King Arthur)
CORBETTA: Passachaglia
DRAGHI, G B: The Italian Ground
SIMPSON, C: A Division upon a Ground for Viola da gamba & B.c. from The Division Violist (London 1659)
Carolyn Sampson (soprano), Elizabeth Kenny (lute), Jonathan Manson (viol), Laurence Cummings (harpsichord)
WIGMORE HALL LIVE WHLIVE0083 (CD mid-price)
Elgar: Piano Quintet & Sea Pictures (orchestrated by Donald Fraser)
ELGAR: Piano Quintet in A minor Op. 84; Sea Pictures Op. 37
English Symphony Orchestra, Rodolfus Choir, English Chamber Orchestra, Kenneth Woods
AVIE AV2362 (CD)
Shostakovich: Piano Trios Nos. 1 & 2 & Viola Sonata
SHOSTAKOVICH: Piano Trio No. 1 in C minor Op. 8; Piano Trio No. 2 in E minor Op. 67; Viola Sonata Op. 147
Zsolt-Tihamer Visontay (violin), Mats Lidstrom (cello), Ada Meinich (viola), Vladimir Ashkenazy (piano)
DECCA 4789382 (CD)
9.30am Building a Library
William Mival joins Andrew live to compare recordings of Mahler's 5th Symphony, and recommend a version.
Building a Library Recommendations
Top Recommendation
MAHLER: Symphony No. 5
Wiener Philharmoniker, Leonard Bernstein (conductor)
DG 4776334 (CD mid-price)
Other Recordings
Below is a shortlist of other recordings which William Mival also liked, although we can't guarantee the availability of these discs.
MAHLER: Symphony No. 5
Berliner Philharmoniker, Bernard Haitink (conductor)
PHILIPS 4223552 (CD)
Boulez Conducts Mahler
DG 4779528 (14CD budget)
MAHLER: Symphony No. 5
Simon Bolivar Youth Orchestra of Venezuela, Gustavo Dudamel (conductor)
DG 4776545 (CD)

10.30am New Releases (Early and Baroque)
DOWLAND: Lachrimae, or Seaven Teares
Phantasm, Elizabeth Kenny (lute)
LINN CKD527 (Hybrd SACD)
Legrenzi: Sonate & Balletti
LEGRENZI: Sonata prima; Sonata terza a 3; Balletto primo [Alemanda]; Corrente terza Op. 16; Sonata in G major 'La Pezzoli'; Trio Sonata Op. 2 No. 8 'La Foscari'; Sonata da Camera La Forni a 3; La Marinona a 5 Op. 8; La Frangipana a due violini Op. 2; Sonata Op. 8 'La Basadonna'; Sonata Op. 8 No. 10 'La Cremona'; L'Obizza a 2 Op. 8; Sonata seconda a 4 Op. 10; Balletto quarto Op. 4; Corrente terza Op. 4; Sarabanda prima Op. 4; Alemanda terza La Piloni Op. 4; La Zabarella a 3 Op. 2; La Squarzona a 5 Op. 8; La Cornara a due Violini Op. 2; Balletto secondo Op. 16; Corrente nona [Ciaconna] Op. 16; Sonata quarta a 2 Op. 10; Sonata sesta a 4
Clematis
RICERCAR RIC356 (CD)
Rolf Lislevand: La Mascarade
CORBETTA: Passacaille G minor; Sarabanda per la B, for guitar; Caprice de chacone C major; Folias
LISLEVAND: Intro; Exit Passacaille en si mineur
VISEE: Prelude D minor; Passacaille en re mineur; Les Sylvains de M'Couperin; Prelude en la mineur; La Mascarade - Rondeau; Chaconne en la mineur; Chaconne in G major; Musette en rondeau; Passacaille en si mineur; Sarabande en si mineur
Rolf Lislevand (baroque guitar and theorbo)
ECM 4811716 (CD)
Telemann: The Grand Concertos for Mixed Instruments, Vol. 3
TELEMANN: Concerto TWV 54:D3 in D major for 3 trumpets, 2 oboes, timpani, strings & b.c.; Concerto TWV 52:e3 in E minor for flute, violin, strings & b.c.; Concerto TWV 54:D2 in D major for 3 horns, violin, strings & b.c.; Concerto TWV 53:e2 in E minor for 2 flutes, lute, strings & b.c.; Concerto TWV 54:D1 in D major for 2 flutes, violin, cello, strings & b.c.
La Stagione Frankfurt, Michael Schneider (conductor)
CPO 7778912 (CD)
Telemann: Complete Suites & Concertos for Recorder
TELEMANN: Overture TWV 55:Es2 for Flute pastorelle, Strings & B.c.; Concerto TWV 51:C1 in C major for recorder, strings & b.c.; Concerto TWV 51:F1 in F major for recorder, strings & b.c.; Overture (Suite) TWV 55:a2 in A minor for recorder (flute), strings & b.c.
Erik Bosgraaf (recorder, direction), Ensemble Cordevento
BRILLIANT CLASSICS 95248BR (CD budget)
11.00am New Releases with Roderick Williams
Andrew chats to renowned baritone Roderick Williams about his pick of recent releases of a huge variety of vocal repertoire
Walter Braunfels: Orchestral Songs Volume 1
BRAUNFELS: Prelude and Prologue of the Nightingale Op.30, No. 3 for soprano and orchestra based on Aristophanes (from the opera The Birds); Two Holderlin Songs Op.27 for baritone and orchestra; On a Soldier's Grave Op. 26 for baritone and orchestra; Farewell to the Forest Op.30, No. 1 for tenor, soprano and orchestra based on Aristophanes (from the opera The Birds); Don Juan Op. 34
Valentina Farcas (soprano), Michael Volle (baritone), Klaus Florian Vogt (tenor), Staatskapelle Weimar, Hansjorg Albrecht
OEHMS OC1846 (CD mid-price)
HIGDON: Cold Mountain
Jay Hunter Morris (Teague), Robert Pomakov (Owens), Adrian Kramer (Owens' Son), Nathan Gunn (W.P. Inman), Kevin Burdette (A Blind Man), Isabel Leonard (Ada Monroe), The Santa Fe Opera Orchestra, Members of The Santa Fe Opera Apprentice Program for Singers, Miguel Harth-Bedoya (conductor)
PENTATONE PTC5186583 (2Hybrid SACD)
Hasse: Solo Cantatas Vol. 1
HASSE, J A: Credi, o cara, alla speranza; Parto, mia Filli, e vero; Ah, per pietade almeno; Oh Dio! Partir conviene; Lascia i fior, l'erbette, e'l rio; Tanto dunque e si reo
Jana Dvorakova (soprano), Veronika Mrackova-Fucikova (mezzo), Rozalie Kousalikova (cello), Ondrej Macek (harpsichord)
TOCCATA CLASSICS TOCC0228 (CD)
Purcell - Theatre Music Volume 2
PURCELL: The Married Beau or The Curious Impertinent - incidental music, Z603; The Spanish Friar or The Double Discovery: Whilst I with grief, Z610; Sir Anthony Love or the Rambling Lady - incidental music, Z588; The Old Batchelor - incidental music, Z607
Johane Ansell (soprano), Jason Nedecky (baritone), Aradia Ensemble, Kevin Mallon (conductor)
NAXOS 8573280 (CD budget)
ROLLE: Matthauspassion (St. Matthew Passion)
Ana-Marija Brkic (soprano), Sophie Harmsen (alto), George Poplutz (tenor), Joachim Streckfuss (tenor), Thilo Dahlmann (bass), Raimonds Spogis (bass), Kolner Akademie Choir, Kolner Akademie, Michael Alexander Willens (conductor)
CPO 5550462 (2CD)
Bien que l'amour…Airs serieux et a boire
Music by Michel Lambert, Francois Couperin, Joseph Chabanceau de La Barre, Marc-Antoine Charpentier and Honore d'Ambruys
Les Arts Florissants, William Christie (conductor)
HARMONIA MUNDI HAF8905276 (CD)
12.00pm Disc of the Week
Debussy, Elgar, Respighi & Sibelius: Violin Sonatas
DEBUSSY: Violin Sonata
ELGAR: Violin Sonata in E minor Op. 82
RESPIGHI: Violin Sonata in B minor
SIBELIUS: Berceuse from Pensees lyriques Op. 40, No. 5
James Ehnes (violin), Andrew Armstrong (piano)
ONYX ONYX4159 (CD)